After losing her older sister Kelsey to cancer, then 11-year-old Kylie Kuhns decided she wanted to create a nonprofit organization dedicated to remembering her and helping other children diagnosed with the disease.
Kuhns (senior-labor and employment relations) created the organization Kelsey's Dream in 2007, and has made it her life's mission to continue to help people in memory of her sister.
Thus far in her career, Kuhns has earned over 40 awards for her work with Kelsey's Dream, including the Youth Service America's Everyday Young Hero Award, a Prestigious Distinction from former Pennsylvania Senator Arlen Specter and recognition in Her Campus Magazine's 22 Under 22 Most Inspiring College Women.
"[Kuhns] is one of the most genuine people I know," Ally Berdan, a friend of Kuhns' said. "She just cares so much about everyone around her."
According to Tina Kuhns, Kylie's mother, this was true of Kuhns from a very young age.
At 6 years old, Kuhns volunteered to donate bone marrow to allow Kelsey to have a stem cell transplant, Tina said.
Because she was so young, Tina said Kuhns did not really understand what was going on, other than she had an opportunity to help her sister and she wanted to take it.
To be a donor, one needs to have at least three out of six matching antigens. Antigens, substances that induce immune responses in the body, are rarely a match between siblings. Kuhns, however, was a perfect match — with all six antigens, sex and blood type identical to Kelsey.
The procedure was done at the Children's Hospital in Philadelphia. To extract the bone marrow, Kuhns was stuck with 68 needles in her back pelvis.
After being friends with Kuhns for a year, Berdan said she just learned about Kuhns' bone marrow donation this past spring break.
"[Kuhns] is just so positive all the time and I think that's what is so crazy once you get to know her story and all of the things that she does," Berdan said.
From childhood impact to collegiate passion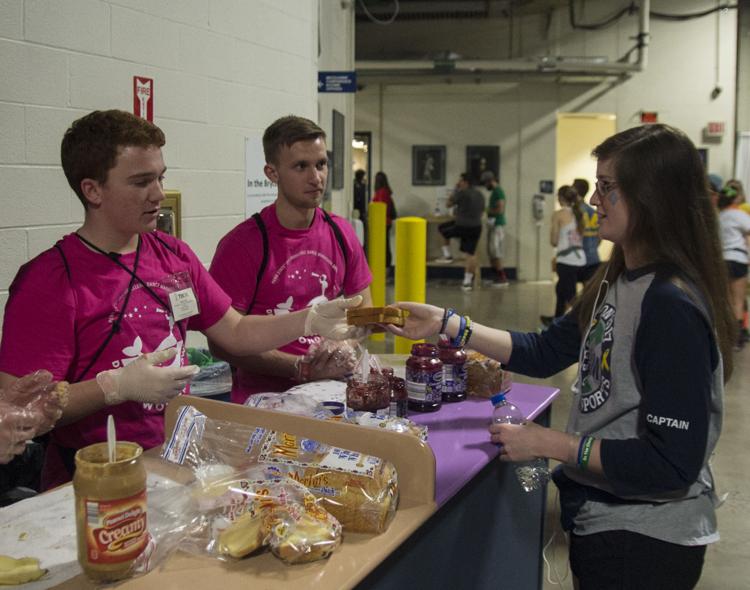 As a college student, Kuhns has continued to be involved in the fight to end cancer though her many roles in Penn State THON, the largest student-run philanthrophy in the nation dedicated to supporting those impacted by pediatric cancer.
"A big reason I wanted to come to Penn State was because of THON," Kuhns said. "I thought it was so cool how so many kids my age were so passionate about the same thing I was — helping kids with cancer."
Kuhns said she did not know a lot about THON besides its mission before coming to Penn State. However, her knowledge of the philanthropy quickly grew as she took part in the event all four years.
Kuhns was a communications committee member her freshman year and a communications captain her sophomore year. During her junior year, she was an alumni engagement captain and dancer. This year, she was an entertainment captain.
"She has strong values and beliefs and she lives by those every day," Berdan said.
Creating Kelsey's Dream
The initial creation of Kelsey's Dream was almost accidental, Kuhns said.
"I think after we lost Kelsey, we were just looking for some way to keep Kelsey's spirit alive," Tina said. "She was a very happy child, even when she was in the hospital."
To honor Kelsey's memory, the Kuhns family decided to build a playground for Mifflinburg Intermediate School, a new school in the same district Kelsey had attended. The money for the school was received from selling wristbands and T-shirts to honor the one-year anniversary of Kelsey's passing.
This was the first of many ideas Kuhns implemented to celebrate the spirit of her sister.
As children, Kylie and Kelsey attended Camp Dost, a summer camp, together. The camp was specifically for children with cancer and their siblings.
After Kelsey died, Kuhns said she was allowed to attend the camp for two additional summers. During Kuhns' last summer attending camp, she said she heard funding for the camp was going to be cut, resulting in the removal of certain activities the children enjoyed.
"I talked to my family about how upsetting that [was] and how much we enjoyed [the activities] and how [the camp] gives kids going through cancer the opportunity to just be kids for a week," Kuhns said.
From there, she worked with her family to create an apple butter fundraiser using a recipe from her grandfather.
"It was definitely a family effort," Kuhns said.
The fundraiser, named Kelsey's Fall Festival, received overwhelming support from the Kuhns' family community and is ultimately what lead to the creation of Kelsey's Dream.
"We raised too much money," Tina said, "if that's possible."
The festival raised enough money to help support the camp, prevent the removal of camp programs and help create more programs at the hospital Kelsey had attended during treatment.
Following the first Kelsey's Fall Festival in 2007, the fundraiser became an annual event for Kelsey's Dream.
This past year was the first year in 13 years that Kelsey's Dream did not host Kelsey's Fall Festival. Instead, Kuhns said they hosted a gala.
In the past, the festival was always held in the fall to celebration Kelsey's birthday on Oct. 8. Kuhns said they decided to hold the gala in the fall as well to continue the tradition of celebrating Kelsey's birthday.
"We just really want the community to remember Kelsey and have a good time," Kuhns said.
Since the foundation of the nonprofit, Kelsey's Dream has expanded to include multiple programs and fundraisers.
"I know Kylie's kind of modest," Tina said, "but she really did create most of [Kelsey's Dreams] programs."
The two most predominant programs are Hopper and the Snack Pack Program.
Hopper the Helping Frog
Hopper is a play therapy, stuffed animal frog with a mock-mediport, a device that goes under the skin to help deliver medication to people diagnosed with cancer.
Kuhns designed Hopper to help doctors show children diagnosed with cancer the procedure they would undergo on the frog first.
"Hopper is a frog because one of the last pictures [Kelsey] drew was a frog," Kuhns said. "We always called it Kelsey's famous frog."
In Kelsey's picture, the frog is wearing a bandana with ladybugs and, to make the program more connected to Kelsey, Kuhns said the children who receive a Hopper toy also get a matching bandana to wear.
Currently, Hopper is the largest program run by Kelsey's Dream, with Hopper toys located in over 45 states across the country and roughly 40, 000 play therapy toys distributed.
"Cancer treatments can be scary for anyone, but especially for a kid," Kuhns said. "Anything we do, we try and trace it back to something that's connected to Kelsey."