Penn State graduate students took to Old Main's steps again on Wednesday — their first time coming together officially as "workers."
The Coalition of Graduate Employees continued to celebrate the Pennsylvania Labor Relations Board's decision last Friday, holding a "We Are Workers Rally" from 1 to 1:30 p.m. on Feb. 14.
After the Friday's decision, Penn State graduate assistants are allowed to unionize with the CGE, holding a union election later in the spring semester.
On the steps, CGE members and graduate students rallied and gave speeches in support of unionization, alongside professors, undergraduate students, community members and local politicians in attendance.
"Thank you everyone for being here," Connor Lewis , a UniServ representative in Pennsylvania State Education Association's State College office said. "Everyone that is here standing in solidarity with the graduate assistants that are not only now only going to have a vote. It's going to be a vote they are going to win."
Lewis himself was a graduate assistant at the University of Missouri and said he knows firsthand the difference of an university having a union for graduate students.
"For a lot of folks, it was the difference between rent and not making rent," Lewis said. "It was the difference between being able to afford having a child or having to delay that decision. In very meaningful way a union was a difference for a lot of folks."
He said he wanted Penn State graduate students to think about what having a union really means throughout the rally, as it can be the difference between "being isolated or having a collective voice to speak up and say this is what we need and we're going to get it."
Undergraduate representative Madison Slupe also spoke on behalf of graduate students, as she is the president of Student Works at Penn State, which is a student-ran pro-labor organization, and an intern for the Centre County Central Labor Council.
"We are hopeful that the university is not going to appeal this decision," Slupe (senior-labor and employment relations) said. "I am proud to be part of a university whose graduate students do all within their power to foster the absolute best learning environment for the undergraduate student body. Without their commitment, Penn State would have no claim to its reputation for academic excellence and without their tireless efforts there would simply be no Penn State."
She wanted to stress of impact that graduate students have on undergraduate education they and with that should be able to "voice their mistreatments in the workplace, because they are workers."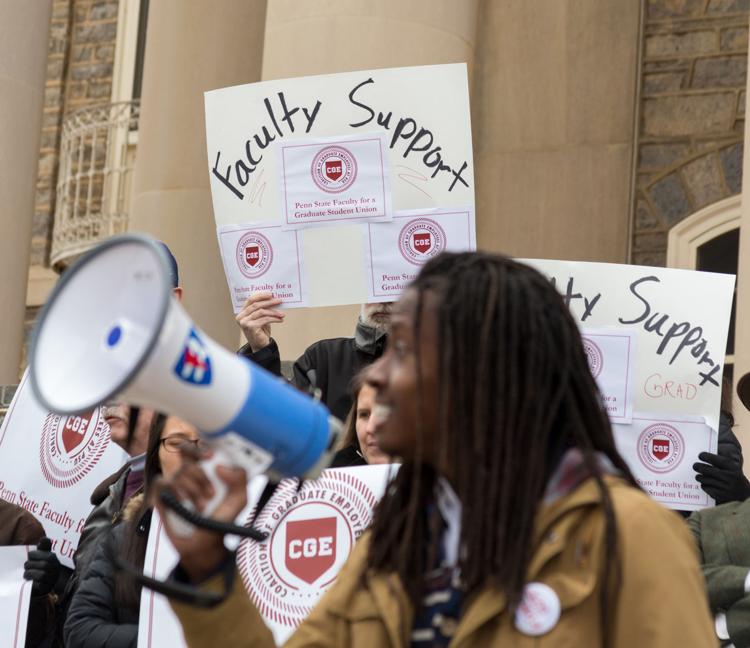 Several professors were there to speak on the behalf on the graduate student body with many of them holding signs and standing side-by-side with students. One of the professors, who spoke was Department of Astronomy & Astrophysics professor, Derek Fox .
"First of all, I just wanted to say what I think is an indisputable fact that graduate student labor makes Penn State work, whether in the classroom or leading labs or carrying out grant supported research," Fox said. "Many faculty support the graduate students and have been critical [of Penn State] to prevent the union election."
Several politicians came to show their support and speak on the steps of Old Main. This included Democrat Scott Conklin , member of Pennsylvania's House of Representatives, and Centre County Commissioner Mark Higgins .
Higgins was born and raised in Centre County and comes from a family of union members, with both his grandfather and father being a part of a unions. From this he became a union member in 1977 with son following in his footsteps and belonging to a union, as well.
"Let me tell you what a union does," he said. "It makes every small voice become a large voice as one. It gives you the opportunity that when citizens unite and, when others come down and try to take the working man away, you can stand up together and have a voice and that why they down want you."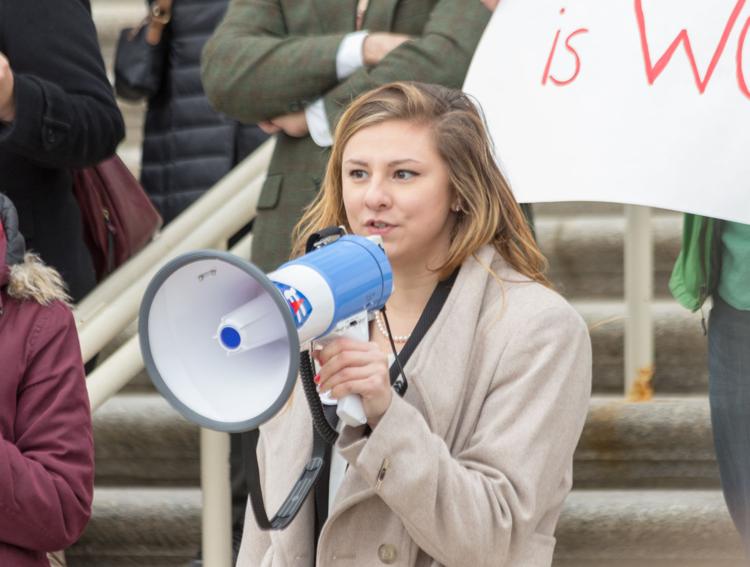 As the rally began, Penn State' Director News and Media Relations Lisa Powers sent out a press release addressing the gathering.
Within the statement, Powers said the graduate student-faculty relationship is very different than that of employer and employee and introducing a union into this relationship would fundamentally alter the graduate student experience and the fabric of graduate programs at Penn State for years to come.
"Unions bargain for the group, not for individual students, which could restrict flexibility within programs and for individual students," Powers said. "Our graduate students play a critical role in our community through their dedication to research, and teaching and learning. Penn State's priority is to maximize this educational experience and ensure they obtain the advanced degrees they came to our University to earn. This may not be a union's priority, and we want eligible graduate students to know all sides of the issues before casting a vote."
In February 2017, Penn State's CGE began the process of unionizing by the filing with the PLRB.
Penn State ended up challenging the CGE's file, resulting a PLRB hearing in September. During the hearing, the CGE and Penn State administrators were given the opportunity to present their beliefs to establish the legalities of Penn State graduate unionization.
A similar union had formed in Pennsylvania in a prior PLRB ruling, involving Temple University graduate assistants. The Temple University Graduate Students Association is the only recognized graduate student employee union in the state.
Now the CGE plans to become the second and join the other 33 recognized graduate student unions across the nation.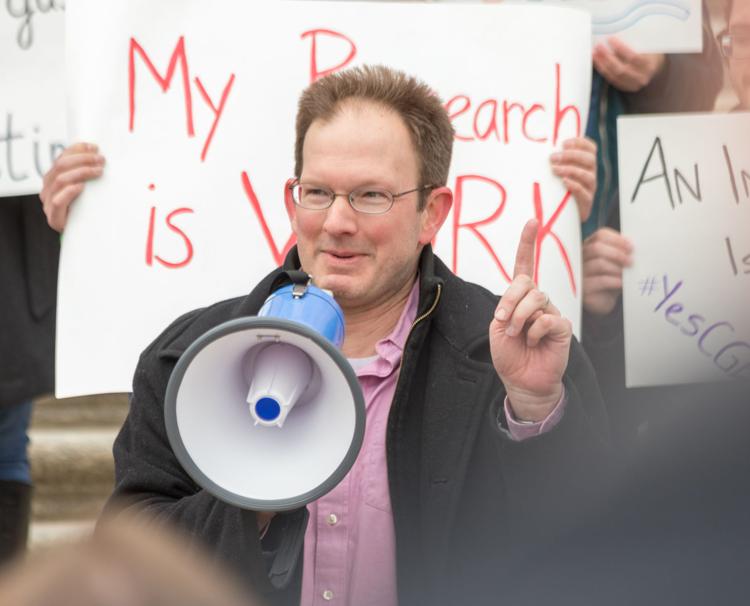 Despite the celebration on Old Main, Penn State President Eric Barron and Penn State administrators still believe "a union will have negative implications on the academic, personal and professional growth of both current and future graduate students, and fundamentally alter graduate education at the University," Lauren Ingram, from Penn State's Office of Strategic Communications said in in an email statement after Friday's decision.
This is not first time the CGE has rallied at Old Main. On Dec. 6, 2017, this is where the CGE said to have one of their "greatest successes," as it was first time they met President Barron in person.
It was on that day members successfully delivered a letter about their feelings on unionization to Barron, after the coalition stormed Penn State's administrative hub.
The Coalition of Graduate Students has been trying to unionize for awhile — here's how that dream became a reality.