Sitting by the campfire with friends, talking about the future, reminiscing about old memories and yearning to join the Marines is no longer a possibility for Nicholas Flacco.
His chance to live any kind of life was unfairly swiped from him, and now can never be returned, according to Flacco's close friend, Ryan Kerrigan.
A vigil for Flacco, a 20-year-old Penn State student who was shot and killed in South Philadelphia on March 30, was held at 6 p.m. on April 2 at Old Main lawn.
There were over 200 people in attendance, most being his close friends and fellow cadets in Penn State's Marine Corps ROTC.
Kerrigan (sophomore-cybersecurity), a cadet in the Army ROTC program, spoke about his relationship with this long-time friend and how Flacco's death affected him.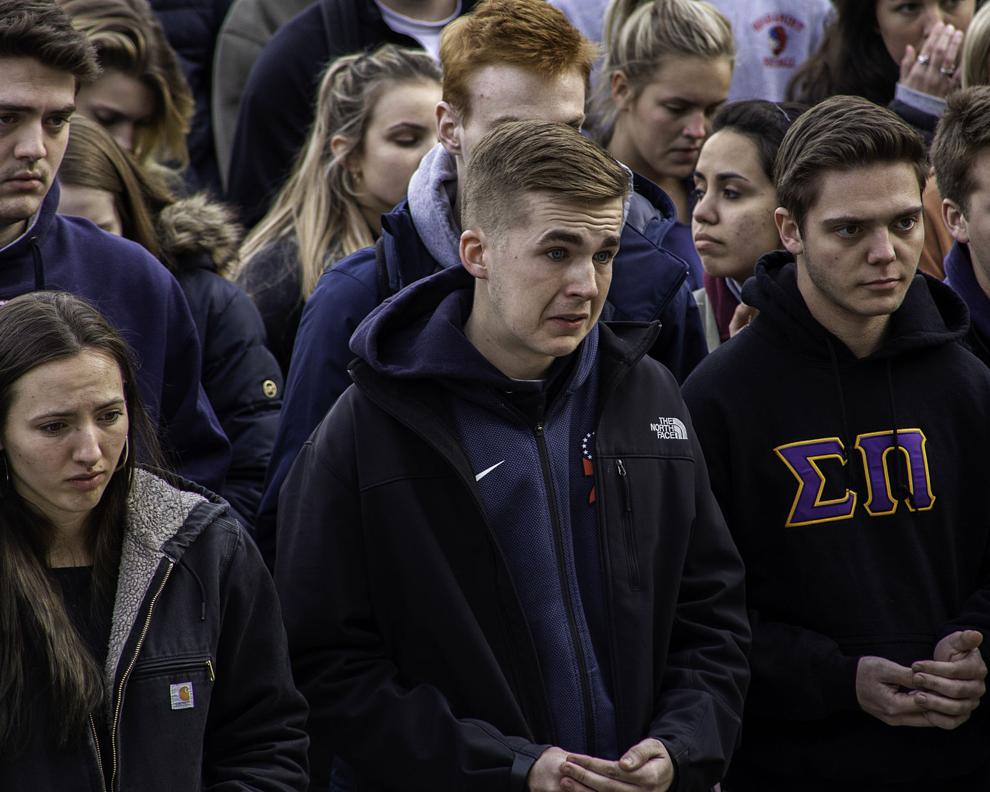 "Me and Nick were close friends since grade school into high school, we would hang out almost every weekend and every night during the summer," Kerrigan said. "I remember our first day in State College like it was yesterday. I remember the nights we would pull all nighters in Snyder Hall and when I tried kicking him out, he would look at me and say, 'Stop bitching.'"
Kerrigan recalled that when he last saw Flacco, he never suspected it would be the last time ever.
"The last time I saw you was at HUB before you went home to celebrate your 20th birthday like you always wanted to, back at home with your friends," Kerrigan said. "What I didn't know, is that this wouldn't be a 'see you later,' but a 'goodbye.'"
---
RELATED
---
Kerrigan addressed Flacco in his speech, as if he were saying goodbye one last time.
"What happened last Saturday wasn't fair to you, Nick," he said. "We might not ever know what happened, but what we do know is that you were an awesome friend to everyone. No parent should ever burry a child at such a young age."
Before his speech, Kerrigan addressed how emotional his speech would make him feel, and went on to give the speech with tears in his eyes, sniffling.
Still going through the stages of grief, Kerrigan spoke about how unfair this felt, and how unfair and saddening this must have felt to all who attended.
"It's not fair for all of us gathering here, for everyone else it's just another Tuesday at Penn State, but not for us," he said. "While all these future memories and experiences we could've made were taken from us and lost forever, we aren't here to mourn the 'what if's and 'should've been's. We are here remembering the memories you left us behind to cherish, we will keep these memories in our hearts for the rest of our days. May you rest in peace knowing you are loved, as an incredible son, tremendous brother and my friend."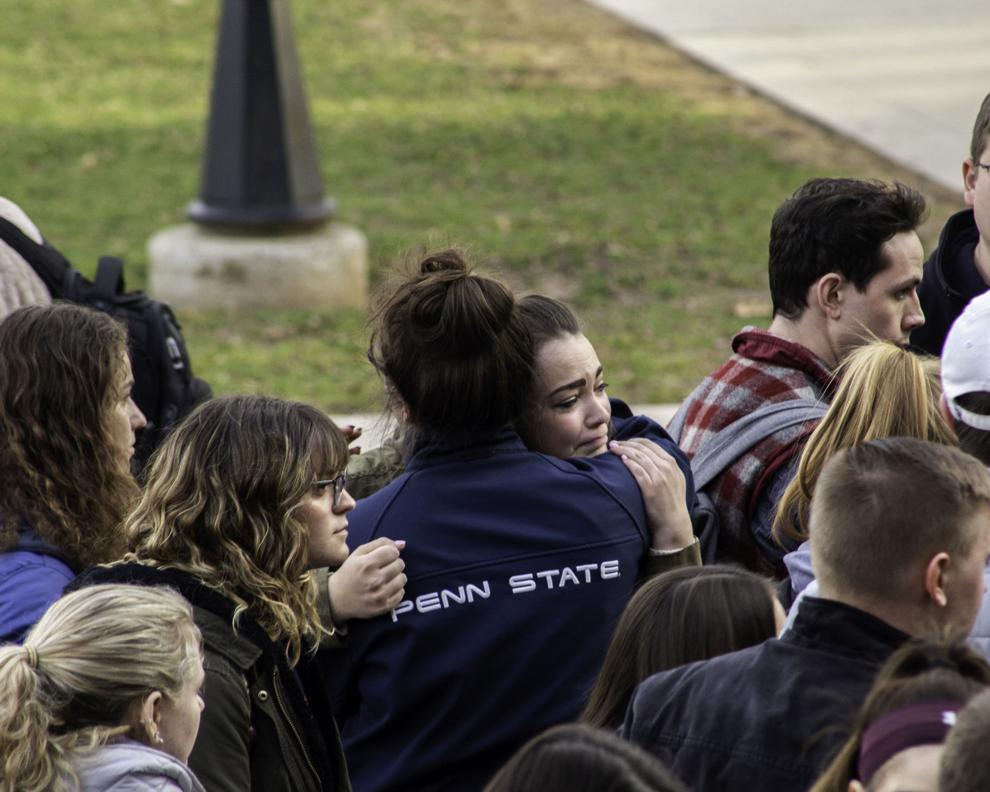 Close friend, co-worker and, for "all intents and purposes," brother to Flacco, Philip Clauhs offered the crowd some advice — to remember Flacco will never be gone, for he will always remain in their hearts.
"Nick is still with us, and he always will be. There is no 'was', there only is the future," Clauhs (junior-strategic communications) said. "Nick never looked back, he never regretted anything, he only looked towards the future, and that's what we have to do today."
In Flacco's memory, Clauhs offered the crowd some anecdotes that made him and everyone in the crowd, crack a smile.
"The first time I met Nick, I knew we were gonna be best friends. He had this can-do attitude, no one could keep him down, it didn't matter who you were, he stood up to anybody," Clauhs said. "I know that he's looking down on us now, he's never gonna be gone, he's always gonna be with us."
Soon after all the speeches given, Daniel Vandiver led a prayer in which everyone bowed their heads and took a knee.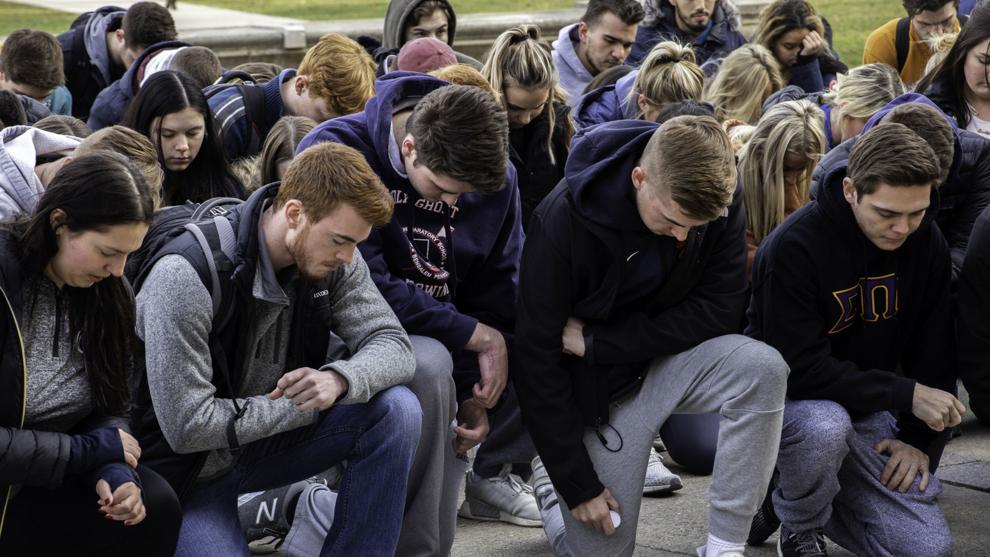 "Lord, I pray for all of those hurting here today, that they will look forward to the future knowing that you had a plan, that there is good that will come from this," Vandiver (sophomore-supply chain information systems and applied French) said. "Even if he's gone, he brought us closer together. I pray for those who are suffering from his loss, to know that you are not alone."
Gaven Womack, a cadet in the Marines ROTC and Flacco's roommate, was affected by the words said before him and continued the sentiment of memory and reminiscence.
"Flacco was truly fearless and loyal, he was honestly, a truly loyal friend to anybody," Womack (sophomore-international politics) said. "Flacco, we'll miss you brother."
At the end of the service, Flacco's friends and fellow cadets crowded around in a huddle to originally mourn as a group, but they ended up telling stories and jokes about Flacco that made their tears fade away into smiles and laughter.