With a baseball cap and a backpack, anyone can become almost invisible in the sea of students walking across Penn State's campus, no matter their age. This makes it easy for adult learners to blend in to the crowd.
"Everyone assumes that I am 20, 21 — that I am their age," Melissa Mercado, president of Adult Learners of Penn State, said. "And then when I start talking about my experiences, they look at me and they say 'You're not that old, you're like 20, 21, maybe 22.' and I am just like, 'Well no, I'm 27.'"
Penn State defines an adult learner as any undergraduate student who is either over 24, a veteran, returning to school after four or more years of another activity, or an individual who assumes multiple adult roles, such as a spouse or a parent. There are over 2,200 at Penn State.
The club, Adult Learners of Penn State, is one way non-traditional students can find a community of people with experiences similar to their own.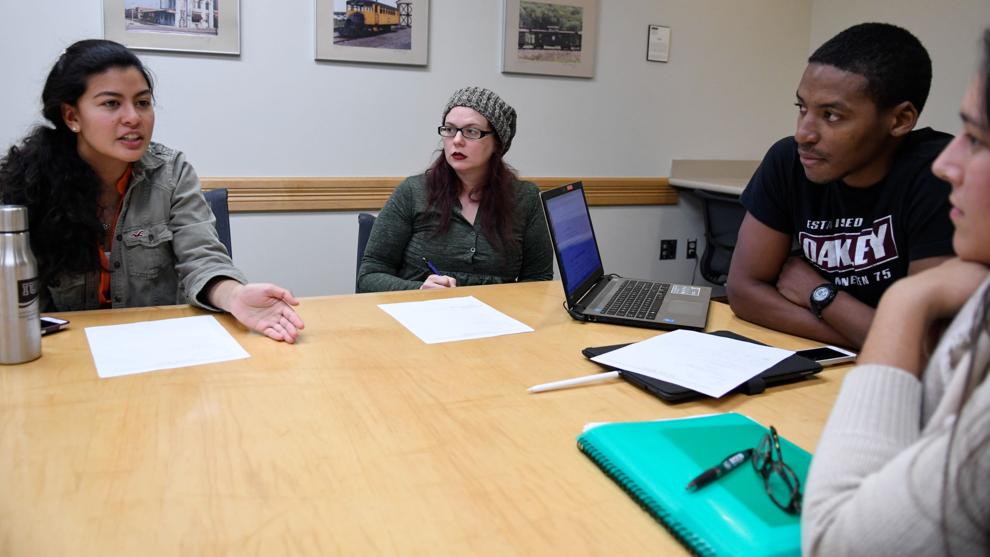 "We really want to invite everyone who feels like they don't fit in because trust me, you do," Mercado said. "You'll fit in here."
Adult Learners of Penn State is an active club, though it has relatively few members. These students volunteer in the community often and actively network with similar clubs, including veteran students.
Yet ultimately, the club exists as a means to build community and foster a continued drive for education among Penn State's adult learner population.
"Because of my past experience, I basically know what I want," Mark Minzie, the club's vice president and treasurer said. "I am more or less very focused and determined to get my priorities straight."
Minzie, a native of Jamaica, came to Penn State after serving in the military, in search of a new career path. He had to make the difficult adjustments from soldier to civilian, from adult life to student life, from warm climate to cold and from Jamaica to Pennsylvania.
"Being an adult learner — I personally have a family. I have that responsibility, plus I have the challenges of thinking about assignments and meeting deadlines and all that, exams — I do face a multitude of challenges," Minzie (senior-petroleum and natural gas engineering) said. "That is entirely stressful for me, as I imagine it is for almost any adult."
Challenges like those that Minzie face are not uncommon in the adult learner community.
Amanda Townsend is 36 years old and twice divorced. Two years ago, she made the heart-wrenching decision to move to Pennsylvania without her older son, whose violent tendencies created an unsafe environment for her younger son. After an experience working in childcare, she realized she needed to make a change in her life.
"I was working full-time at a daycare last year, and my boss was 21," Townsend (freshmen-psychology) said. "I was not credible for information on anything because I did not have a degree. And that was said right to my face, 'You're not educated.'"
This experience marked a turning point in Townsend's life.
"I realized that I needed more. That there has got to be more than this and that I needed to survive, I needed to be more than just surviving," Townsend said.
Now studying psychology in order to be a case manager, Townsend is determined to help others and be an excellent role model for her 12-year-old son.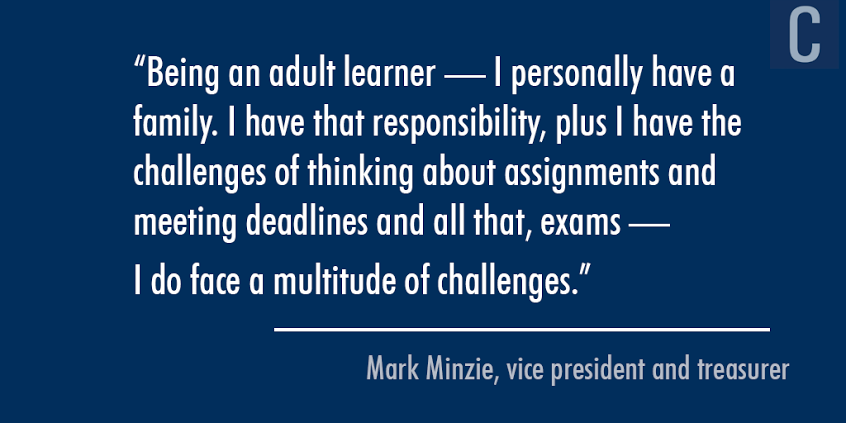 "I have been through so many falls and holes and tunnels, that I can stand on that side of the fence [with a patient] and say 'I understand you. I know what you are feeling,'" Townsend said. "And people need that…someone who is down on the ground with them."
Townsend chose Penn State simply because it was closest to her son's school.
"I went 'I'm going to pick Penn State.' I had no idea that it was prestigious. I had no idea about the university itself," Townsend said.
At one point during the club's meeting, she asked "Is this a big drinking school?"
Townsend's comment reveals the fact that most adult learners cannot afford to be distracted in their pursuit of education. Too much is at stake.
"I learned all the things not to do the first time around," Tiffanie Strickland, an adult learner who came back to Penn State to pursue a biology engineering degree, said. "So I'm doing all the things I should have done the first time. I'm getting involved everywhere I can."
Strickland (senior-biological engineering), 37, is taking her second degree seriously after partying too much the first time around.
"The first time I just wanted a degree, this time I really want experience," Strickland said.
Strickland, like most adult learners, is a bit self-conscious of the fact she is older than most of her fellow students. She was even more so after a recent bicycle accident.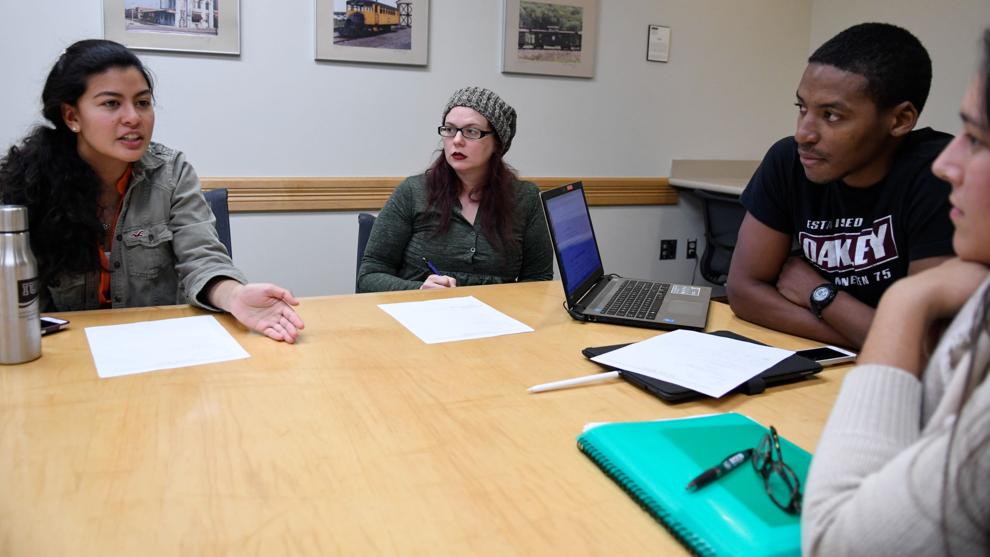 "I call myself the old lady undergrad, and then I had to use a walker because of my injury," Strickland said, laughing.
Mercado, often had a different problem, and on several occasions had to show friends and colleagues her driver's license to prove her age.
After almost graduating on time from California State University with a hospitality degree, Mercado realized she wanted something different. After working full time and attending community college, she decided to pursue a degree in biology with a minor in plant pathology.
"I came to Penn State mainly because of the opportunities as an undergrad to work in research," Mercado said.
After moving to Penn State having never been to the east coast, Mercado remains eager to accomplish big things.
"When I wrote my personal statement, one of my goals was to get involved in a club, possibly even starting a new one," Mercado said. "And I did. I was co-founder for Blooms and Shrooms, plant pathology club."
Mercado plans to pursue a graduate degree in plant pathology and is motivated in part to be a good role model for her siblings, both younger and older.
"[My older brother] wrote me a letter that said 'You are my inspiration, and you're the reason why I'm continuing to go to college,'" Mercado said.
Yet, she, like many non-traditional students, had some problems dealing with Penn State's administration.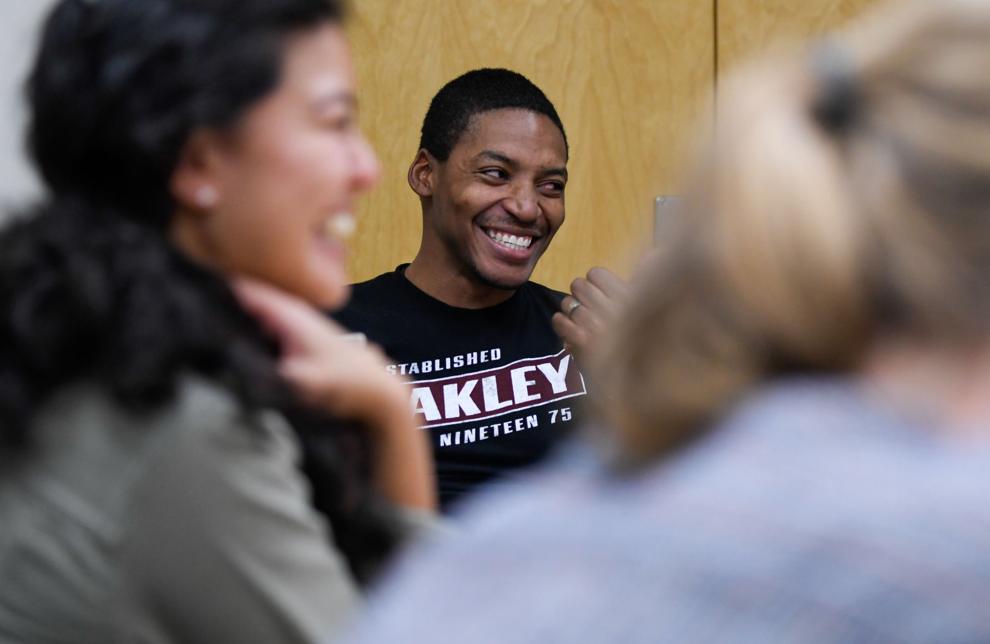 "[A challenge] is the frustration of my transfer credits, having to retake some courses that I came in with an associate's degree and Penn State did not accept it, so I had to take some courses over again," Mercado said.
Mercado, like most members of the club, is grateful for the resources Penn State offers for adult learners like herself.
"The fact that you are not a traditional student means that you have to really look for the resources available to you, and I am really glad that we have them here at Penn State," Mercado said.