A hint of orange peeked out behind a bush as a zombie approached, unaware of its impending demise. With a quick flick of the trigger, the human hit his target before moving to his next.
The 10th-annual Humans versus Zombie Invitational hosted by the Urban Gaming Club turned Happy Valley into a "wasteland" on April 6 as 428 participants with Nerf blasters struggled to make it to the final mission.
This number of participants broke previous records, adding a special element to the entire event.
"It's very humbling," former president Daniel Downes said of the numbers. "It's really genuinely humbling to see a bunch of nerds and all kinds of people who all get together and do this for fun."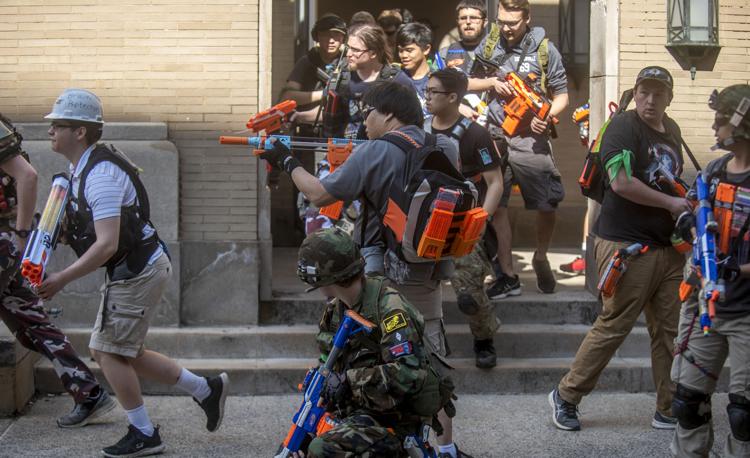 Preparation for the event began last year. Downes knew he wanted this year's event to be special given the anniversary.
For the first time, the invitational was a two-part ordeal, with the humans versus zombie portion on Saturday and a player versus player portion on Sunday.
"We're just trying to bring PVP more to campus and introduce that aspect of the game," adviser Joshua Frantz said.
Frantz explained that Southern Maryland's and Blair County's Houses of Nerf helped organized the large-scale event.
Downes was one of roughly a dozen mediators in charge of over 400 gamers. He explained this proportion was "overwhelming," but he expressed having no regrets.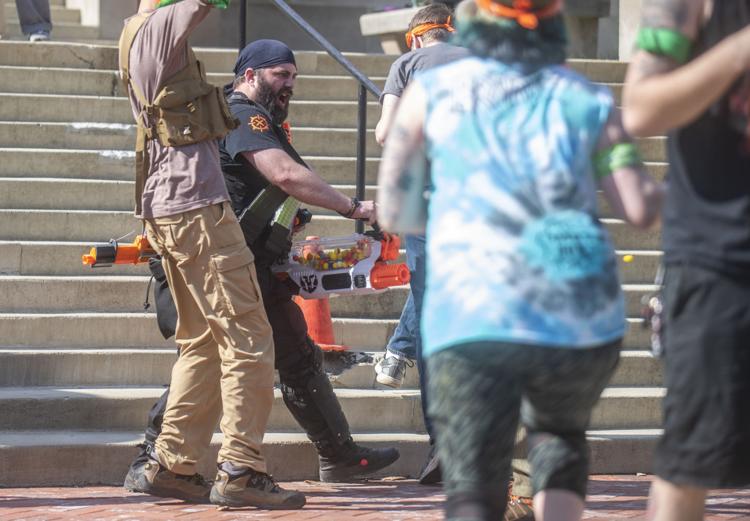 Kelsey Harman, dressed in a black leather jacket and dark lipstick, portrayed a "biker queen" zombie for the event. However, after the humans failed to defeat her character during the second mission of the day, she returned with vengeance as an invincible character.
"As an [non-player character] who then became a rageful zombie… I imagined I was this biker queen who got wronged and thought, 'Okay, now it's time for me to get my revenge,'" Harman (freshman-recreation, park and tourism management) said.
After the failure, Harman visited the separated headquarters of both the humans and zombies to get a feel for the atmosphere. She said the humans had been worried about how their misstep would affect them, while the zombies were thrilled.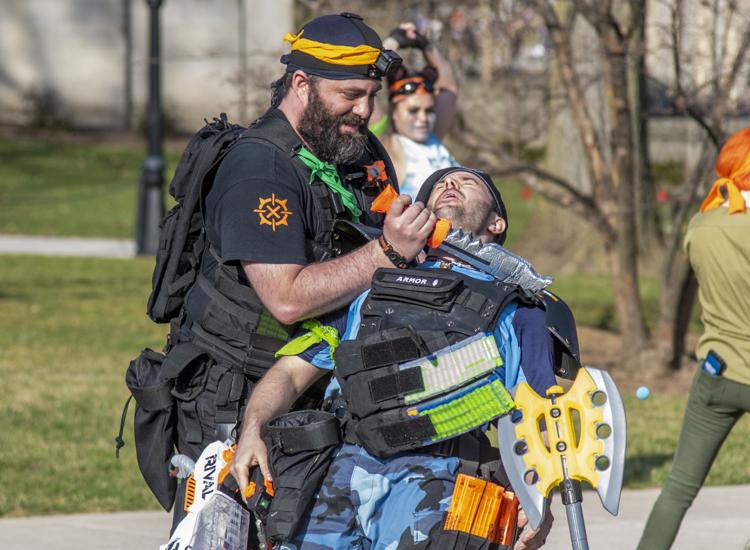 "When [Alex] Archer told them 'Oh, by the way, remember the fact that they failed the mission because they missed a [non-player character]?'" Harman said. "'Well, she's mad. Say hello to your biker queen.'"
The exciting atmosphere from the zombies reminded Harman of her prior experience in the Blue Band.
"Rushing out of that tunnel at a Beaver Stadium white out, I have never felt that kind of adrenaline in my life," she said, "until walking down those stairs as an NPC turned unstunnable tank. This is peak awesome."
Involved with the club since 2012, Harman had the opportunity to interact in the games in different roles, moving up from a human to a key character in the storyline. She was not shy about her enthusiasm for the event and club.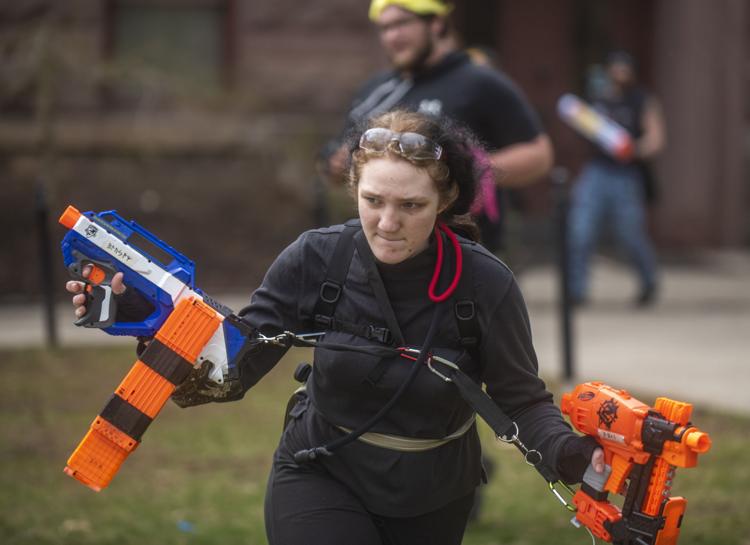 "The beautiful part about HvZ is that no matter what side you're on, your adrenaline is going," she said. "I've been doing this for way too long."
Her continued interaction with the club has allowed Harman to build relationships with many of the players. Harman joked that she could probably provide 250 of the players' first and last names and remember which event she first met them.
According to the theme, the apocalypse had hit University Park and the gamers were trying to survive in a post-apocalyptic era.
"This is kind of our love letter to that [science-fiction and fantasy] genre, stereotypes and tropes, even in cheesy ways sometimes," Downes said.
Gamers dressed accordingly as some wore smudged face paint and capes while one person carried a makeshift shield made of duct tape and a piece of a gym mat. A man in a ghillie, or camouflage, suit stood out from the masses.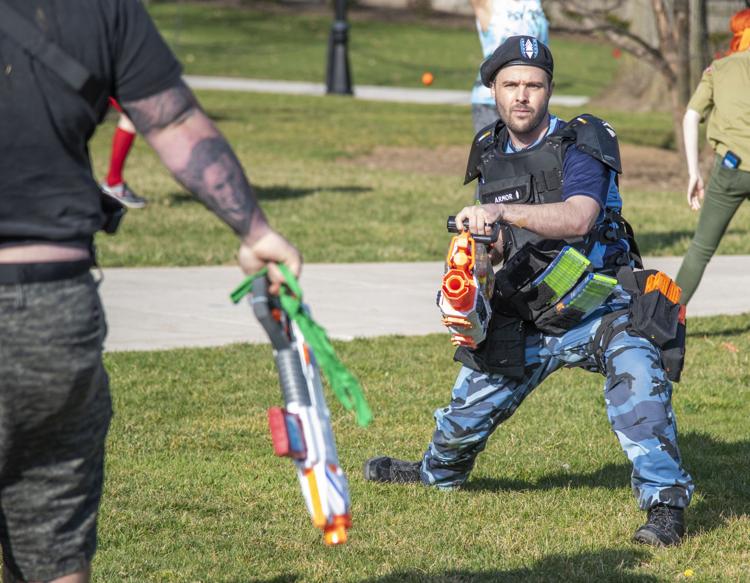 Over 20 universities and various individuals from across the nation made up the two populations. Zombies were identified by an orange headband and green armband, while humans only wore green armbands.
According to event leadership, this passion sometimes translates into more risky behavior which results in minor injuries.
"[The biggest issues are] one, people going where they shouldn't go," Frantz said, "and going over obstacles in an inappropriate way in an attempt to be cool."
Downes added that jumping over chain-link fences is another common occurrence that results in players getting their feet stuck and becoming injured. He also alluded to a mishap that involved a sheet-layer cake that was destroyed.
Beyond the small bumps and bruises acquired throughout the day was the action itself. Players traveled all across campus, toting various Nerf blasters and foam weapons.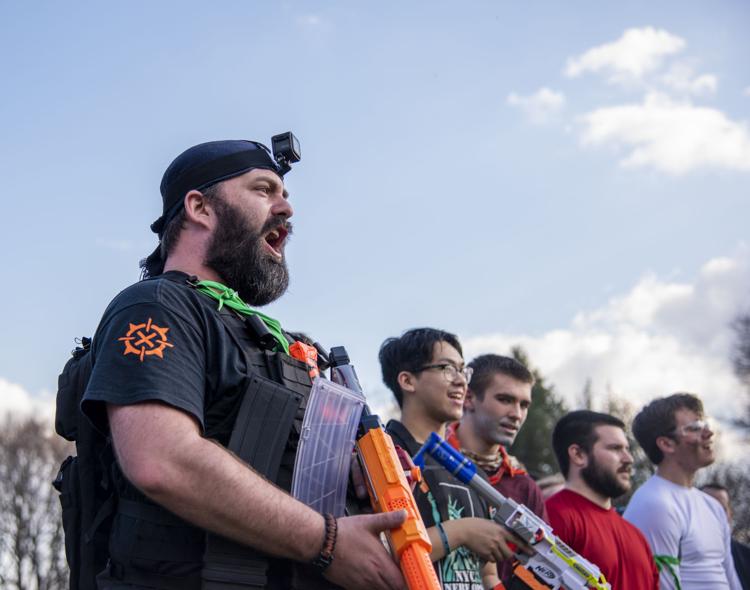 Breathing heavily, Kai-Uwe Konrad ran into the Osmond Building before plopping ungraciously into the closest seat. Underneath a white construction hat labeled "Brain Protector," Konrad's sweaty face looked exhausted.
Konrad (freshman-economics and mathematics) had served as a human "map" for the Red Squad, a group from Athens, Ohio, whom he described as "good shots."
Konrad carried a triple-spring blaster that carried 60 rounds and had a pump action mechanism, a device he described is for those interested in playing "fairly accurately."
Hours away from the close of the invitational, Downes summarized the goal of the event and club in a few phrases:
"You get to come out, shoot your friends, have fun and just forget about exams for a few hours. That's what we get to bring to the community."
---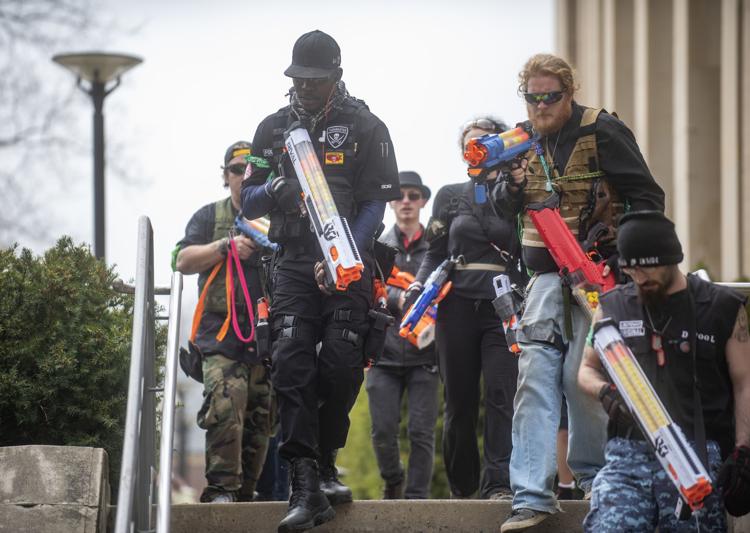 ---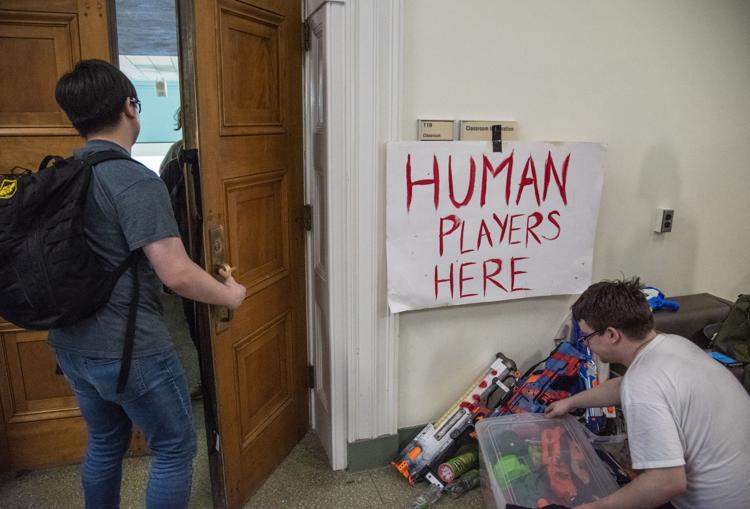 ---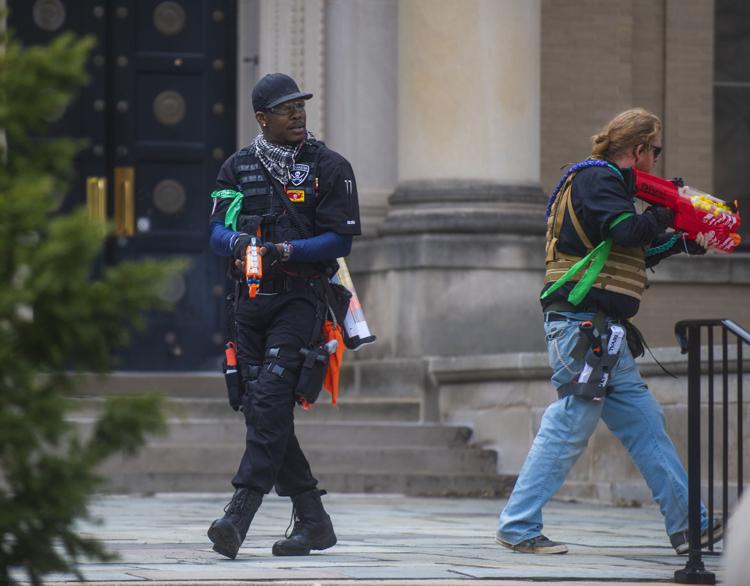 ---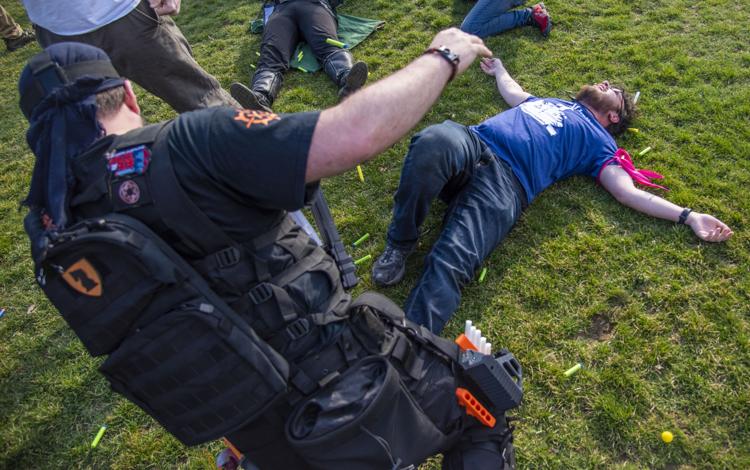 ---
---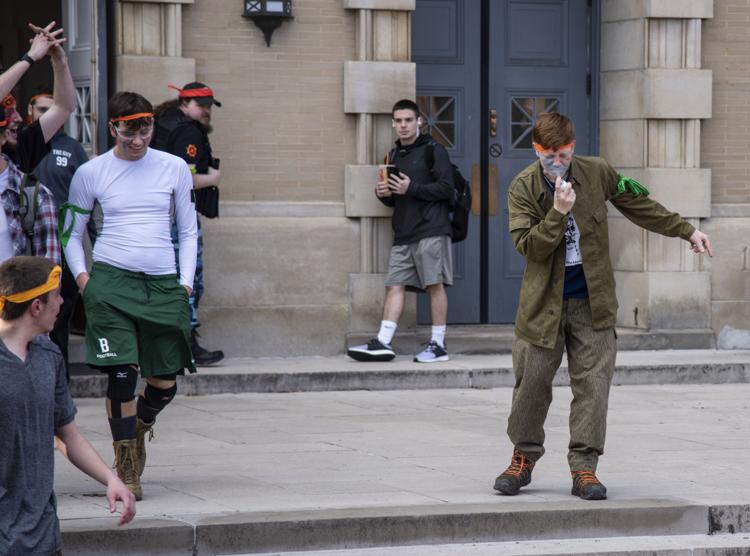 ---