Guns are among hot-button topics in the country right now, and gun-rights advocate John Lott came to University Park to address "misconceptions."
Lott discussed why the value of baring arms shouldn't be dismissed at Penn State on Thursday afternoon — coming on the heels of the high school shooting in Parkland, Florida.
Gun control and the perception of firearms has shifted in recent years. Lott gave his perspective on the issue, advocating for gun rights and utilizing statistical evidence.
Lott's talk primarily addressed misconceptions of concealed carriers. He came prepared to debunk many myths that come along with touchy subject of guns.
"I'm not trying to make a rights argument," Lott said. "I'm trying to make an empirical question."
In Newtown, Connecticut, and Aurora, Colorado — areas where such shootings have also occurred — individuals felt most safe if someone was armed legally and that casualties would have been reduced, according to Lott.
And, an alternate opinion would be that the casualties could have been avoided altogether with certain gun controls in place.
For 20 years, Lott has been arguing that teachers should be armed.
Before 1995, teachers were allowed to carry a firearm, he said, and that served as a deterrent for school shooters.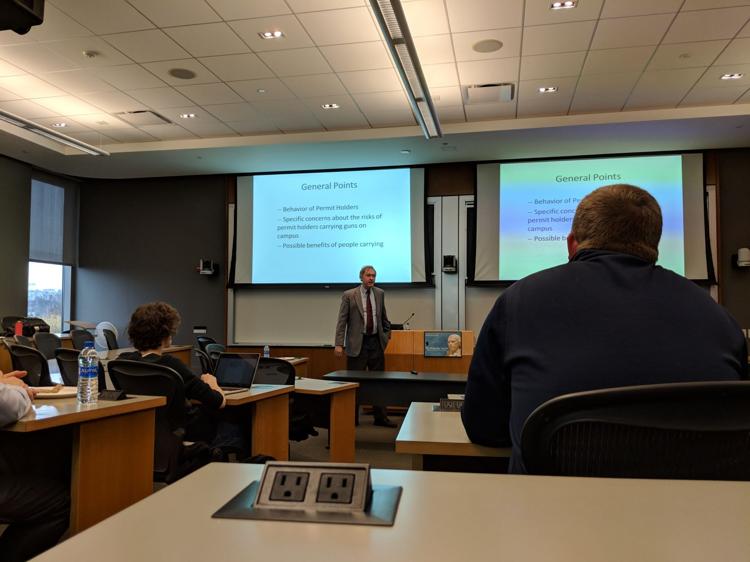 Lott said that if more more individuals were concealed carrying permit users, the potential of more people stopping attacks would become apparent to mass shooters and terrorists. More individuals who carry are better off deterring attacks and defending themselves, Lott said.
Nick Lysin, who attended the talk, emphasized the prominence of gun debates in America.
"It's about what happened in Vegas, what happened in Florida and in all the other shootings that have people really wanting to talk about it now," Lysin (graduate-law) said.
Still, Hojae Chung said "no one is willing to talk to one another" about the gun controversy.
"We need to de-mystify some of the misconceptions of that come with the territory," Chung (graduate-law) said.
Another attendee, Jeremy Lee, said the issue is the intent behind guns — not the weapons themselves.
"Guns are a tool. They are used to kill people," Lee (graduate-law) said, adding that "more gun restrictions is not the answer."