When Richard Bowman was around eight years old, he saw a magician at the school fair.
The man who was performing had him help with a trick — linking rings together — and Bowman was hooked. In the car home that day, he began to question his father, asking how rings could link together when he was holding one of them. He got his hands on books that taught simple magic tricks, and began to practice.
Decades later, Bowman, a 1969 graduate of Penn State, has learned how to link the rings together. And he's good enough at it — among other things — to take up the mantle as national president of the Society of Magicians.
The Society of Magicians, also known as SAM, an organization dedicated to uniting magicians, was founded in a magic shop in New York in 1902, according to their website. In 1917, 100 years before Bowman was elected National President, one of SAM's founders, known for his escape artistry and death-defying magic tricks, took the title: Harry Houdini.
Houdini, along with the other founders of SAM, is one of the magicians who Bowman most looks up to. His role models are magicians "who are no longer with us, who developed tricks and kept the secrets carefully guarded, sharing only with other magicians," Bowman said via email.
"They paved the road in the art so that those of us today can enjoy learning, perfecting, performing, teaching and developing new magic," he said.
Growing up in York, Pennsylvania, Bowman has memories of performing magic as a child.
"I did magic for my friends and family, although I think most of the tricks were con games to swindle the neighbor boys out of their allowances," Bowman said.
Despite his lifelong love of magic, Bowman admitted that his interest waned as a teenager, while he pursued other passions.
While serving in the U.S. Air Force, Bowman began to focus more on performing magic, especially after he was stationed in Sacramento, California. There, he said, he met a magician, Earl Rodgers, at his church, and the two men began trading magic tricks.
"That," Bowman remembers, "rekindled my desire for performing and learning more magic."
Bowman's first "formal" show for an audience was with Rodgers in a church.
"We tag teamed tricks and then did a few together. As I recall, I was pretty nervous," he said.
After he was sent on a remote tour to Saudi Arabia, he had time to study and practice magic to match his advancing skillsets.
"In a way [magic] does relieve stress," Bowman said, "especially when you are working on a new trick, your focus is to follow the instructions, work the sleight of hand, repeating and practicing. Then I concentrate on perfecting it to fit my style."
Bowman's "style," as he performs under the persona "Professor Higgins," was crafted out of a number of factors. In part, Bowman was looking for a way to separate his career in magic with his career in the Air Force. Bowman was a fan of Higgins, a character on the popular show "Magnum P.I." and since he was teaching a little, also liked the connection with Professor Higgins from "My Fair Lady" — though, as he noted, he teaches lessons in magic rather than elocution.
Performance personas, Bowman said, are what separate magicians from their peers.
"Many do the same tricks — developed and refined over the years, but those who can adapt the tricks and infuse their personality to make it their own is what can make it special for their audiences," Bowman said.
Ben Salinas, faculty adviser for the Penn State Performing Magicians club, agreed. Salinas is an application support specialist at Penn State, as well as a member of SAM.
"Like an actor playing a part in a movie, a stage name can help a magician to develop a character," Salinas said. "It's much easier to choose what kind of magic a scientist or inventor would perform than what kind of magic 'Bill from accounting' would perform. It also gives your show a theme that ties the magic together."
When he performs, Bowman said he likes the "mental game" between the audience and the performer.
"A magician presents a challenge to each audience member, who subconsciously tries to divine the method in their minds. Most times the spectator comes up with a lot more complex solution than was actually used," Bowman said.
His favorite part about performing, though, is the ability to make people laugh.
"I try to have fun with the audience, do and say some crazy stuff, while at the same time having them think, 'How did he do that?'" Bowman said.
"When they are laughing," he added, "they can't concentrate on figuring out the method behind the trick."
Bowman has his own laugh-worthy memories of performances as well.
"Each show brings something different that perhaps a volunteer says or does, a trick that maybe doesn't go as planned, or something happens in the venue like the lights going out," he said.
In particular, he recalled one performance at a birthday party, where a little boy named Steve, was just as enthusiastic about magic as he was.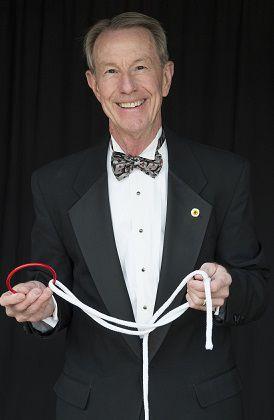 "He was so excited during the show that after each trick, he got up and ran to the wall and jumped against it a couple of times, then returned to his seat for the next trick," Bowman said.
Afterward, Bowman said, he and his daughter, who was helping him at the time, developed a "Steve" scale to rate the audience's enjoyment.
Ask Bowman what his own favorite trick is, however, and it's hard for him to pick just one.
"Oh there are so many," Bowman said. "For cards, it is a trick where the spectator selects a card, signs it, returns it to the deck, which is shuffled. The helper names a number from one to 52 and their card is at that number from the top."
Bowman's favorite trick to perform for children is called "Chocolate Surprise," where he makes Hershey's Chocolate miniatures magically appear with help from the audience.
Even with his interest in magic, Bowman didn't join SAM until 1995, when he moved to Colorado Springs. It was the first time that there was a SAM Assembly close enough for him to attend a meeting, he said, so he then joined the local and national organization.
Now, as the national president, he said his job is to run the business side of the society, whether that's dealing with member issues, making changes to the by-laws if needed, selecting a new editor for the organization's magazine and planning for future endeavors or recognizing members for their contribution to magic or their communities.
After Hurricanes Harvey and Irma tore through Texas and Florida, Bowman said the society put together a disaster relief effort to help magicians who may have lost their magic — and therefore their livelihoods — in the floods.
Bowman, who wants to expand efforts to engage children in the magic community, said that SAM also has a children's program, the Society of Young Magicians, as well as a program to teach magic to children who have special needs.
"I enjoy teaching the children, and love the look on their face when they perform a trick properly and know that they hit it," Bowman said.
As a child himself, Bowman said, he wasn't shy, but he wasn't very confident.
"Performing a trick that worked, where the other children could not discover how I did it, was very satisfying."
Salinas agreed.
"Magic is a rare skill, and never fails to get people's attention — and causing amazement in others is a huge confidence builder," he said.
"When you're concentrating on presenting an effect," Salinas said, "you aren't thinking about being nervous or shy. And before you know it, the effect is over and you get applause. The best part is that magic, unlike a canned joke or an athletic ability, is personality-driven so from the very start your audience is getting to know you."
Bowman hopes to give children a chance to connect with each other through magic, particularly in SAM's pilot program in the Midwest where children watch magic, then are taught by the performer how to perform the tricks.
"These groups meet in small town libraries, so the children know each other and bond over the friendship as they work on magic together," Bowman said.
Bowman believes that this principle can also work on a more collegiate level as well, and hopes to recruit Penn Staters to learn performance magic as well.
"I believe that we could have magic classes in colleges and universities, just as we have other performing arts classes like music and theater," Bowman said. "Jean-Eugene Robert Houdin…once said that 'a magician is an actor playing the part of a magician.'"
Salinas also sees connections between magic and college.
"I love seeing a classic institution like the SAM continue to grow and expand our art," Salinas said via email. "And of course Penn State has a strong magic tradition."
The Penn State Performing Magicians, he said, was the first official collegiate-level magic club — a move that was quickly mirrored by other higher-education programs after its inception in 1996.
Gerald Hinerman, the president for the Penn State Performing Magicians club, said he's proud to know a Penn Stater has done so well in the performing magician community.
"I think there's a sort of vicarious pride from something like this," Hinerman (senior—mathematics) said via email. "I think this is just showing that great performers can come from anywhere. I'm happy for him and his accomplishment."
After performing magic for over seven years, Hinerman has found pride in performing.
"Just the feeling you get practicing something over and over until you're able to do it without feeling nervous gives a sense of accomplishment that makes you just want to learn more and more," Hinerman said.
He, like Bowman, believes performing helps with social and speaking skills.
"Many people enjoy seeing magic tricks, so if you practice a trick over and over, performing it for an audience gets easier and easier. These skills then carry over to situations where no decks are involved. At least in my experience, it's given me the confidence to be a more outgoing person."
Now that the internet has made knowledge so widely available, Bowman believes that the secrecy of magic has changed and it's more accessible for people who want to learn.
"Since magic has been in the 'secret realm' for some time, magicians were reluctant to provide the secrets to 'laymen' as they did not want to have their methods disclosed to the public," Bowman said.
Now, thanks to the internet, he said, "anyone who is interested in magic can learn."
Bowman's goal, Hinerman said, is the same as the Penn State Performing Magicians'.
"While our main purpose is to showcase the talents of our member[s], we also pride ourselves in teaching those interested how to do this things we do and how to perform for audiences," Hinerman said.
Bowman believes that the SAM has room to grow.
"We call each other 'Compeers', meaning we are all equal in the magic world," Bowman said. "We want our Society to be a family of people who love magic, whether it is to watch, perform for friends or do it as a part-time or full time profession."