No matter how familiar, Penn State can feel like an intimidating university to an undergraduate student. In the midst of working to establish a career path, students are encouraged to get involved and make the most of their college experience.
With approximately 1,108 organizations , a variety of tutoring facilities, networking opportunities, counseling and psychological services, support programs, more than 250 study abroad programs and other numerous opportunities, Penn State's resources can often feel limitless.
It's no wonder Brian Davis , senior editor for "Penn State Treasure"— a guide created to inform students of color the opportunities and resources available to them — decided to create a second volume that included more information in order to ensure that students are aware of everything Penn State offers.
Davis released the second volume of "Penn State Treasure" on Sunday during New Student Orientation, co-sponsored by the Multicultural Resource Center and the Paul Robeson Cultural Center .
Despite feeling isolated and lost at Penn State as a freshman, Davis said he went on to earn 23 awards for his ethical leadership, give a TED Talk on understanding police brutality through a basketball analogy and complete four study abroad programs in Haiti, Cuba, Amsterdam and Australia .
"[Penn State Treasure] is a publication based on my first year experience here," Davis (senior-African American Studies) said. "Coming into Penn State from Philadelphia, I had a really rough transition. Once I found out this was common among students, I realized something had to be done about it."
Davis explained that the process of getting the first volume published began when he met Vice Provost for Educational Equity Marcus Whitehurst , who liked the idea and felt it was a project Penn State needed.
The first volume, which Davis wrote when he was studying in Amsterdam, was published in August of last year.
It was a 24-page publication composed of information regarding Counseling and Psychological Services , Lesbian, Gay, Bisexual, Transgender, Queer and Ally Student Resource Center , the Pasquerilla Spiritual Center , the Paul Robeson Cultural Center and the Multicultural Directors of each college.
"But then, I realized I was missing a lot," Davis said. "This year, with Penn State Treasure volume two, I increased the publication about 24 pages."
He said the second volume includes more items on the "Treasure Checklist" at the back of the book.
The checklist outlines different ways a student can receive advice, build his or her resume and essentially prepare his or herself for a successful college career. He said he also added Schreyer Honors College, Presidential Leadership Academy , Stand for State and five-year master's degree programs .
Davis worked with multimedia specialist, Mike Brahosky , aiming to make "Penn State Treasure" colorful and visually pleasing.
"He took what I gave him and used his artistic skills," Davis said. "Many offices provided me with pages of info and we in turn vamped them up. You can read 'The 'S' Book' or you can search the university's website, but (Penn State Treasure) is very visual and appeals to the eye."
He plans to keep the publication going for the next couple of decades because it's something he feels can always be given to incoming, change-of-campus and transfer students, Davis said.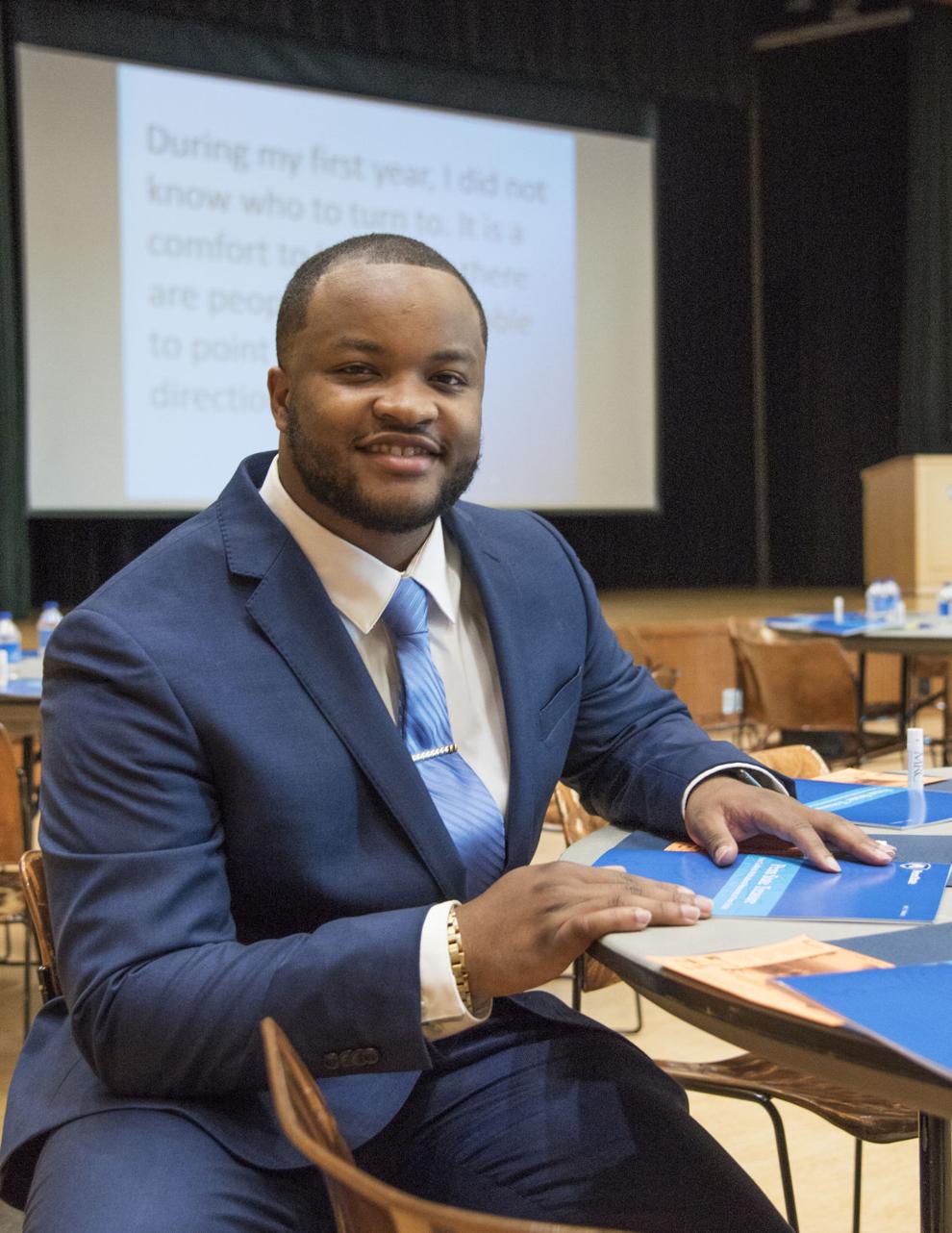 Through his research, Davis said he was surprised by all of the resources Penn State offers. He said what's really important about all of this is the fact that students are paying for all of these resources, so why not take advantage of them?
"Envision yourself on an island with just you and your friend. You stumble upon treasure," Davis said when explaining how he named his book, "When you open the treasure, what you find might be completely different from what your friend might find, but both of you will find something that is conducive and will shape and alter your experience for the better. It's something that will magnify your experience either on the island or at Penn State."
Carlos Wiley , director of the Paul Robeson Cultural Center, is very supportive of "Penn State Treasure" and was an important asset to Davis when getting the book published.
"When Brian came to me two-and-a-half years ago and told me he wanted to create a booklet for students, I loved the idea," Wiley said. "I thought that it would be very beneficial."
Having helped Davis write a proposal, Wiley said he also took it to different people, trying to get the financing needed to complete the project.
Davis explained that he didn't receive University Park Allocation Committee funding this year, so the publication wouldn't have been possible without Schreyer Honors College, College of Liberal Arts, PRCC, Educational Equity and Pasquerilla Spiritual Center.
"All of them have financially contributed to the Penn State Treasure because they see the value in it," Davis said. "They realize that we have achievement gaps among students, and that's one of the issues I wanted to adjust."
While he said he did not receive enough funding to publish enough physical copies of "Penn State Treasure" to give to all students, he knew that all students would need these resources.
He thought, "Why not design an app?"
Davis worked with his friend, Bryant Obeng , to create a free mobile app, which is currently close to completion. He said he envisions it as being something that can reach all Penn State students in an easy, efficient manner that will change how students interact with resources.
The app will be released sometime next week, Davis said.
Emily Payamps , a student who attended the release, said she was excited when she received her copy of the book.
"It's the ultimate go-to guide for getting involved on campus and finding resources," Payamps said. "I'm going to cut out the back page that says 'Treasure Checklist' and make sure I finish it before the year ends."
After graduation, Davis plans to go to graduate school to earn a PhD. He's looking into Ivy League schools, as well as schools in England and South Africa. He plans to continue expanding his knowledge and getting involved in public speaking and activism.
"The work never stops," Davis said. "I acknowledge and appreciate all of the positive feedback, but I have to keep moving because that's just who I am. I never get stuck because I'm always trying to improve myself."
When asked if he would continue writing in the future, Davis said, "The books will come because I have a lot to say."
Editor's note: The language of this article has been updated to more accurately convey the message of Brian Anthony Davis.