Together Learning to Live: What's Your Story, Global Connections and Penn State's Counselor Ed Program organized a panel titled "Honoring Life in Various Cultures."
Attendees got a first-hand look into the celebratory traditions of the dead in cultures around the world on Friday afternoon. 
Crowded into room 202 of the Carpenter building, nearly 50 people intently listened as speakers from China, Sri Lanka as well as St. Vincent and the Grenadines described the ways in which their ancestors and family continue to honor those that have passed.
Opening the lecture by retelling the announcement of a dead son by a grieving mother in North Carolina, Jackie Hook began the lecture.
"My dear friends, our lives are changed forever. My beautiful, hard-headed, hilarious, sweet son… has made a huge error," Hook, a spiritual director at Koch Funeral Home, said quoting the mother's Facebook post.
She went on to explain the reasons for the session which included finding help in one's own grieving, building community in a "death avoidance" culture and sparking a carpe diem mentality in the audience.
She then passed the microphone to Alexis Schad who briefly explained Global Connection's goal of making connections between local and international communities in Centre County.
Professor Katie Kostohryz followed this by recognizing her class of 20 graduate students in the counselor education supervision program.
"I hope that they, as future counselors, learn from different cultures and experiences to be open and to be able to support a range of clients that come from different cultural, religious and parts of the world through grief," Kostohryz said. "I just wanted to expose them to different ways of thinking and being so they can be as prepared as possible."
The first of three presenters eventually took her place behind the podium to begin the lecture portion of the event.
Wenjie Fu, born in Chongqing, China, reflected on the way her origin country and her family honored those that died.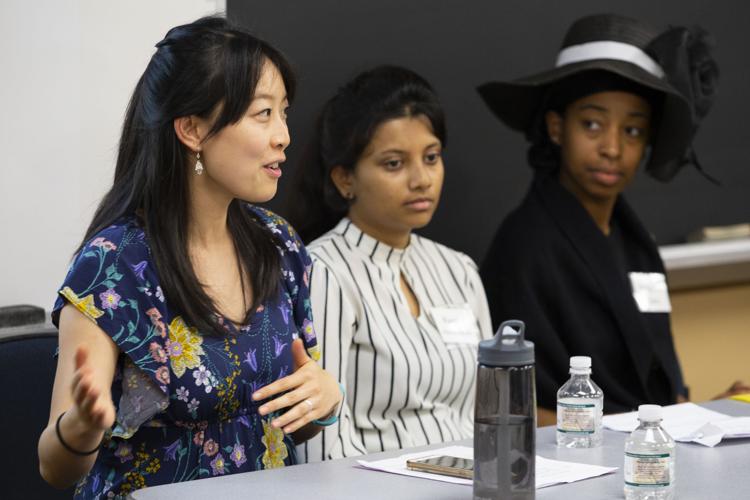 Growing up, death was not a topic that was commonly discussed because of fear of bad luck. As she grew older, she researched more about the avoided topic.
Beginning with traditional practices, she touched on the urgency required of family members to rush to funerals as well as the seven day vigil members held for seven weeks. She also described the importance of the three-year mourning period during which big celebrations such as marriages were prohibited.
Modern practices are less stringent but one notable feature is the significance of white and yellow chrysanthemums. The crowd laughed as Fu, Global Connections program coordinator, told a story of her husband who gave her such flowers, unaware of the connection to death.
Kanchana Hettiarachchi from Sri Lanka presented next.
Hettiarachchi emphasized the requirement of a death certificate before any ceremony could begin.
Once a certificate is given, white flags are put up in front of family homes while interior decorations are covered in white clothes and photos of the deceased are removed.
Flanked by oil lamps and faux elephant tusks, the corpse is constantly watched by the family before being sent to a crematorium. The urn then floats away in a river.
Anngelica Peters wrapped up the lectures with a spirited presentation of traditions in St. Vincent and the Grenadines.
Stories of her mute uncle Troy's enjoyment of funerals sent a chuckle through the room as she showed videos and pictures of her grandfather's funeral during her presentation.
One emotional video depicted her family singing as the grave was filled. Peters pointed out the difference in her culture of staying until the grave was completely finished while American funerals tend to disperse after the casket has been lowered into the ground.
Hook concluded the event with a quote by Wayne Muller: "Remember who you love, remember what is sacred. Remember what is true. Remember that you will die and that this day is a gift. Remember how you wish to live."