The Coalition of Graduate Employees has been left with unanswered questions as the Penn State administration refuses to disclose information about legal fees from the Pennsylvania Labor Relations Board hearing that happened in September.
This past August, former CGE Chief Organizer Miriam Gonzales took part in organizing a group of graduate workers to call and send fax messages to the offices of three members of the Penn State administration.
Penn State President Eric Barron, Executive Vice President and Provost Nicholas Jones and Dean of the Graduate School Regina Vasilatos-Younken were chosen as target members of the administration to contact for their previous statements made in opposition of the graduate assistant unionization effort.
On a Tuesday, Wednesday and Thursday, graduate workers at Penn State, as well as members of graduate unions across the country, called the three offices and faxed messages in an effort to "show solidarity" and to "demonstrate power in numbers."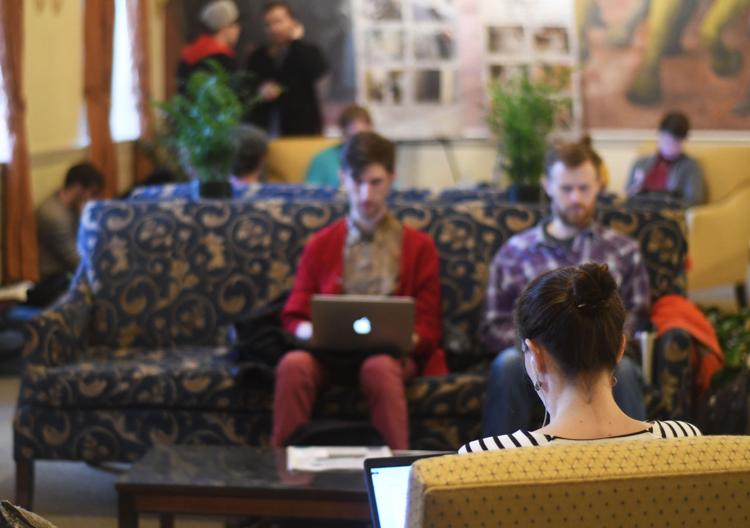 "The point was to demonstrate a constantly ringing phone and a constantly delivering fax [to show] that people care about this issue," Gonzales (graduate-English and women's studies) said. "It was really just about making sure administration knew that we had eyes on them from across the country."
In preparation for the September PLRB hearing between Penn State and CGE's team, Penn State hired the Ballard Spahr law firm — a law firm in Philadelphia that, according to its website, knows how to "help clients maintain a union-free environment."
CGE Chief Media Officer Katie Warczak said CGE's Pennsylvania State Education Association lawyers have estimated that the Penn State Administration has spent "at least half a million dollars" on legal funds.
"But, we don't know where this money is coming from," Warczak (graduate-English) said. "Do they have a specific legal fund they're drawing from? Are students' tuition going into it? Where is this money coming from?"
Questions such as these were included in the statements made over the three-day period of trying to contact members of Penn State's administration.
However, no answers were provided to members of CGE.
"I always talked to their secretaries or the workers that answered the phone," Warczak said. "So, I wasn't able to get in touch with the administrators and ask them questions. When I called and talked to people it was, 'Thank you, I will pass along the message' and essentially 'goodbye.'"
Members of CGE have still never received answers to these questions and are still searching.
Gonzales said at the time of the call and faxing efforts, she wanted to know what CGE was up against as the hearing approached.
"All of our funding comes from alternate sources or is kind of done in anticipation of us becoming officially recognized as a union," Gonzales said. "And so, to fight that with a huge Philadelphia based union-busting law firm seemed totally inappropriate. We really just wanted to know what we were up against and why they were so determined to stop the unionization campaign from proceeding."
Warczak said she thinks this is something that should be of interest to undergraduate students, specifically.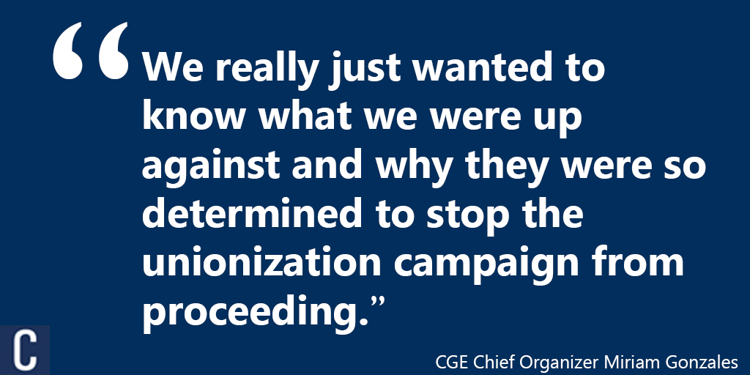 "As the primary individuals who fund this university, that's something that should be important because, ultimately, they could potentially be using tuition dollars to fight your teachers," Warczak said. "Perhaps it could be put to a use that undergraduates prefer."
Gonzales made a similar point and added that tax payers have a "right to know where their money is being spent."
"It is also really important to me to know what kind of business the institution that I'm affiliated with is giving their money to."
Warczak said it is also important for the university to be "transparent."
"This is not an insignificant amount of dollars that the university is spending on its efforts to say that graduate assistants are not employees and can't unionize," Warczak said.
Vasilatos-Younken said she has "never seen a bill for the university's attorneys" and that all she could say is the money comes from "aggregated sources of funds."
After asking similar questions via email to Associate Vice President for News and Media Relations Rachel Pell, the only statement received read:
"Education and general funds are used to support the core functions and operation of the University. Penn State routinely retains counsel to assist and advise on many issues that have direct relevance to our academic mission and operations. General practice of the University is to report legal expenses in the aggregate – not on a case-by-case or issue-by-issue basis."
The Daily Collegian reached out to Provost Jones and didn't receive a response.
RELATED COVERAGE
GPSA passed a resolution at Wednesday night's meeting in favor of graduate assistants' possible right to hold a democratic vote on unionization — taking a stance against the side of university administration.
CGE continues to work to prove to the Penn State administration that graduate assistants have a right to have a seat at the table.