For 60 seconds, no one said a word.
The scene at Old Main was distinctly silent Tuesday night, with the only sound coming from the distant buzz of downtown State College. Some closed their eyes in prayer. Others stared into the distance, their hands clutching a candle that flickered in the dimming sunlight.
On March 19, dozens of students, community members and Penn State leaders gathered to mourn and honor the 50 people killed in last Friday's New Zealand mosque shooting.
While one minute of the vigil was reserved for a moment of silence, the remaining time was filled with speeches and Koranic recitations.
Hassan Soliman, the president of the Muslim Students' Association, spoke first at the vigil. Soliman (sophomore-chemical engineering) discussed the grief felt by the Muslim community and the need for global unity.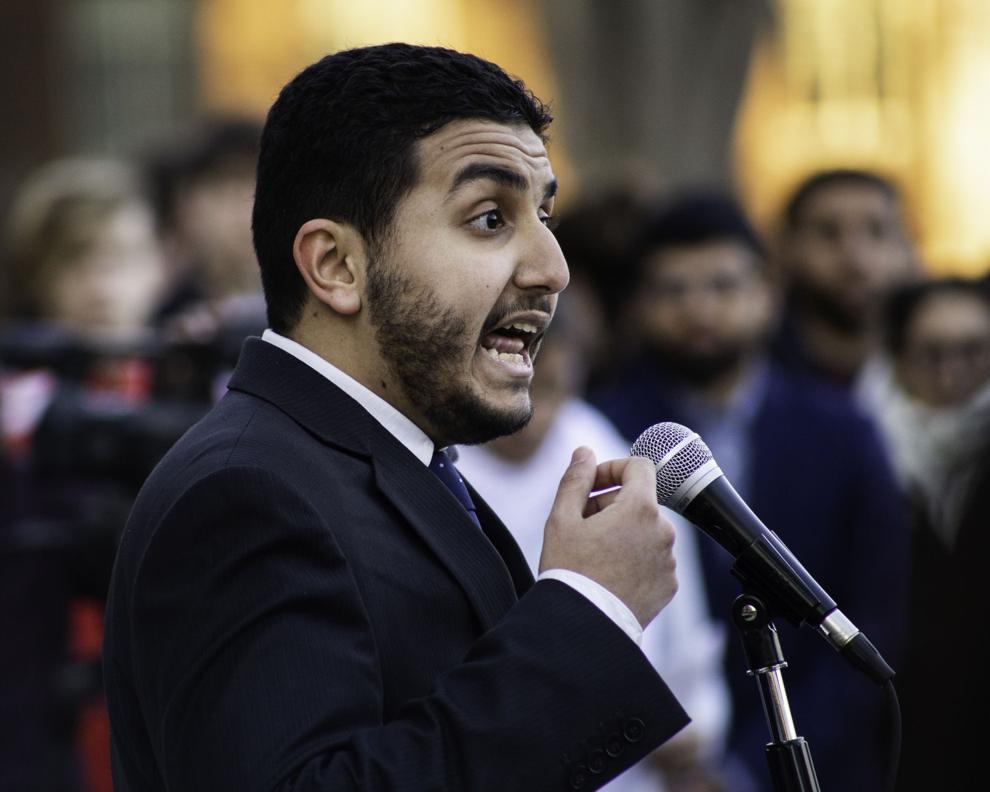 New Zealand Prime Minister Jacinda Ardern described the shooting as one of New Zealand's "darkest days." Soliman agreed with the description, and proceeded to list other "dark days" in recent history — the 2017 Quebec City mosque shooting, the 2017 Finsbury Park attack, the 2018 Squirrel Hill, Pittsburgh synagogue shooting and the 2015 Charleston, Virginia church shooting.
These "dark days" are related, Soliman said, because those killed or injured were in a place of prayer or worship. He added those killed "were defenseless, and they were slaughtered."
"Before we condemn the one with his finger on the trigger, it is time we come together as one, as a community, to condemn all forms of talk which foster hatred and demonizing of the other," Soliman said. "What we grieve today as Muslims, and yesterday as Jews, and the day before as Christians, and each of those days as humans, is the consequence of not taking the responsibility to stand up against hatred in all of its forms."
Shanjida Chowdhury, the president of the Muslim Legal Society, spoke after Soliman. Chowdhury (graduate-law) discussed the significance of Jumu'ah to Muslims.
In Islam, Jumu'ah is a congressional prayer held every Friday. Chowdhury said Jumu'ah helps Muslims feel a sense of security and belonging. Muslims in the Christchurch mosques were practicing this prayer when the shooting happened, Chowdhury said.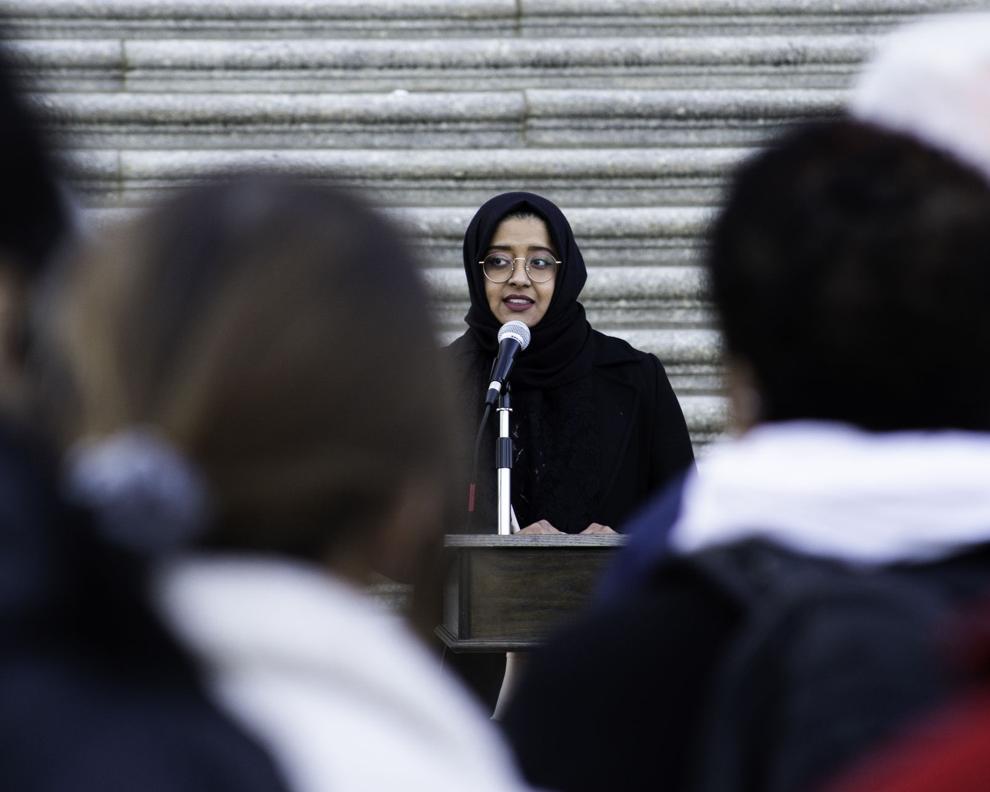 "As Muslims, sometimes it's hard to find a sense of belonging in a society that ostracizes you because of your faith or how you may appear, so we look forward to Jumu'ah every single week," she said. "This past Friday, after hearing about what happened in New Zealand, we went to prayers with heavy hearts."
Chowdhury urged the crowd to celebrate the lives of those killed. In addition, she encouraged everyone to "actively fight" injustices and oppression.
"For while we might not share a faith, a race or an ethnicity, we do share a common humanity," she said. "Although are hearts are shattered, our faith remains unbroken."
Wearing a "Stronger than Hate" T-shirt, Penn State Hillel Vice President Allie Ryave spoke next. Ryave (sophomore-human development and global studies) offered love and support for Penn State's Muslim community on behalf of the Jewish community. Ryave, a Pittsburgh native, said she is still healing from October's Tree of Life synagogue shooting.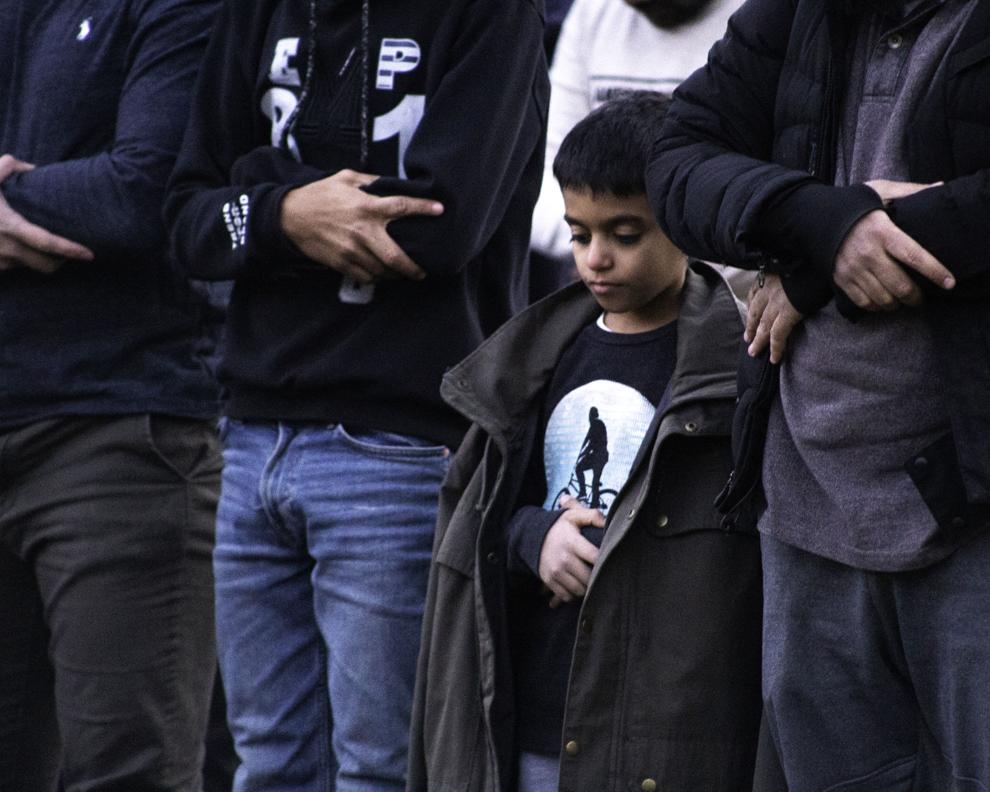 "As a Jewish student on this campus, what got me through those tough times was the strength not only from my own community, but the support from all of those around us," she said. "You do not have to go through this alone, and you will not ever be alone. We must unite in the wake of this tragedy to make sure that love shines brighter and stronger than hate."
Several Penn State and State College leaders — including Penn State President Eric Barron, State College Mayor Don Hahn and Vice President of Student Affairs Damon Sims — attended the vigil. Barron and Sims both spoke.
Sims, who described the attack as "numbing," spoke on the need to spread love and unify humanity.
"Guns and misunderstanding are too plentiful among us, while reason and love too often seem too scarce," he said.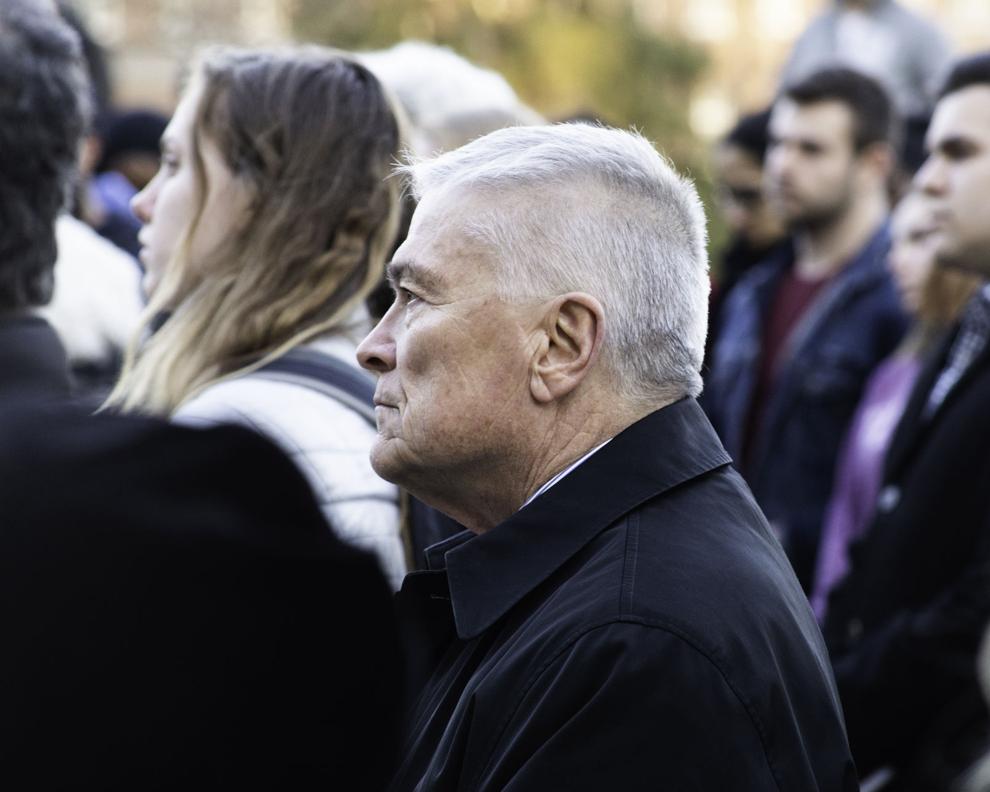 Barron addressed his alarm at Islamophobia, extremism and hatred in the world. He also said there was "no place for hate" at Penn State.
"This is the second time in six months that I stand with our community in mourning a senseless and horrific act of violence," Barron said. "Our hearts go out to the people of New Zealand and Muslims everywhere."
MSA member Yousef Hussain then presented a Koranic recitation to the vigil. Following the recitation, Hussain (junior-biology) discussed passages from the Quran and prayed with the crowd. Hussain said according to Muslim tradition, those who died in the shooting are considered martyrs.
"Do not say that those who are killed in God's cause are dead; nay, that they are alive, though you do not realize it," Hussain said, quoting a passage from the Quran.
The crowd raises their hands in prayer pic.twitter.com/mQu3x7In5M

— Maddie Aiken (@madsaiken) March 19, 2019
Before praying, Hussain offered words of advice to the crowd.
"We should pray and act to change hateful rhetoric and the ensuing hateful violence, and above all, resist the temptation to lose hope," he said.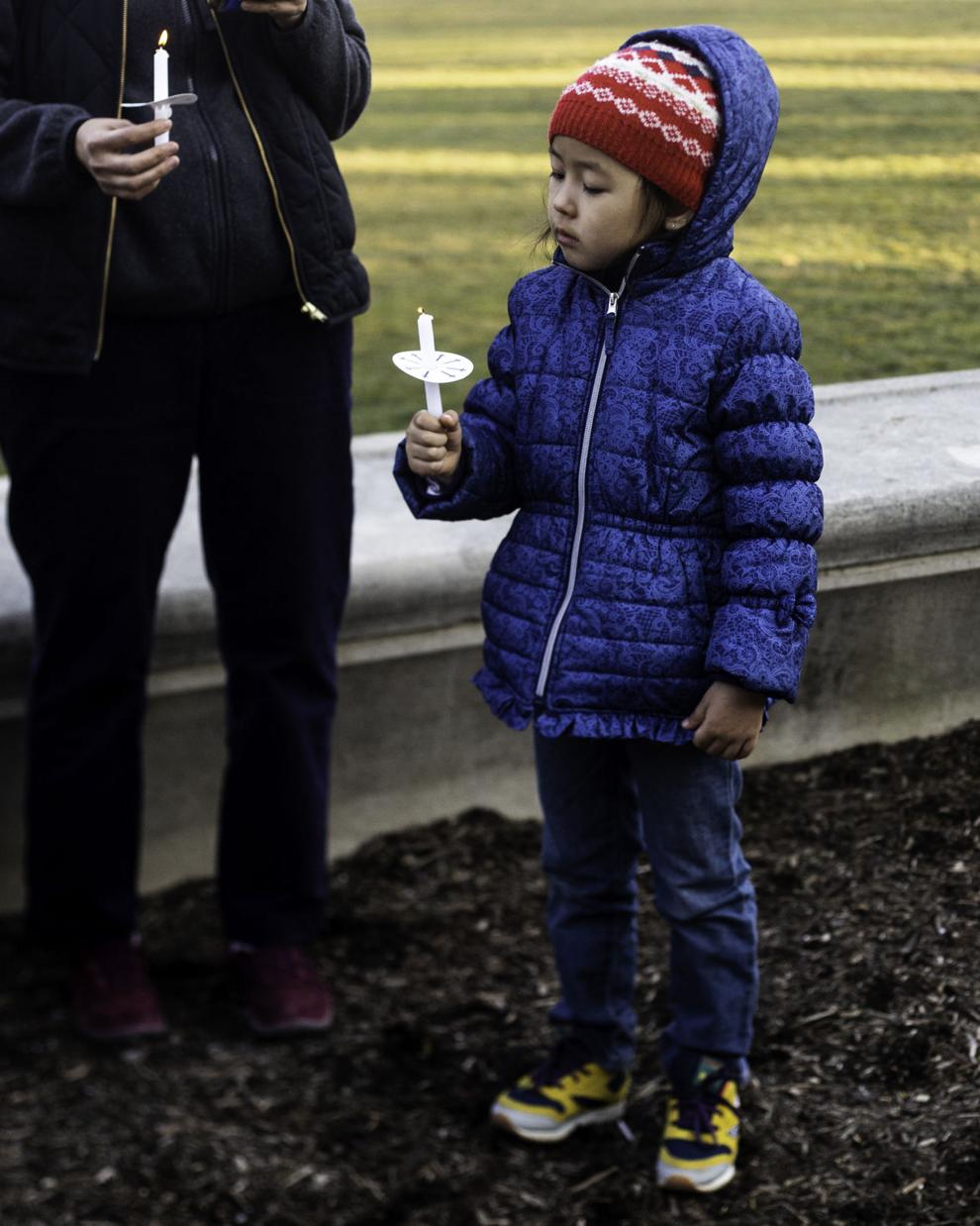 Finally, Rafay Nasir, College Independents president and Lion Caucus treasurer, closed the vigil. Nasir (sophomore-biology, and health policy and administration) discussed his personal ties to the shooting. He said his father knew several of those who were killed.
"It is sometimes difficult to truly grasp the humanity of such a tragic event until you form personal connection, and honestly it is impossible to not form personal connections with the individuals who senselessly lost their lives on Friday," Nasir said.
He then discussed the prevalence of Islamophobia across the world — including in the United States. Nasir said he dreams of a day when police officers don't have to be present in his local mosque, and the mosque doesn't receive letters with messages such as, "'Trump will do to you what Hitler did to the Jews."
"We need to put our humanity first and above all else," he said. "We must realize the personal connections we have with every single human being on this earth and strive to create mutual love, peace and respect."
Following the speeches, recitations and moment of silence, many who attended the vigil remained at Old Main, greeting friends and talking to acquaintances. Some attendees gathered at a table set up so people could write letters and messages to the Christchurch mosques.
Several minutes after the vigil, the sun fell. With blankets and coats stretched over Old Main lawn, Muslims in attendance began to pray the Maghrib prayer, one of five daily prayers that is prayed after sunset.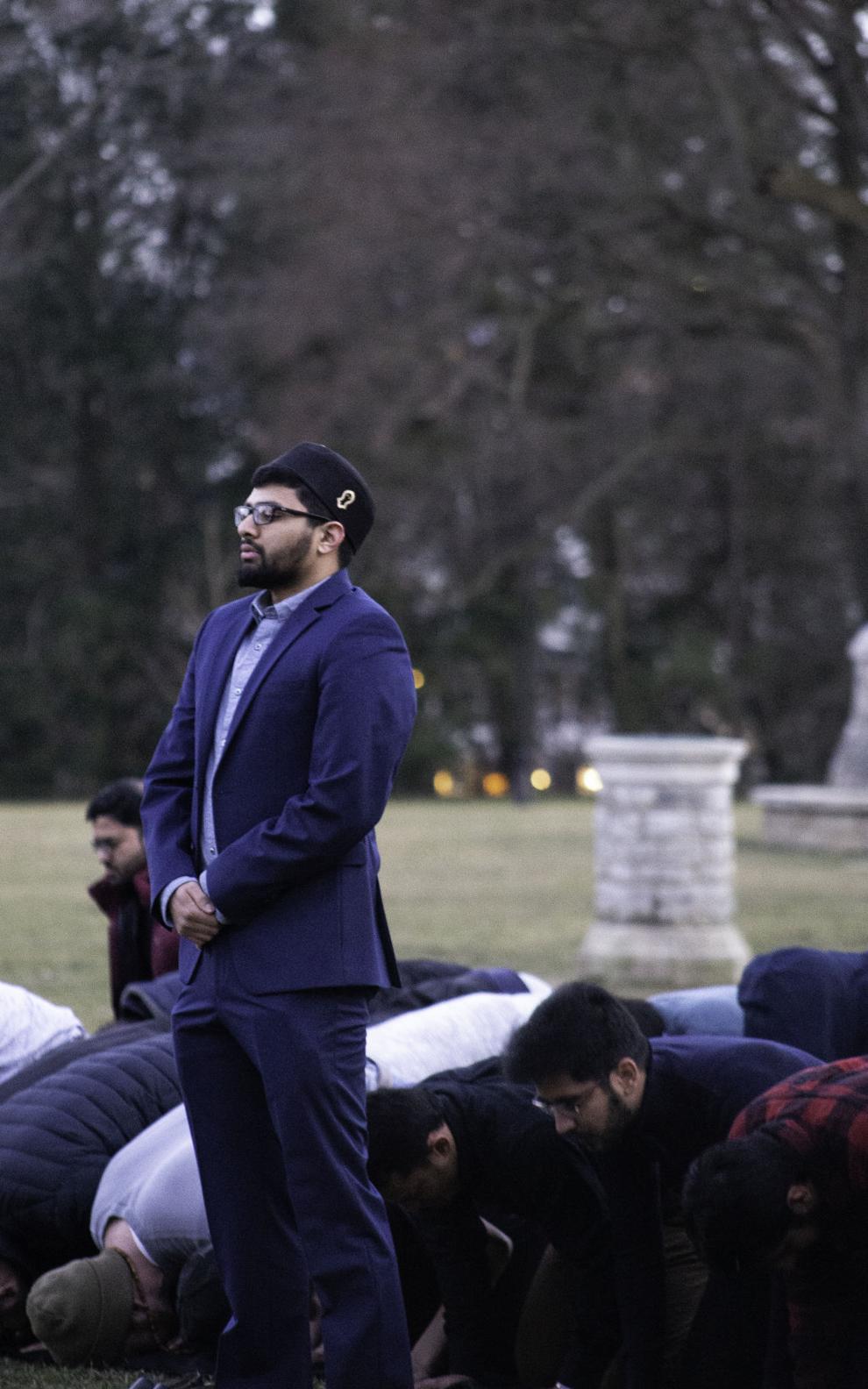 Shoug Alajmi, Hala Alajmi and Nora Hamidaddin attended the vigil together. They emphasized the importance of the vigil, and the need for love in the world.
"It's important for us as a community — not only Muslims but all college students — to recognize what happened and the tragedy and know that hatred is all over the world," Shoug (senior-supply chain management) said. "People need to know that we shouldn't spread hate and we should love and sympathize with all the communities, with the Jewish community, with the Christian community and all types of sexual orientation."
Hala and Hamidaddin agreed. Both also noted that in the midst of the death, the support they saw at Penn State and on social media gave them hope.
"I saw people a lot of people all over the world doing things like this over Instagram," Hamidaddin (junior-petroleum engineering) said. "When I heard Penn State was doing this, I felt I should do my part and come. I can't do much, but this is the most I can do."
Agreeing with Hamidaddin, Shoug added she was encouraged by the support for Muslim communities she saw on social media.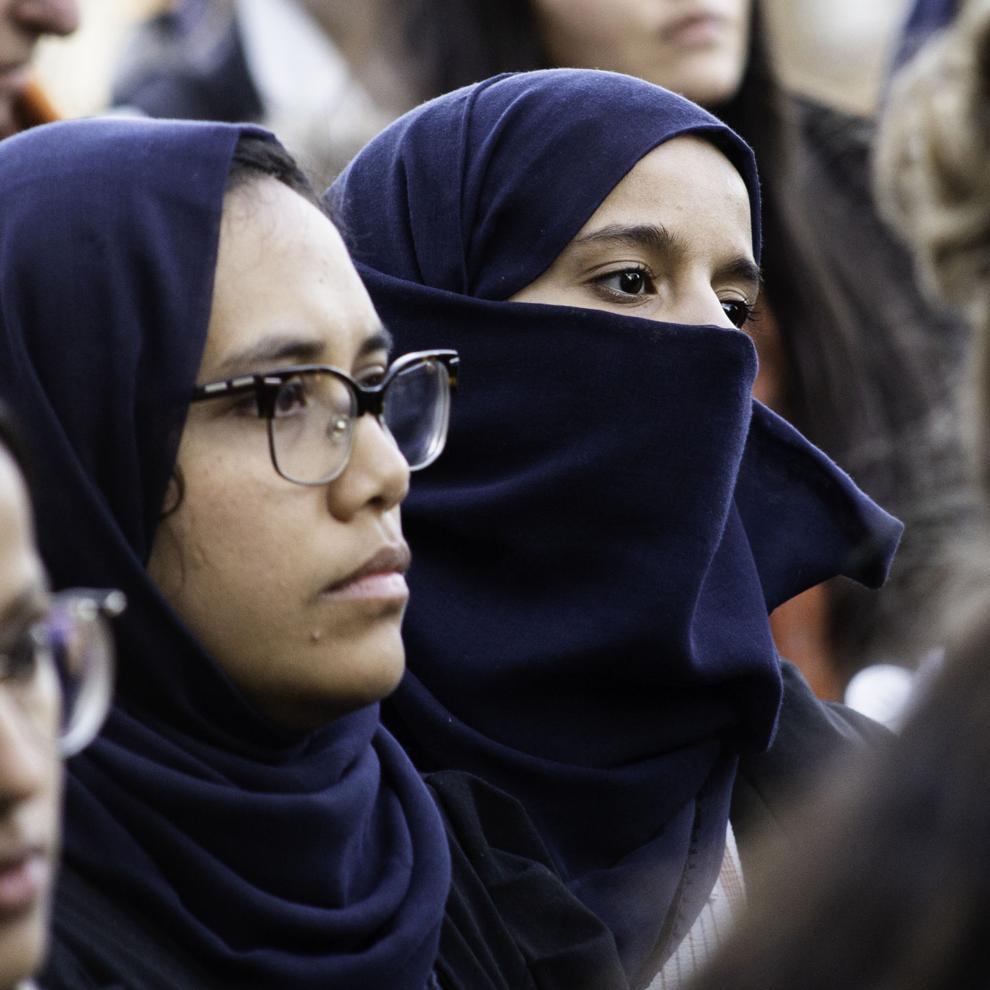 "For the first time, I've seen support in the social media," she said. "Many times, I see hatred and mean comments on Twitter. But this time, I've seen hope. People were sympathizing with what happened."
Ultimately, Hala (senior-supply chain management) said she hopes vigils like this unify communities and eradicate hatred.
"I really hope that the message spreads and hatred will decrease," Hala said. "We can't really enforce someone to say stop hating. It's up to them to accept different religions and different beliefs."
---
RELATED
The Penn State and State College community gathered on Old Main Lawn Monday night for a candlelight vigil mourning the lives lost on Saturday's shooting at Squirrel Hill.
---