November is Native American Heritage Month in the United States.
Penn State Programmer Analyst Fawn Patchell prefers to be referenced by her tribal affiliation — the White Mountain Apache Tribe, and Associate Dean for Educational Equality in the College of Earth and Mineral Sciences Victoria Sanchez prefers the term American Indian. Although it might not often be discussed, the month's dedication itself is controversial to many in more ways than one, and a long history of misunderstood culture and consequences have followed this blind spot in America.
Less than 1 percent
Patchell grew up on the Fort Apache Indian Reservation where there wasn't a clear separation between her everyday life and her culture.
When she left, Patchell said the only way she could stay in contact with her culture was through telling her children stories and teaching them beliefs that would intersect with their everyday lives.
But Patchell said living in Pennsylvania makes it challenging to educate her children on their heritage.
"It's pretty difficult because where I grew up, your culture is very closely tied to the land," Patchell said. "Obviously, we don't have the same climate or the same flora and fauna here in Pennsylvania. So, I can't show my kids the exact foods that we would gather from the forest or hunting practices and stuff like that. And plus, where I lived, there are no ceremonies that you can perform alone and almost all of them require a medicine man being present, and obviously, we don't have that here."
There are very few people who identify as Native American at Penn State. Whether it's students, faculty, staff or administration — representation is less than 1 percent across the board.
"Native people tend to feel very, very alone here and they also feel very singled out because all the stuff that you hear from any underrepresented group in terms of classroom situations is almost even amplified," Sanchez said.
While people do learn to adjust, some still feel that Penn State could be doing more for its Native students, faculty and staff.
Senior lecturer in the Department of Materials Science and Engineering Ronald Redwing said he feels a lack of a native culture center is somewhat of a "detriment."
"[Students] only have four years here on campus, and that's a very short time," Redwing said. "So, you think that everybody can find everybody, but sometimes, by the time you find people, they're already gone. And, if there [are] so few people, it makes it more difficult. So, it would be nice if there was a more common area that was identified for that."
Sanchez said she does not feel as though Penn State has "built a culture and climate of being welcoming to Native people."
"You put the history of boarding schools and everything else in there where there were these very forced, very violent 'deculturalization' efforts, you kind of think twice about giving up your child who is the future [of the community,]" Sanchez said. "So, there aren't a lot of Native faculty and staff and current students [who] would be a receiving, welcoming community."
Patchell said underrepresentation of Natives is a "very difficult problem" to try and solve, considering American Indians have a very low percentage of individuals who graduate from college.
"And then compound that by how many are actually involved in higher education, it's just a really complicated situation," Patchell said. "It's really hard to make a big impact when you have very few individuals. And then we're working against history where, for several hundreds of years, we've been ignored. So, when you've got just a couple individuals saying, 'Hey, we're here,' it's still just a very faint whisper among a large crowd."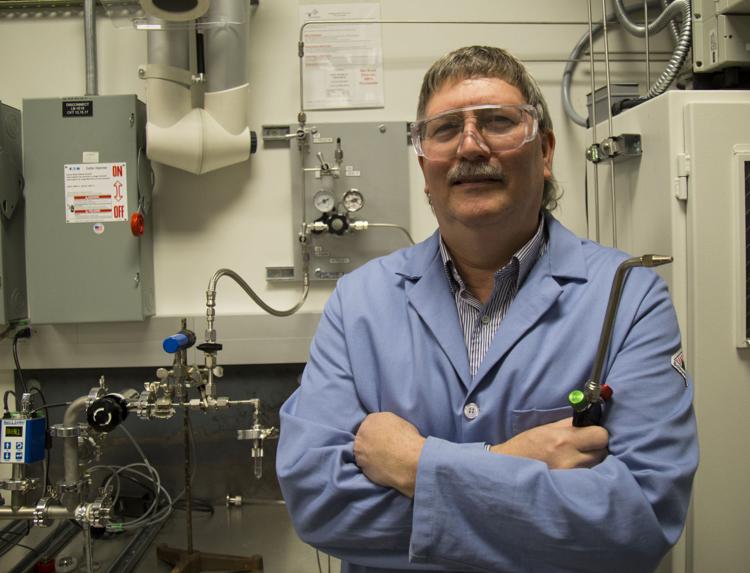 The Penn State Powwow
Once a year, Native people have an opportunity to come together at the Penn State Powwow.
Now wholly sponsored by Penn State, one weekend is set aside at Mount Nittany Middle School for State College locals as well as Natives from all over the continent to take part in the dancing, drumming, singing and breaking bread.
Sanchez, who is considered the assistant coordinator of the event, said the powwow draws five to six thousand people over the course of the weekend.
"It's a very unique opportunity for members of the State College [and surrounding] community to experience a Native event on Native terms," Sanchez said. "As soon as you walk in, you're a part of it. That's just how it is. You're not a spectator; you're just part of the event."
For Redwing, the event gives him and his family an opportunity to get the chance to immerse themselves in Native culture for a couple days.
"The main thing is where I work, the kitchen," Redwing said. "Food is always 'the great bring people together.' There are the Indian tacos, the fry bread. To have the opportunity to hear other tribes [say] which fry bread recipe is the right one — is it a dessert, do you put honey on it and cinnamon, or do you put chili or buffalo meat on it? So, just like many things, food brings people together."
For some, the powwow brings a sense of comfort.
"Being there and being able to hear Native people speaking, it's just very comforting to me," Patchell said. "And hearing the drumbeat, even though it's a different type of drumbeat that I grew up with, it's still very nice because it kind of bridges that gap of what I've been away from for so long."
But, Sanchez said it is important to understand that the powwow isn't an event about the past — instead, it is about carrying traditions forward into the future.
"Native culture is very much based in traditions, but it's not a backward-looking culture," Sanchez said. "Nobody's here reenacting the past. It's [about] what the culture is today and it's focused on the future. You have these traditions, you practice them, they're vibrant. They're not recreating or pretending to be the past, but they're very much still alive."
An ignored 'peoples'
Native American Heritage Month is an idea that in itself is controversial.
For many, November is defined by the Thanksgiving holiday. Thanksgiving originates from the context of this "First Thanksgiving" myth where the pilgrims and Indians came together and enjoyed a peaceful feast.
While most people today understand that idea is in fact inaccurate, the stereotypes that came with this myth continues to pop up year after year, specifically in the month of November.
Patchell said her family is "very aware" that the stories behind Thanksgiving are incorrect, so they instead try to focus on giving thanks and having a good time being with family and friends.
But for Sanchez, the myth behind Thanksgiving represents larger issues.
"[Thanksgiving is] what Native American [Heritage] Month is tied to, so, for Native people, it's disappointing and somewhat irksome," Sanchez said. "Are we only going to think about Native people in November and in the context of this myth of the 'First Thanksgiving?' It can be difficult. It's difficult when I walk into an office and there's little figurines of kittens dressed up as pilgrims and Indians or salt shakers of pilgrims and Indians. November just makes me cringe."
But these stereotypes can cause more harm than just discomfort.
Sanchez said all of the inaccuracies tend to come together to "place Native people in the past and keep them there."
"Which makes Native people in the present really invisible," Sanchez said. "Rather than 'remembering' something that is inaccurate, that is a myth, a fabrication, wouldn't it be nicer to acknowledge Native people for who they are today and who they will continue to become in the future?"
Sanchez said while she does not think anyone means harm, the stereotypes are still "very pervasive" around Natives.
"There's hundreds of items that all have these very, very similar stereotypical images on them," Sanchez said. "If that's the only image that you see, without thinking about it, it plants that stereotype in your head. And the Native population is really, really small, so people don't necessarily have the opportunity to know a Native person or more than one Native person to realize that those stereotypes aren't necessarily true."
These stereotypes are also dangerous in the sense that it forces people to see all Native people as just that — a collective, Native people. When in fact, there are hundreds of nationally recognized tribes.
"Each tribe has their own language or dialect and within that, there are hundreds of cultures," Patchell said. "It's difficult to say why mainstream America does not want to, or has never taken the time to actually understand the various tribes within their region and understand that we're not all the same."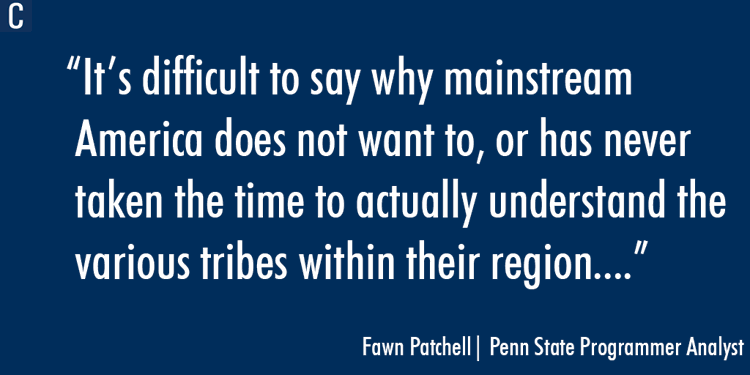 A student's perspective
Erin Redwing considers herself to occupy both a "cultural role" and a "more professional role" here.
As both a student representative to the Penn State Powwow and vice president of the American Indians in Science and Engineering Society — or AISES — she feels it is important to "represent either perspective" in both organizations.
"A lot of people at Penn State don't really know about [the powwow,] particularly students," Redwing (senior-geosciences) said. "So, I try to reach out to groups like AISES to bring people out to experience the more traditional side of it. I think it's really important to have a balance of both — where you're respecting tradition, respecting culture, but also trying to represent it in a fair way in industry and in academia."
Growing up, Redwing said because her family is so big, most of the Native people she has always known, she was related to. However, that started to change once she came to Penn State.
"The big thing is realizing how my upbringing is very different from a lot of other Native people, because not all Native people are from the same tribe, they don't have the same traditions, they're not from the same locations," Redwing said. "There's a lot of variety in culture that I think a lot of people don't realize and everyone's just kind of grouped together."
Redwing said she doesn't feel lonely being one of only a handful of students who identify as Native American at Penn State. After meeting people through AISES and through the powwow, she has found shared experiences with others, and said because of that, she has become more confident in "owning" her culture.
"When somebody finds out that you're Native, they kind of ask you to speak for all Native people and finding that shared experience in a lot of people has really empowered me to feel like I can actually speak on that," Redwing said. "Whereas before, I felt like I don't even feel Native, I don't represent Native people, there is no one person that is all Native culture because it's so varied and I think realizing that every other Native person feels that way too really helped me feel confident in owning my family and feeling comfortable speaking on it."
However, the small community does bring challenges.
"I definitely see how it is [lonely,]" Redwing said. "In my experience working with AISES, it's been really, really difficult to have enough members to keep a club going because it's such a small community. I also think a lot of the Native community at Penn State is not student based, it's more of the faculty and the community that works at Penn State because students are always coming and going."