Penn State Scranton Campus's THON organization put its game face on and made the three-hour drive to create Penn State Scranton THON history. Acting as the only THON organization for the Penn State Scranton Campus, it is very important for the members to come to University Park and support each year — especially since this year they have so many firsts.
Because of the ground-breaking money they have raised last year, this year Penn State Scranton has three dancers on the floor, a THON family, a captain's board and an all-time high of over $40,000 raised — all things they have never had before according to the participants. For a commonwealth campus, Penn State Scranton has made its impact.
Around seventy students left their campus around noon on Friday and got here just in time for the start of THON.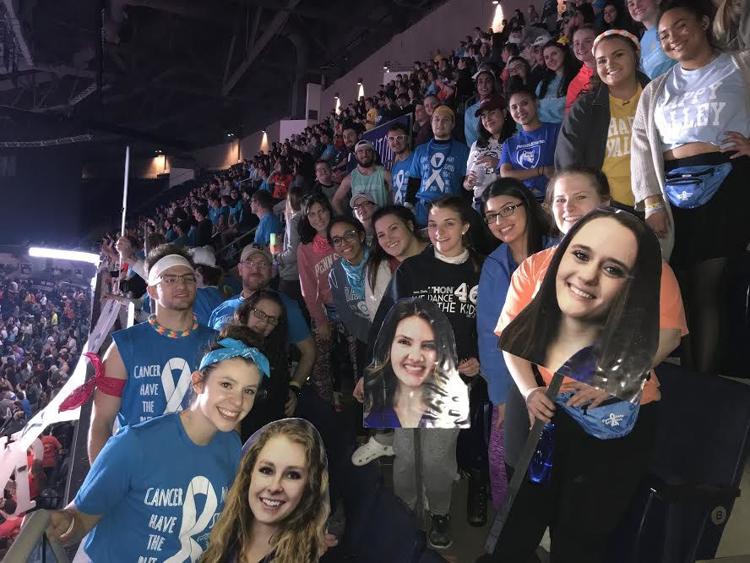 Executive board member, Kelly Arnold, is experiencing her third THON, and says this time is the most emotional experience for her by far.
"We have grown so much as a campus, and we have doubled, then tripled in size," Arnold (junior—nursing) said. "This is a history breaking year because we broke our highest goal ever, and we are hoping to be on the board for the top five funds raised for the commonwealth campuses."
Their first-ever THON child, Arelis Rodriguez, got the chance to make the trip as well and dance with them in their section — the same section they have occupied for years, a place where they all feel united.
"I danced here in 2017 and we made around 14,000, which was record breaking for us then," Arnold said. "I had three goals this year: to have a THON child, to make over 35,000 and to make it on the board at the end of THON. So far, two of those goals have come true."
Captain Stephanie Earle said she has been in the Bryce Jordan Center for about 35 hours overall.
"Last year we did not have a captains board, just an executive board," Earle (senior-psychology) said. "It is great to come down to THON and also represent all of the growth we have had. This is by far the most amazing thing I have ever done."
Communications and special events captain Hannah Luben is very proud of the history Scranton broke this year.
"We are just so happy to be here, and we are so proud of all the work we have done this year, especially for being a teeny-tiny campus," Luben (sophomore—aerospace engineering) said.