For those who have wondered how to properly dispose of cans, bottles and other materials while tailgating, Penn State's Tailgate Ambassadors want to help solve confusion.
Originally called the "STATERS," Tailgate Ambassadors is a program for students to welcome tailgaters to Penn State while spreading the protocol of proper recycling.
Jillian Barskey, the student coordinator in charge of Tailgate Ambassadors, found her passion as a Tailgate Ambassador through her involvement with Eco Reps.
"Through Eco Reps last year I learned about sustainability on campus and how recycling works, and that really got me interested," Barskey (sophomore-environmental resource management) said.
Associate Director for Student Engagement at the Sustainability Institute, Douglas Goodstein, works as the program's supervisor but said he takes a hands-off approach to his role.
"Even though I'm technically [the Tailgate Ambassadors'] supervisor, I consider myself much more of an advisor," Goodstein said. "[The students] run the day to day operations."
The Tailgate Ambassadors "come together on home football games to canvas the tailgating lots to educate fans on how the recycling system works," Barskey said.
Goodstein said in the past two years, the program has gone by the name "Tailgate Ambassadors" rather than "STATERS" since the program's objective has shifted exclusively from recycling education to also making tailgaters feel welcome.
"Most of the folks [tailgating] are Penn State alumni or have family members that are Penn State alumni, and they love talking to students," Goodstein said.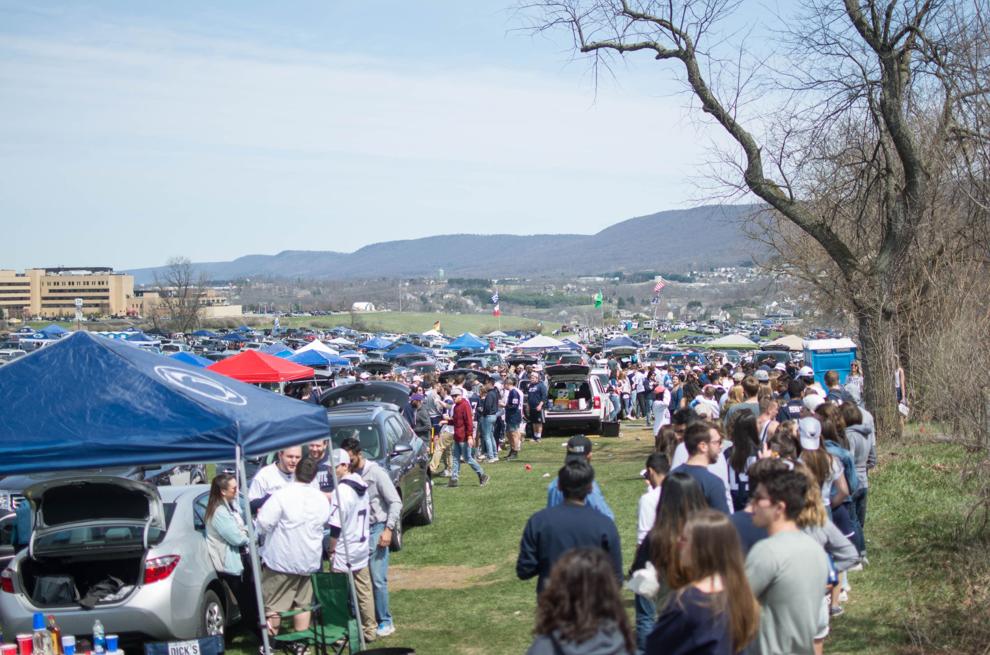 Goodstein said the first aspect of a Tailgate Ambassador's role is to say "Hello" to those tailgating, and introduce themselves. From there, members begin to discuss the ways tailgaters can properly recycle in the fields.
"It important that the alumni and fans… feel welcome here in Happy Valley," Barskey said.
According to Barskey, one of Tailgate Ambassadors' goals is to make sure people are properly separating their recycling and their garbage so recyclable items do not pile up in landfills.
Barskey said the provided blue bags are meant for recycling bottles and cans, while everything else must go into the clear or white trash bags provided.
Goodstein also mentioned the importance of putting disposables into their corresponding bags, because while the blue bags get sorted, the clear or white trash bags do not. That said, any recyclable materials that are put into trash bags will be deposited to a landfill.
"On a white out game day we can generate 90 to 100 tons of trash ," Goodstein said. "That's a huge landfill impact. How much of that could have been recycled?"
The ambassadors involved in the program are students from various organizations and Penn State campuses, and they must have at least 10 willing volunteers.
Estéban Mena is a student program coordinator for Eco Reps, and said Eco Reps' main involvement with Tailgate Ambassadors is helping them find new members.
---
Related
For many, it's almost impossible to imagine football without tailgating, and vice versa. But…
---
"When the Tailgate Ambassadors are low in numbers they look to us to support them," Mena said. "Our main goal is to promote community around sustainability, [so] we give all the residents in our area access to the other organizations."
As well as helping other students get involved with Tailgate Ambassadors, Mena (senior-psychology) said a large amount of students within Eco Reps also get involved with Tailgate Ambassadors.
Goodstein said Tailgate Ambassadors are focused on interacting with tailgaters, and one of the program's goals for the year is to interact with as many tailgaters as possible.
Last year at the white out game, Tailgate Ambassadors had 80,000 fan interactions. The program hopes to increase those interactions at this year's white out game against Ohio State University on Sept. 29.
"Penn State fans are amazing people," Goodstein said. "I've never been offered more beers at 8 o'clock in the morning — ever."
Goodstein added that he has never accepted an alcoholic beverage while canvassing, though, as he is not allowed to consume alcohol while working.
On of Goodstein's hopes for the upcoming Ohio State game is that students involved in Tailgate Ambassadors will interact with as many fans as possible.
"There's two guys… we met last season that were roommates in college back in the '70s," Goodstein said. "And they've come to a game together every year since they graduated. That's what Penn State fans are."