A young Fred Heyman distractedly listened to the radio as Adolf Hitler spoke on the radio, saying that "Germany has awakened."
Born in 1929, the current New Jersey resident was too young to truly understand what would happen to over six million Jewish people in the "work" camps in the coming years and to the Nazis were too "perfect" at hiding what they were doing.
Heyman spoke to hundreds of guests Monday evening in the Worship Hall of the Pasquerilla Center and told his story — a story, he explained, that was not one of the six million stories lost during the Holocaust, but instead "one story told six million times."
"What I want to do is bring forward the Holocaust to 2019 so you can better understand," Heyman said.
Talkative by nature, Heyman — who insists all call him by his first name, "Fred" — explained why speaking about his experiences and hearing others' experiences is important.
Whether it was a well-known story, like Elie Wiesel's, or one never published, he said that every survivor has a different story.
"We all suffered," he said. "All of us were scared. Every one of us was freezing and hungry and persecuted."
For someone like Jackie Stochel, having the opportunity to hear Heyman speak struck close to home. Both of her grandfathers, she said, were survivors of the Holocaust as well.
"It's amazing that so many Penn State students came out because now they are all extensions of Fred," Stochel (freshman-communication sciences and disorders) said. "Publishing more and speaking more is how we are going to keep extending the stories."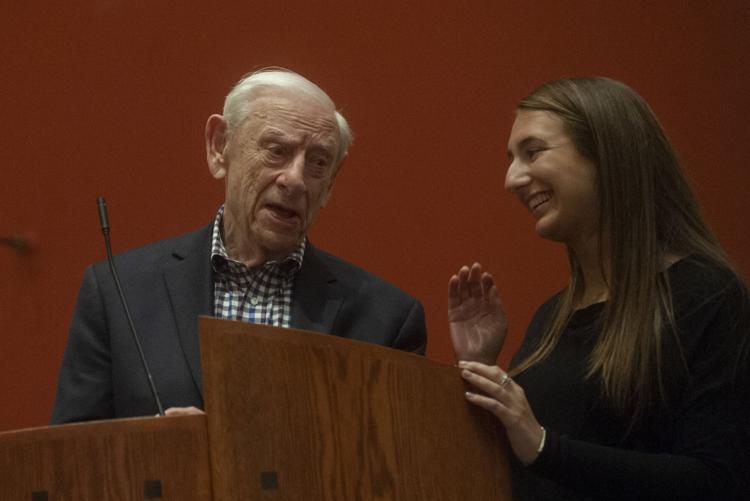 Through the "Twin with a Survivor" project that pairs Holocaust survivors with Jewish children on the verge of their bar or bat mitzvahs, Heyman has bonded with dozens of "twins."
Because of this program, when someone in the audience asked Heyman what inspires him, he said "doing this" — the act of sharing what had happened to his family, neighbors and friends.
Heyman, who was only 16 years old when Hitler committed suicide in 1945, managed to avoid being deported to Auschwitz. He explained that wealthier families who belonged to the local Jewish Community Center had be targeted because of documentation.
One of Heyman's former "twins," Howard Goldberg, vowed to create a film of his mentor's experience. This short documentary, titled "Be an upstander: The Fred Heyman Story," was shown at the beginning of the evening — Heyman was not aware of this would occur beforehand.
The film depicted Heyman travelling to his birthplace in Berlin, Germany, pointing out familiar places from his youth. On screen, childhood pictures flashed by, one of a three-year-old Heyman next to a proportionally large dog.
Sydney Chiat appreciated this digitization of Heyman's story, and other survivors' stories through the National Holocaust Museum.
"I feel as though the story is never not going to be told," Chiat (freshman-education) said. "It's going to be interesting to see it all digital."
In the movie, Heyman discussed the benefits of the twin project, especially after his wife died. The feelings were mutual as several other twins explained Heyman's influence on their lives.
"I think Fred's influence on me… was to show how fortunate we were because there are people in this world that haven't had it as good," one person said.
To be an upstander — a mantra Heyman strives to live by — is to actively act toward the betterment of others. In contrast, Heyman discussed how the media and government during Hitler's reign hid the truth from the public, ultimately "letting it happen."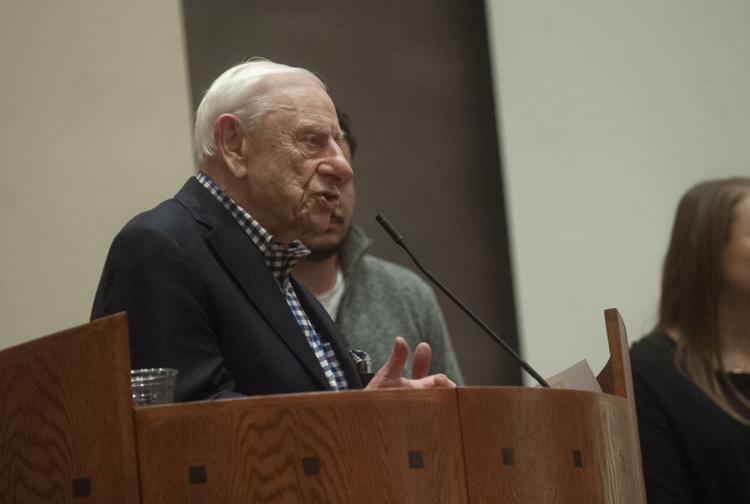 Currently, Heyman is noticing another epidemic. He drew attention to an app he said too many people download on their smartphones today.
"One app that you're not going to put on your device — and I'm going to spell it for you — we call it h-a-t-e, the opposite of love," he said. "H-a-t-e starts arguments… terrorism… wars. No more h-a-t-e."
Event co-director Rachel Bronstein resonated with idea of eradicating hate.
"In the world in general, but especially as college students, it's so easy to get caught up in our lives and schools," Bronstein (junior-education) said. "It's just so easy and important that we spread kindness and love."
With recent events such as the New Zealand shooting in which 50 people were killed in two mosques, Heyman advised that those who want to change things should "start talking" as he does.
Understanding that Heyman is among the last generation to remember being directly affected by the Holocaust, Rachel Rubin felt that she "assumes some of the responsibility" of hearing his story.
"Even if however many students here realize they can go and pass [Heyman's story] on, then it will keep going," Rubin (freshman-journalism) said.
Co-director of the event Idan Mika echoed this dedication to share the stories as the number of Holocaust survivors continues to dwindle.
"In our lifetimes, it's just going to become stories. It's not going to be experiences anymore," Mika (junior-computer sciences) said. "[Bringing Heyman to campus] influenced more people than we could ever influence ourselves through a story and history."
---
RELATED
At 7 years old, Inge Auerbacher was deported from her home in Germany to the Theresienstadt …
---