Wonder Woman, Baymax and a few dragons moved into the Carnegie Building a few weeks ago when Karina Pazmino walked through the doors of room 206.
As the new administrative support assistant for the Office of Diversity and Inclusion at the Donald P. Bellisario College of Communications, Pazmino, 32, said she is ready to provide students with a place to feel included and find help for most of their problems.
A wall of "Funko Pop!" figurines sits behind Pazmino, who can often be seen staring at multiple planners and balancing dozens of emails.
"I am a huge nerd, in every nerd way possible," Pazmino said. "I'm an academic nerd, book nerd, comic book nerd, a makeup nerd. It is bad."
Pazmino explained that each of her figurines represent empowering women, which is a lesson she wants to express to students she works with.
"These were characters I looked up to when I was growing up," she said. "I remember waking up before my mom to watch Sailor Moon."
Growing up in Elizabeth, New Jersey, Pazmino is the daughter of a Dominican mother who is an accountant and an Ecuadorian father who works in information technology.
Pazmino described the town she grew up in as a "melting pot" of Hispanic cultures, allowing her to live within a different demographic than the one found in Centre County.
When she attended Kean University, which is located in a neighboring town, her exposure to cultures expanded when she joined Mu Sigma Upsilon — a multicultural sorority.
Though she did not enter college with a dream of joining greek life, attending sorority-sponsored events such as resume workshops and game nights made her excited to be involved in the chapter.
"It was very much a lot of different women from a lot of different backgrounds, and they all had a voice," Pazmino said. "It also resonated with me because they were all very strong individuals, and I grew up with that very strong female role."
Pazmino said her mother was the strong female role in her life and was "always was there" for every recital, softball game, appointment or question.
"I could ask her anything, I could tell her anything and it wasn't a punishment," Pazmino said. "It wasn't, 'Don't talk about it or don't discuss it.' My mother educated me and expanded my mind because she always talked to me."
Having someone she could confide in while growing up influenced Pazmino's interactions with friends or sorority "littles" — sorority pledges who Pazmino was tasked with mentoring as a "big."
"Working with girls in my organization as a mentor, as a big, [I realized] they felt isolated in college. They felt alone. They didn't feel they had a place. I thought, 'That's such a small percentage that I talk to. How many students like that exist?'" Pazmino said.
She came to the realization that younger people tend to be questioned about their understanding of their individual self. Pazmino didn't agree with this mentality, explaining it "isn't anyone's place to tell you you're wrong."
"If someone is asking a question or an opinion, it's someone's place to dive deeper, ask where this is coming from, where are the roots and give suggestions," Pazmino said. "It's a matter of giving them a good base to keep forming, like planting a tree. It's about having good roots, so they can keep growing up big and strong."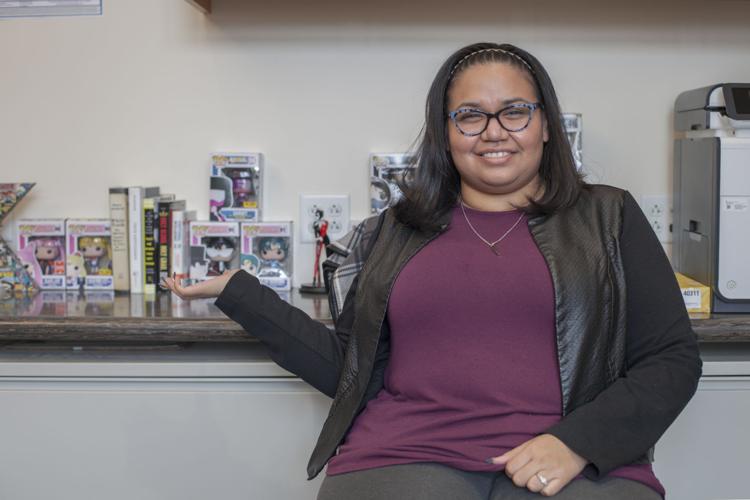 When she first considered her current position, the students she was working with in minority greek organizations praised her would-be boss Gary Abdullah, who is the assistant dean of Diversity and Inclusion for the college.
Pazmino's first impression of Abdullah occurred during Mr. Burgundy and Grey, an annual event showcasing influential male students on campus. Abdullah was a judge during the event, and Pazmino recalled seeing him interact with students she often worked with.
"I know that they are not the quickest to warm up to, but they seemed very at ease around him," she said.
Now in the position for several weeks, Abdullah has formed his own opinions of Pazmino.
"She's excellent," Abdullah said. "I'm blessed to have her. She is a woman that has a lot of intelligence and has a big heart."
Abdullah said Pazmino keeps him so organized that he joked she has threatened to lock him out from his own calendar to prevent him from spreading himself too thin.
Pazmino keeps herself busy studying toward an associate degree in labor and employment relations. Balancing work and school allows Pazmino to relate more to students who are in similar situations.
Additionally, she uses her research and customer service skills gained from her studies to help students and friends on topics such as resume building, unemployment and medical insurance.
Pazmino is also in the midst of wedding planning for a ceremony planned for Oct. 3. Pazmino met her fiancé, Frankie Martinez , 10 years ago, but revealed that when they initially met she was "not interested at the time."
However, after a few years of frequent interaction because their friends were in overlapping social circles, a banquet changed the course of things.
"He did a very stalker-ish thing," Pazmino said. "I went to the ladies' room. He put my phone number in my phone — this is why I lock my phone now by the way — and texted himself and saved my number."
From there, the two continued to talk, eventually dated, and finally, Martinez proposed during a birthday celebration for Pazmino. When her cake was brought out, she — still unsuspecting of what was to happen — was told to close her eyes, but she worried about burning her hair.
"Like a typical mother, my mom said, 'Close your eyes' and I said, 'Yes ma'am'," Pazmino said, "and when I opened them he was down on one knee."
Pazmino describes Martinez as her "home" and someone who keeps her "grounded."
"I see her doing great things with this office," Martinez said. "Sometimes the saying is, 'Behind a great mind of a man is a woman,' and she's that. I think she'll be a very good gatekeeper to the students at the university."
Martinez said he thinks Pazmino will be able to provide a platform to students, give advice based on her experiences and provide them with a space to have a voice.
From the students she has interacted with so far in her office, she can see the "untapped potential" within them.
"I can see the shining stars that just need a little bit of brightening," Pazmino said, smiling. "There's nothing better than seeing someone's potential and seeing them grow."
She also had some advice for students who may not know what they want to do with their future.
"Never lock yourself into one thing because you never know what you can expand into to," she said. "We are part of the generation that has the opportunity to do everything they want in their life."