Ted Fuller, a research assistant in the Department of Agricultural Economics, Sociology, and Education, celebrated his 90th birthday on Valentine's Day.
After two party cancellations, one due to illness and the other because of inclement weather, Fuller was finally able to celebrate his birthday with colleagues and his daughter on Feb. 14. His actual birthday was on Feb. 7.
Fuller's party was an intimate gathering of nine in room six of the Armsby Building. They celebrated with presents, homemade chocolate cake, laughs and jokes.
Ray Hoy, a research associate, was responsible for making the cake. When asked what special ingredient he used, he replied, "Just my love for Ted Fuller."
After opening his gifts, Fuller gave a brief speech thanking everybody for coming to celebrate with him. He also described their impact on his life.
"I'm a lucky guy," Fuller said to his colleagues. "I hit 90 and I'm in pretty good shape and I have all of you."
Fuller began his career at Penn State in 1953 as a student, originally in the geography department before pursuing a Ph.D. in agricultural economics in 1957.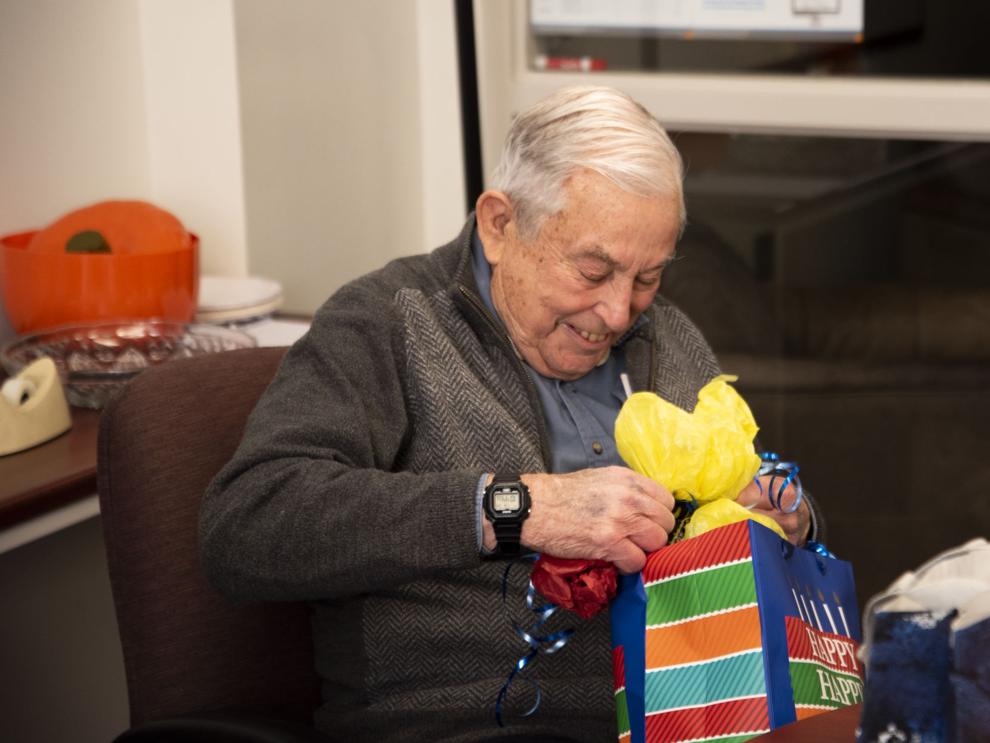 "It's a lifetime," Fuller said. "It's been a fun gig."
Fuller has been working in the agricultural department for the past 62 years. He said he currently creates reports on the Pennsylvania's economy.
In one report, Fuller found evidence of two Pennsylvanias, demonstrated by different economies within the state. He received recognition in multiple newspapers, and Fuller and the team that helped him with the economic discovery spoke in 12 interviews regarding the finding.
"Dr. Fuller is interested in created reports that are geared towards average, layman readers," Tessa Sontheimer, a research associate, said, "so not creating heavy academic reports that people can't use."
Sontheimer (graduate- community, environment and development, and global and international studies) said their reports include a lot of graphics and maps with little text. The maps Sontheimer creates are typically done with computer programs.
However, Sontheimer said Fuller still creates the maps with paper and colored pencils.
"[Fuller] can make more complex maps by hand than I can make with a computer," Sontheimer said.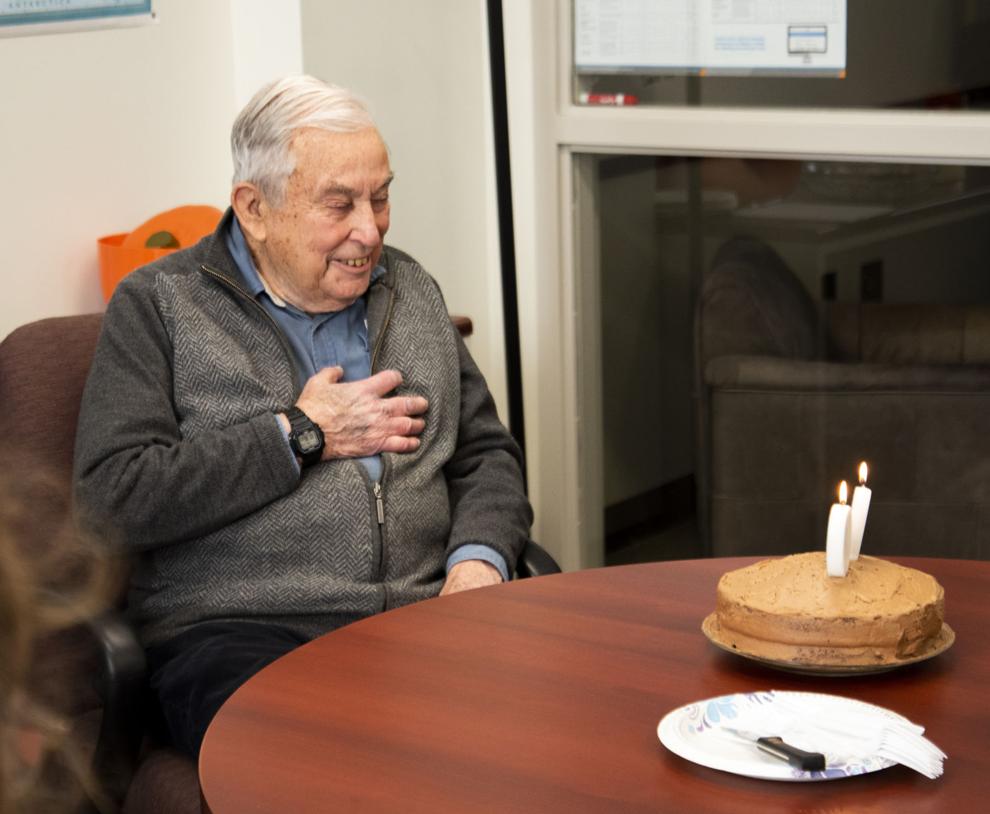 Sontheimer said Fuller's ability to visualize the maps in his mind has taught her the importance of really understanding the numbers.
Fuller said he has been practicing his technique for years.
"[Fuller] is very patient," Sontheimer said. "[He's] not afraid to take the time to [make the maps] right."
Sontheimer was responsible for organizing the birthday party and attended the event as well. She began working with Fuller in 2016 after her professor at the time and associate of Fuller, Theodore Alter, offered her a position at the center of economic and community development.
Alter, a professor of agricultural, environmental and regional economics and co-director for the center of economic and community development, also attended the party.
Alter met Fuller in the mid-70s after coming to work at Penn State in the Department of Economics and Rural Sociology. Alter said they have had a connection ever since.
"Fundamentally, [Fuller] has had a real impact on me," Alter said, "He's been an inspiration to me in my work, [showing me] how important it is to try to keep complex issues simple enough so that people can understand them."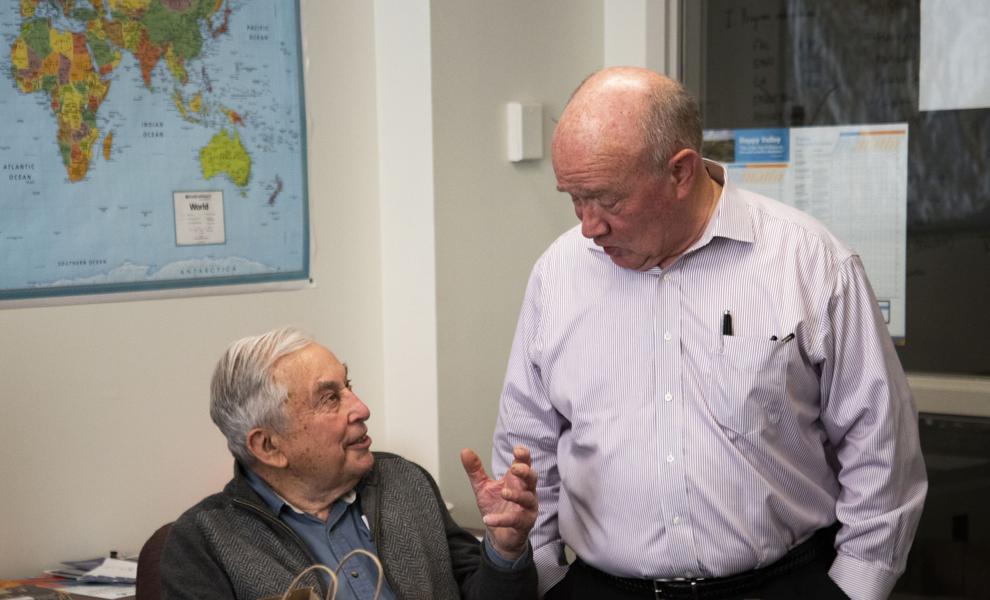 Alter added that Fuller's impact on his personal life was even more important to him.
"[Fuller] has always encouraged me in our discussions, but also in his actions and his behavior and engagement with the work that we do," he said. "Even though I've been here for 45 years, we still have a lot to contribute."
Fuller said he continues to work because of the inspiration students provide. Every day, Fuller said he takes the Red Link from the Recreation Center to his office in the Armsby Building — a routine which brightens his day because he gets to spend time with students.
"Right now, [my favorite part] is working with all these great young people." Fuller said. "They're so enthusiastic and it rubs off and keeps me going."
Sontheimer said Fuller has impacted her life in many ways. When Sontheimer graduated, Fuller told her family that Sontheimer had taught him about growing, which was remarkable because he was 89 years old. Sontheimer said the comment brought her mother and grandmother to tears.
She countered, however, that Fuller has taught her how to grow as well.
"[Fuller] embraces [change] with humor and a willingness to learn," Sontheimer said. "Fuller tries and learns and succeeds because of that."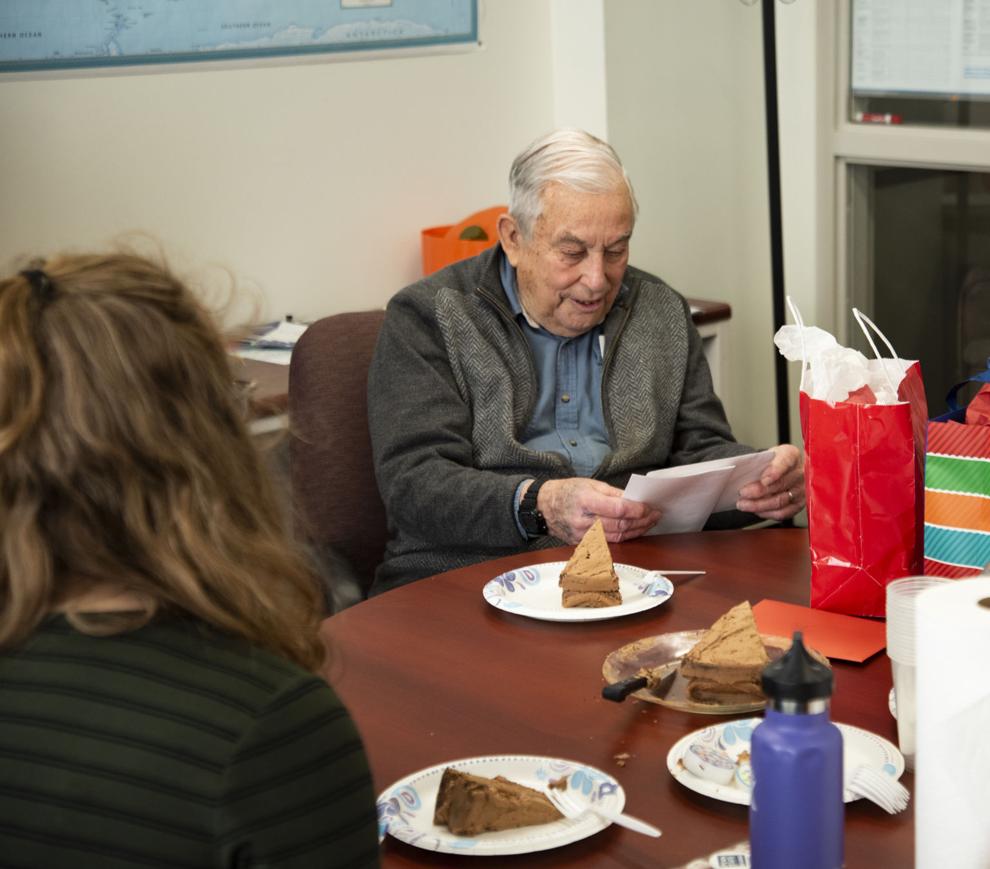 Sontheimer said she had research experience in the past; however, this position has provided her with the most hand-on application.
"It's really empowering to sit at a table with Dr. Fuller and Dr. Alter," Sontheimer said. "They actually want my opinion on what I think about the research we're conducting together."
Sontheimer said her favorite saying of Fuller's is a quote from Ralph W. Sockman — "The larger the island of knowledge, the longer the shoreline of wonder" — because she believes it exemplifies Fuller as a person.
She said she would describe Fuller as positive, persistent and hardworking. She added 'funny' to the list after remembering some of her and Fuller's jokes together.
After learning that Sontheimer said he was funny, Fuller told one of his favorite jokes.
"What's the definition of an economist?" Fuller asked. "Someone who is good with figures but doesn't have the personality to become an accountant."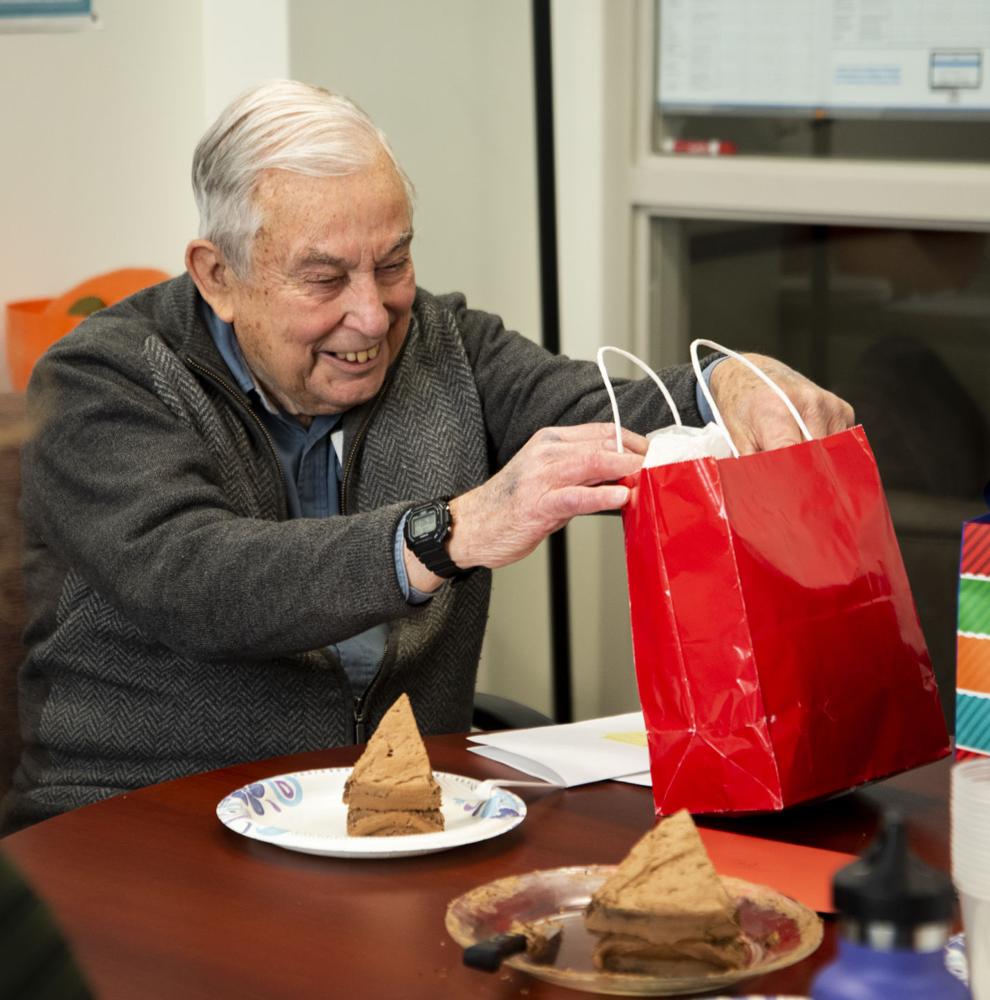 Fuller is also a member of a band called "Second Winds," which plays music from the 1930s, 40s and 50s.
Fuller said the band is a group of seniors, some experienced musicians, that have been together for roughly 10 years. They practice every week and play at retirement homes in the fall and winter.
Sontheimer said one of Fullers most admirable qualities is his ability to consistently be apart of something and always show up. She added with a smile that this did not include Wednesdays, when Fuller attends band practice.
Alter spoke of the lasting legacy Fuller has left on the community.
"The thing that we have in life that we leave, our legacy, is how we treat people and how people feel about how we treat each other," Alter said. "[Fuller's] legacy is that he'll always be remembered as somebody who cared deeply about other folks and respected them."
---
RELATED
As a 9-year-old boy, Joe Humphreys stood knee-deep in a stream and caught his first fish on …
---