After exactly 48 years of service, Mike Herr, lovingly known as Mike the Mailman will retire April 1 from the United States Postal Service.
"Is it an April Fools' [Day] joke or is it for real? Who knows?" Herr said. "I started very young. I started at 10 or 11 years old, I think."
It is his joking and light-hearted nature that students seem to remember most about Herr.
"He was always really sweet," McKenzie Powell (freshman-SRA and IST) said. "As a freshman, I never knew what I was doing and he always helped me pick the most cost-effective option."
Herr has impacted not only students, but the entire Penn State community.
"Who doesn't know Mike? Who doesn't love Mike?" Penn State News and Media Relations Director Lisa Powers said via e-mail. "He will be missed. Visiting the post office will definitely not be the same, but we certainly hope he enjoys his retirement to the fullest. He deserves it!"
Herr said he feels the same affection for Penn State as it does for him.
"The students, the faculty, the staff – you just can't imagine the goodness these people have," he said. "I still hope I'm part of some things."
Herr said he hopes he will continue to be asked to participate in Mail Call during the Penn State Interfraternity Council/Panhellenic Dance Marathon.
"There are so many positives about these kids," he said of those who participate in THON. "You can't say enough things about these kids."
Herr began writing a book "eight or nine months ago" about his time at the University Park USPS post office.
"There are a lot of stories to tell," Herr said. "And I remember a lot of the stories."
There are a lot of stories students have to tell about Herr as well.
"I'm a Lion Scout and one of our favorite parts is talking about the McAllister Building," Emma Anselmo (sophomore-Spanish and supply chain). "We say it's the home of Mathematics but, more importantly, it's the home of Mike the Mailman."
Anselmo said she saw Herr in Penn State Thespians' "Legally Blonde: The Musical."
"I went in [the post office] to buy stamps, and I told him how much I loved him in 'Legally Blonde.'" Anselmo said. "He told me how nervous he was for it."
It wasn't unusual for Herr to participate in theatrical performances across campus. He also performed in the Thespians' production of "In the Heights."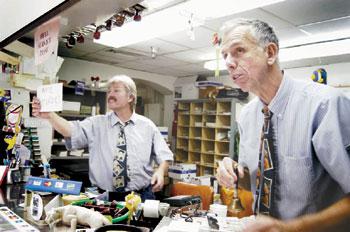 Besides writing his book, Herr said he hopes to spend more time with his family.
Herr said he cannot pinpoint a reason for his retirement.
"It is bittersweet," he said. "I think it's probably time. When you're 55 time is important."
Although Herr is full of jokes, he is serious about his passion for Penn State.
"I love this place," Herr said. "I love this university. I'm very fortunate just to be here."