From the X-Men to Spider-Man, Stan Lee made it his life's mission to create relatable characters.
On Monday, Nov. 12, the comic book icon died, leaving a lasting impact on Marvel enthusiasts at Penn State and beyond.
Comic book enthusiasts
Scott Smith was 10 years old when he read "Origins of Marvel Comics" by Lee — over and over and over.
Burned into his memory from frequent rereading, the collection of early comics featured stories about the Fantastic Four, the Incredible Hulk, Spider-Man and Daredevil, introducing Smith to the Marvel Universe.
As Smith, an associate professor of English and comparative literature at Penn State, grew up and passed some of these comics to his own children, he reflected on the timelessness of the characters.
"One thing that the early Marvel comics did is they made those characters both really dramatic and larger than life but also very accessible and real," Smith said.
Smith cited how the earliest depictions of the Fantastic Four did not even wear costumes, and how Peter Parker was an average teenager.
By creating relatable characters who are "fallible, have flaws and [are] interesting as people first and superheroes second," Smith — who teaches classes about graphic novels — believes Marvel saved the superhero genre of comics.
On the other hand, Smith was fascinated by characters like Silver Surfer and Hulk.
"Silver Surfer was super powerful but also tragic because he could never go home," he said.
According to "The Incredible Hulk" volume 1 No. 313, Bruce Banner transferred to Penn State and studied gamma radiation.
"Hulk's not really a good guy … he's just angry and confused and just wants to be left alone" Smith said. "That sense of alienation — there weren't other stories like that to me."
Through columns, Lee's views on race were seen as progressive during the '40s-'60s at a time when acceptance wasn't common.
"They referenced current events, and they were more political," Smith said. "Stan Lee would have essays against racism in the comics, so you felt like these stories mattered somehow. They weren't just entertainment."
In regards to Lee's cameos, Smith admitted he found them "kind of sad."
"Before, you would … see his name and he was just this massive creative force," Smith said. "I feel like it diminished him, but maybe that's because of my age. It was like he was a character in a commercial, like a mascot."
Despite these feelings, Smith does try to see the newer Marvel movies as they are released.
Though the comic market has shifted from print to online, Smith still finds time to visit the Comic Swap, located on South Fraser Street.
"I go there every week," Smith said, laughing. "There's characters that I'm still fond of that I like to read."
Comic Swap Manager John McComas joked that Smith is one of the shop's best customers because of how often the professor makes purchases.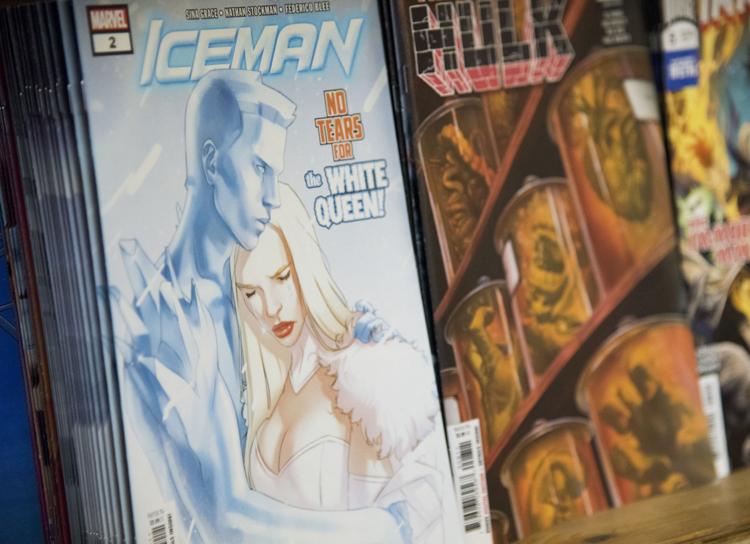 "Scott is quite the comic book historian," McComas said.
Unlike Smith, McComas became enamored with comic books later in life.
"I did not know who Stan Lee was," McComas said. "There was not a societal reverence for Marvel Comics like there is today."
His early interactions with Marvel included Saturday cartoons of Spider-Man and the X-Men.
"I did not start reading comics sincerely until I was about 18," McComas, 37, said. "It was not a life-long relationship with him, but it did — and I'm going to pat myself on the back a little bit — predate the current wide-based knowledge of Marvel and DC comics."
McComas roughly estimated that the shop's inventory of Marvel comics does outnumber DC, and there has been an increase in Marvel purchases since Lee's death.
"It was almost instantaneous," he said. "We had quite a few unexpected sales due to this and the way I've been thinking about it is this is sort of like a parting gift. We do owe a tremendous amount to [Lee's] legacy."
Heroic Hearts
Lee's passing was a lot to process for Dan Truong, a Marvel fan who often cosplays as Spider-Man as part of Alliance of Heroic Hearts. He is also the social media chair of the nonprofit organization, which aims to educate, encourage and inspire children of all ages by going to community events in Centre County dressed as superheroes, princesses or video game characters
"I wish there was a time in my life where I got to meet [Lee]," Truong (senior-communications arts and sciences) said. "I knew a few people that met him, one or two from Penn State."
Though Truong also dresses as the Flash, the Red Power Ranger and Daredevil, he had a special connection to Lee's friendly neighborhood character.
"Stan Lee made a character that was so relatable to everyone," Truong, who enjoys Peter Parker's duality, said. "Besides having web powers, Spider-Man started off as just a teenager and high school kid."
In an interview with Mirror, Lee said his publisher hated the idea of Spider-Man, stating that teenagers are meant to be sidekicks, and people didn't enjoy spiders. Lee persevered with the idea, as he did with other unfavored characters, like Ant Man and Thor.
---
RELATED
Members of the Alliance for Heroic Hearts are normal students by day. But by night, they loo…
---
"He wasn't just the co-creator of Marvel Comics, he was the heart and soul of it," Truong said. "Even after retiring from writing comics, he still is the heart and face of Marvel overall."
He also stated Lee's influence was seen in every aspect of comic history — not only in the Marvel universe. Truong highlighted Lee's influences on DC Comics, Image Comics and other graphic novel companies.
Though Lee was 95 years old when he died, he continued to keep an active role in the Marvel community. Lee's role as the "face of Marvel" was seen in his cameos in Marvel movies. Lee's brief on-screen moments became anticipated Easter eggs in recent films.
"I remember when I first noticed his cameos, such as in Spider-Man 3," Truong said. "He said, 'You know, I guess one person can make a difference,' and that is enough said about Stan Lee."
Gregory Patrick — recruitment chair of Alliance for Heroic Hearts — admired Lee's mindset that creating felt more like play, rather than work.
Patrick (senior-chemistry) said this perspective is very inspirational, especially since many pick careers based on potential incomes.
Patrick also cosplays for Alliance for Heroic Hearts and dresses up as Captain America. He said he learned being a hero isn't how much spandex you wear or how strong you are, but how much you have to share toward the betterment of the world.
He was one of the first members of the Alliance of Heroic Hearts and joined because he loved helping people. The club also gave him the opportunity to actually be his childhood role models "without breaking the law."
Patrick recalled a specific story from 10 years ago about how Lee changed his life: a simple junior high bus ride.
When he noticed a boy picking on a girl sitting nearby, the future Avenger cosplayer jumped into action.
"I literally thought, 'What would Spider-Man do?'" Patrick said. "I was 14, 110 pounds, and I told him to leave her alone," said Patrick.
Unlike his graphic novel heroes, he did not earn the world's respect. No one stood up and clapped for him, but the girl was never picked on again, and that was all that mattered to him.
Patrick wishes he could tell Lee thank you. From his passing, he realized how impactful the death of someone you never met could really be.
"Celebrities die all the time, but I've never really connected to any of them until I saw that Stan Lee passed," Patrick said. "I think he taught a lot of people that it is OK to still believe in heroes."