UPDATE | 7:22 p.m.: Herlocher's Dipping Mustard, which owns the building the Rathskeller is located in, released a statement saying they are "committed to maintaining the character of the location." See the full release below this story.
After 85 years of serving State College residents and Penn State students, Rathskeller will soon close its doors for the final time.
Spat's Cafe, under the same owner Duke Gastiger, will also shut down, according to a release.
"It has been a great honor operating these two iconic establishments and serving this community and its many truly wonderful patrons and friends," Gastiger said in a press release. "We are grateful for the loyalty that people-- including our incredible employees-- have shown us over the years. We most regret closing with such short notice, but it was unavoidable given the timeline dictated by the new property owners."
Closing dates for both places have yet to be determined, and it's unclear what will replace both establishments.
The All-American Rathskeller, located on the corner of College Avenue and South Pugh Street opened three days after the prohibition was lifted in 1933, according to the press release. It is the longest continually operating bar in Pennsylvania.
Duke purchased the "Skeller" in 1985 and is the fourth owner of the business.
Spat's Café and Speakeasy, which offers New Orleans inspired meals, has been in State College since 1987.
Duke and his wife Monica Gastiger were recently notified that their leases will not be renewed after Neil and Chuck Herlocher bought the buildings under the name of Cornelius LLC in June 2017. It was initially indicated that even with the new owners, "business there will continue as usual."
"We have been blessed with a wonderful community of employees, patrons and friends, and we have not reached our final act," according to Duke in the press release. "With RE Farm Café at Windswept we have plans to take our innovative cooking and hospitality in a new direction with an exciting new restaurant concept for the area. We are focused on community and sustainability, and we have big plans for our next venture."
Duke plans to open Re Farm Café in the summer and has hired several employees from the other businesses to work in the cafe, but said there is limited openings. He will offer recommendations for over 60 employees that will lose their jobs with the closure of the businesses.
Duke said he will miss the "everyday conversations with people" most and will "never forget all of the friendly faces."
He encourages customers to stop in and offer emotional support to the staff, which was notified of the closing on Dec. 4. Duke "hopes that over the next few weeks their customers will be able to share a dish, drink or memory, and celebrate the servers, bartenders and kitchen staff for their decades of fine work," according to the release.
Read Herlocher's Dipping Mustard's statement here: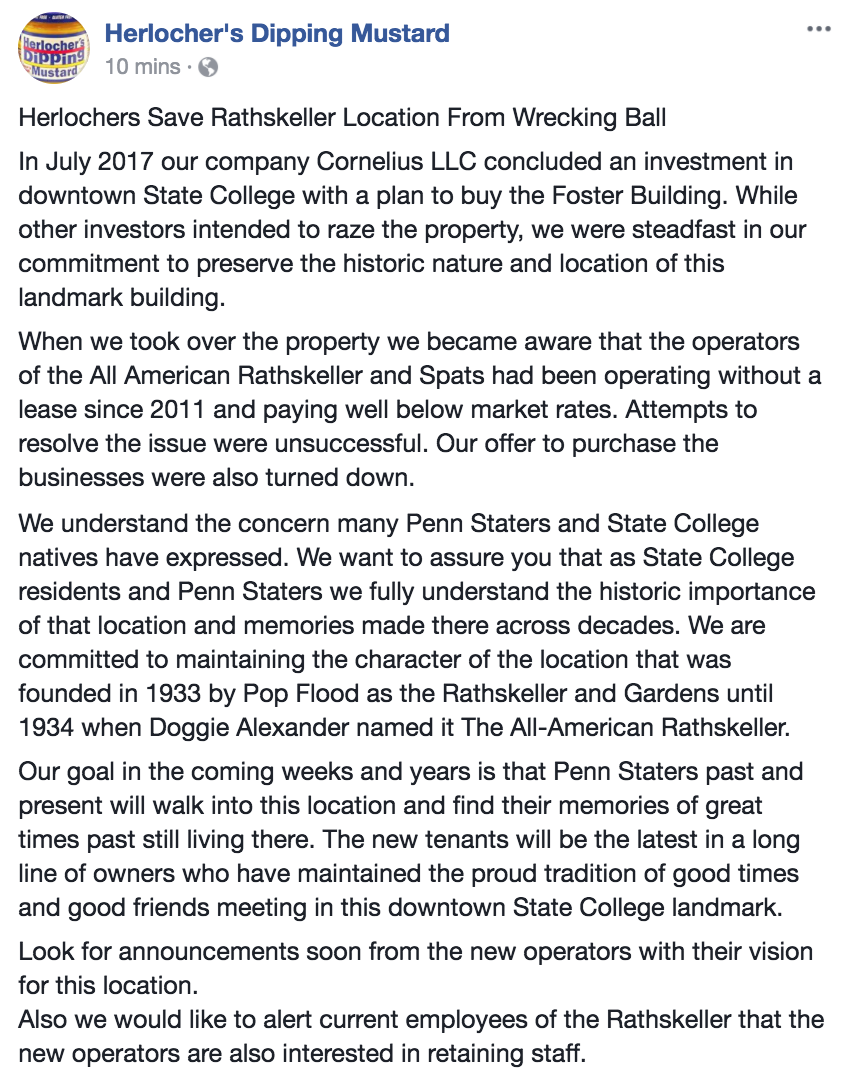 RELATED COVERAGE
UPDATE | 6:57 p.m.: An anonymous person has started a petition to "Save the Skeller"