Penn State alumnus Spud Marshall thought long and hard about the traditional Penn State housing experience, but all he ever seemed to envision were hundreds of thousands of confining, identical little white boxes after little white boxes.
He wasn't impressed.
Not only was Marshall, 30, of Boalsburg, not impressed, he was frustrated. Until one day about five years ago when someone introduced him to the plot of land that would become his baby for innovative housing and thinking, the co.space.
"I was running [the State College initiative] New Leaf at the time, and someone said 'Hey there's a giant old frat house for sale, you guys should go buy it and do something interesting with it,'" Marshall said. "So [my team and I] asked ourselves the question, 'What would make for the worst living experience you could possibly imagine [and] what if we created the total opposite of that?'"
Marshall and fellow Penn State alumnus Christian Baum did just that. Over the past five years, the once unoccupied block of 244 E. Nittany Ave., now referred to as "The co.space," has housed upward of 100 "change making" Penn State students and young professionals.
The purpose behind the co.space is to provide its 20 tenants with a place to "facilitate"— facilitate meaningful life discussions, dreaming, goal setting, rule breaking, idea pitching, friendships for life and comfort — while simultaneously being removed from comfort zones.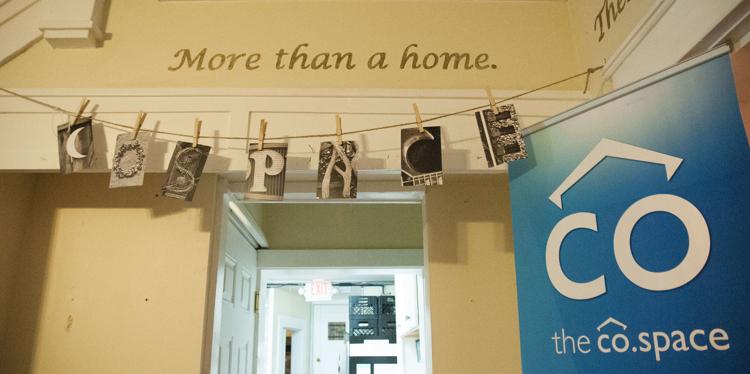 Tessa Sontheimer has had her eye on the co.space since a mentor brought it to her attention freshman year. Now as a senior, she's finally getting to live out her first semester in the co.space.
"I've had conversations with… people in the house I've known for seven weeks that I've never had with friends I've had for three years or four years," Sontheimer (senior-community, environment, and development) said. "Everybody has really different life experiences, perspectives, ideas, passions [and] interests and putting them all together creates a really cool mixing pot."
The way applicants are picked to live in the house is far from arbitrary. According to Marshall, plenty of competitive applicants have to be turned down each year in order to satisfy that diversity Sontheimer referenced, as well as a family dynamic the co.space needs to function the way it was designed to.
Marshall admitted it can be difficult at times to reject appealing applicants, but emphasized the house also wouldn't serve its purpose if multiple people possessing the same "roles" and personality traits made up the "family" dynamic.
"[The co.space is designed to avoid] the self-selection mentality of selecting other people that are like you, which is a natural human thing," Marshall said. "So when people apply and are thinking of moving into the home we'll say 'Don't take this personally but we don't need another engineer, we want the crazy liberal arts person and the crazy med student.' You look at it on multiple levels."
Once the process of straining through applicants ends, though, the next mission is one of the most major for the accepted co.space housemates — to go from "complete strangers" to "family."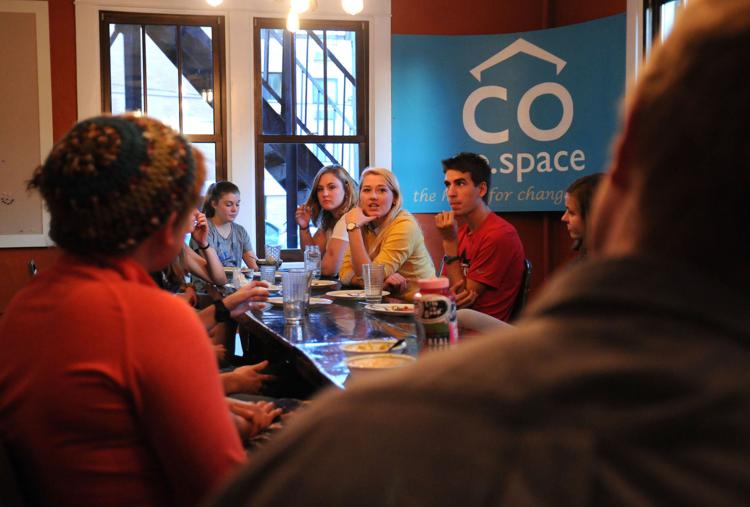 There are numerous events throughout the year for the housemates to bond, such as family dinners twice a week, retreats, group discussions, speakers, socials and more to connect even the most polar opposite of housemates.
Clayton Sulby, now living in the co.space for his first time this semester, notes while there are certain mandatory events, housemates aren't bothered by the standard because they're genuinely invested in working together and getting to know each other better. In fact, many go above and beyond to become involved in the connectedness of the house.
"I was thinking about 'why does [co.space] feel like home even though it's not home?' and it's because of an ambient love that's just in the house," Sulby (sophomore-engineering science and neuroscience) said. "People really care about you but just by virtue of 'you're another human and they're a caring person.' They're working to understand you at any given moment."
Marshall, Sontheimer and Sulby are all in agreement that there is no set type of "person" a student or young professional has to be to be accepted and thrive in the house.
In its first few years, the co.space has housed a variety of individuals — alumni, students from Schreyer Honors College, non-Schreyer Honors College students, students working on "projects" inside and outside co.space, students working on no "projects" at all, students involved in various clubs around campus and more.
Marshall stressed that any and all applicants are worthy of applying, regardless of academics, intelligence or what an applicant is working toward in their future after Penn State and co.space.
"One of the things that I've consistently seen [when tenants start living in the co.space] home is 'I don't belong, I'm not meant to be in this space,'" Marshall said. "You belong. You are enough. Who you are entering this space, you don't need anything else."
---
RELATED CONTENT
After a month of being shut down mysteriously, the downtown state college Hearts for Homeless drop-in shelter re-opens to the public and explains why.