Alumnus Donald Bellisario and his wife Vivienne were named Penn State's 2018 Philanthropists of the Year following their $30 million donation to the Donald P. Bellisario College of Communications back in 2017.
The Bellisarios' gift was one of the largest donations in the university's history.
The college was renamed after Donald Bellisario in recognition of the gift.
Bellisario, an award-winning director, producer and writer, graduated from Penn State in 1961 with a degree in journalism.
"The extraordinary commitment Don and Viv have made to our university will enable our students and faculty to follow their own paths to success," Penn State President Eric Barron told Penn State News.
The Philanthropist of the Year award is given to an individual, couple or family that has displayed a spirit of generosity and leadership to the university through promotion and support, according to Penn State News.
The award was presented to the Bellisarios on April 20.
Donald said he and Vivienne are "honored" to be selected as Penn State's Philanthropists of the Year.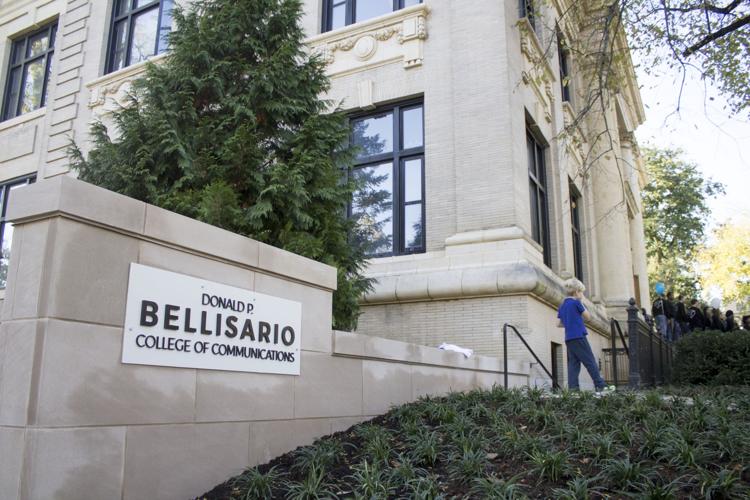 Their 2017 donation provides scholarships to communications students and supports programs that will give "real world" experience to undergraduate students.
It will also help fund a new media center for the College of Communications.
Before 2017, the Bellisarios showed additional support for Penn State. In 2006, they gave $1 million to create the Donald P. Bellisario Trustee Scholarship.
Donald delivered the commencement address to the College of Communications on May 7, 2016.
The Philanthropist of the Year award was created in 2002 to honor Penn State's philanthropic leaders. Past recipients of the award include Jack and Jeanette McWhirter in 2017, John Leone in 2015 and Steve and Nancy Sheetz in 2010.