Marc Friedenberg, a candidate for Pennsylvania's 5th Congressional District, visited the Centre County Council of Governments building on Saturday to speak with constituents, his seventh stop on a "listening tour."
Friedenberg told about 40 audience members he began his political career after Congress' attempted repeal of the Affordable Care Act. He also started
PA5 Truth and Action, an activist group dedicated to mobilizing people against the repeal of the act.
"The repeal effort was successfully beaten back," Friedenberg's campaign website reads,"but it became clear that Glenn Thompson — the recipient of millions of dollars in donations from the health insurance industry, Big Pharma, and Wall Street banks — had decided to stop listening to his own constituents altogether."
Dissatisfaction with Congressman Thompson led Friedenberg to pursue his campaign, which he now thinks "has got a real shot."
"I wouldn't spend so much time away from my family if I didn't think I would be able to do something for you guys, and to do something for them," he said,pointing to his wife and two daughters off to the side.
An IST professor at Penn State, Friedenberg said his teaching position is a boon for his campaign.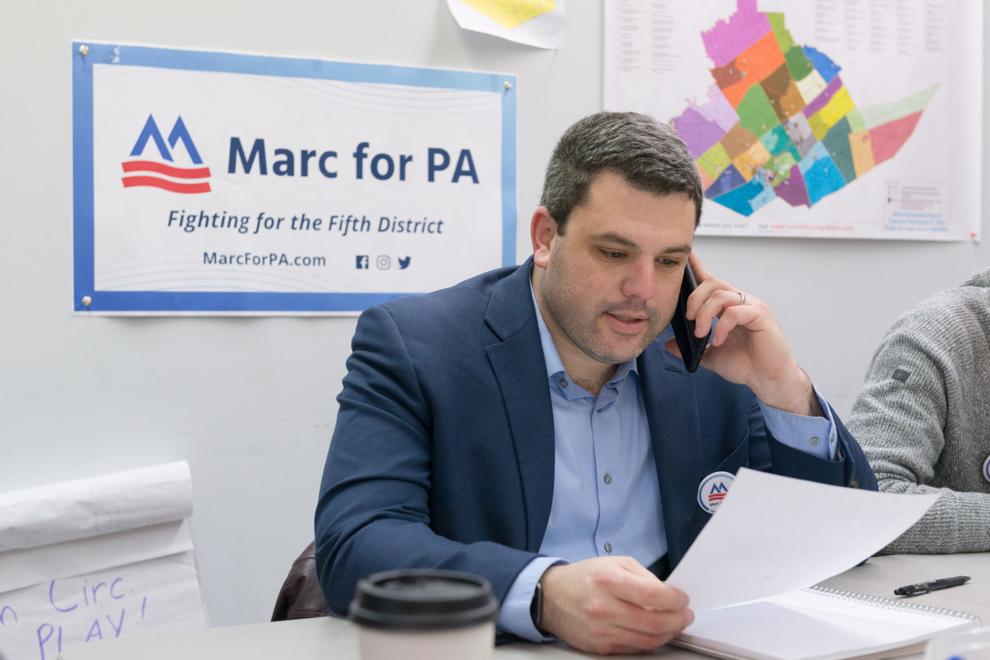 "If anything, it lends credibility to me," he said, though he has to be careful. He said he can't campaign in the classroom, otherwise there may be a conflict of interest harmful to the campaign and its legitimacy.
Despite being a registered Republican, Amber Houk said Friedenberg's compassion has her considering voting for the Democrat.
Houk, 48, said she considered registering as an independent — a more flexible approach that would allow her to focus on the issues instead of party politics — but ultimately decided to vote along party lines. She said she wanted her vote to matter in the primaries.
"I really appreciate the way you show respect to everybody," she said to Friedenberg. "You speak to the issues. You speak to the reality of it, and you don't put people down. I think that really appeals to me as far as my vote goes."
When he opened the floor for questions, Friedenberg heard a fair share about gerrymandering.
Last month, the Pennsylvania Supreme Court ruled that the congressional map is "clearly, plainly, and palpably" in violation of the Constitution, a ruling House Republicans have since tried to challenge.
The resulting debates over the constitutionality of gerrymandering concern Friedenberg directly, as his district could potentially see a change by Feb. 15 when Gov. Tom Wolf decides on the proposed redistricting. Wolf visited State College earlier this week to address gerrymandering, stating his "goal is to create a fair map."
Friedenberg said listening tour was cut short by the court ruling. He said he wants to know what the district looks like before he continues making stops.
"Your guess is as good as mine," Friedenberg said as to his best guess for what the map will look like, adding that the layout of the district will remain unclear until Wolf's decision.
"Even if there's something you're not going to be voting on," Friedenberg said, addressing Congressman Glenn Thompson's silence on gerrymandering, "you're one of 435 people with this unbelievable platform you can use at a moment's notice. Neo-Nazis are not the same as people who are protestingneo-Nazis. That's an opportunity where you have to use your platform to say,
'This is what American stands for.'"
CONTINUE READING...
The annual conference gave members of the Penn State community an opportunity to roar about their passions.
With the midterm elections less than one year away, four candidates have announced their bid…