UPDATE, June 1, 2020: 
Thomas Callahan's charges have since been dismissed and expunged.
---
Original story: 
Three men have been arrested for the theft and vandalism of a nine-foot menorah outside the Zeta Beta Tau fraternity house earlier this month, according to State College Police.
The menorah was stolen from the fraternity house at 328 E. Fairmount Ave. on Dec. 2, where a Zeta Beta Tau brother witnessed the incident. In an attempt to stop the individuals, the brother was then assaulted, according to a criminal complaint.
Five men were involved in the incident, who police said were either Theta Delta Chi brothers or staying at the fraternity. Theta Delta Chi president Matthew Nickles also witnessed the theft and told the individuals to return it to the Zeta Beta Tau fraternity house.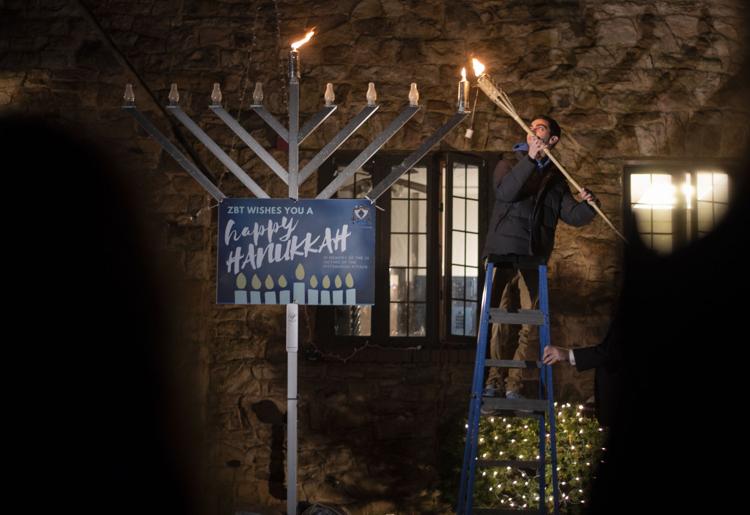 According to a criminal complaint, a window, basketball hoop and grill were also damaged at the fraternity. The menorah was valued at $1,800.
David Kovacs, 20; of Blue Bell; Thomas Callahan, 19; of State College; and John Hamlin IV, 19; of Nashville, Tennessee, were each arrested and charged with three misdemeanors — theft by unlawful taking, receiving stolen property and criminal mischief.
Police also interviewed two other suspects, Liam Williams and Zachery Paley, who confessed to either being involved in the theft, the vandalism or both, the report read. They have not yet been charged.
Kovacs, Callahan and Hamlin have scheduled preliminary hearings for Jan. 16, 2019.
The menorah also was vandalized and stolen previously sometime after 10 p.m. Nov. 29 at the same fraternity's house, as previously reported by The Daily Collegian. It is unknown if and how the incidents are connected.