March is National Women's History Month — and organizations all around State College are celebrating with books.
From books about Eleanor Roosevelt to Gloria Steinem to Madonna , local libraries and bookstores are honoring women with displays of texts written by female authors.
"Libraries are one of the great democratizing agents," said Michele Hamilton, the Shelter Coordinator for the Centre County Women's Resource Center. "They allow for exchange of ideas and for people to explore and discover for themselves what authors or genres they want to read. This is very important in a social media world where computers 'suggest' what you should like."
In Pattee Library, a similar display on "Women's History Month" was created by a student employee, according to Student Engagement and Outreach librarian Hailley Fargo.
"This student employee spent some time researching important and influential women and then used our online catalog to see if we had any books about these women in our collection," Fargo said via email. "She pulled those results together to create a display with memoirs, biographies, autobiographies, collections of essays and other genres to show off some of these women. All the items on display are available for checkout."
Fargo has her own favorite selection of books that celebrate women: "Rad Women A-Z" by Kate Schatz and Miriaim Klein Stahl, and its sequel, "Rad Women Worldwide."
By offering readers works by female authors, Hamilton said, these displays can give readers the opportunity to hear diverse voices and different points of view, as well as "centering the feminine in our thinking."
Hamilton offered a series of books, which are listed on the side of this page, trying to offer multiple views that emphasize literature and social change, "from the ground up."
"I believe people directly affected by issues can create lasting change and I believe in the importance of looking back to history to help inform the future," Hamilton said via email. "I hope everyone who sees the exhibit will realize that women have long made their voices heard."
At Schlow Centre Region Library, the library offers two displays: one in the Young Adult literature section that features YA heroines and protagonists, and an additional literary display specifically for Women's History Month, according to Adult Services Librarian Amy Madison.
"I think that all people can learn from all books, not just facts, but also empathy, sympathy and what the world looks like to other people," Madison said via email.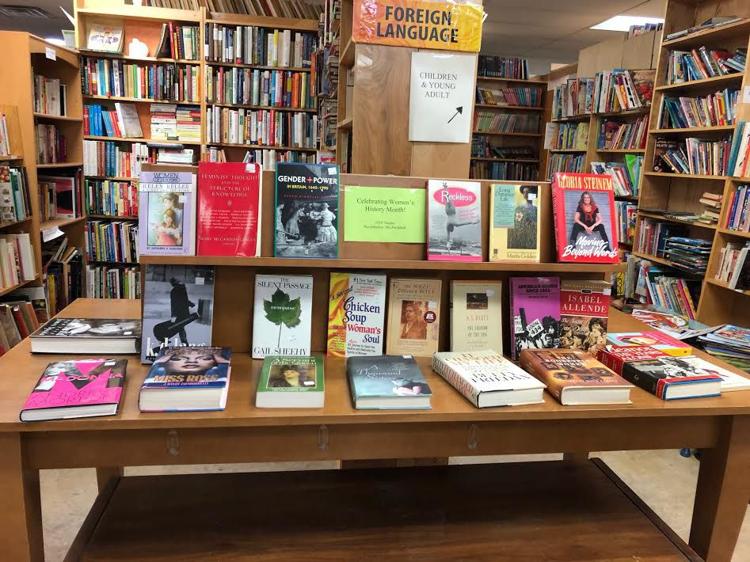 "While it is vital to see how different people navigate both real and imaginary worlds, we also need to see ourselves reflected in stories, for the same reason that we need to see others, and so that we can better understand ourselves and our histories."
Webster's Bookstore and Cafe also participated in the women's history month display, offering patrons a table filled with books like those about Helen Keller and Malala Yousafzai.
"As a bookstore, we're always trying to help people seek out references [and] source material and I just think visually, it's important to recognize that's it's Women's History Month," said Elaine Meder-Wilgus, the owner and manager of Webster's.
In February, the bookstore also created a display celebrating Black History Month, according to Meder-Wilgus.
When creating the Women's History Month display, Meder-Wilgus said they tried to collect books from all literary genres "and not just books about women, but books written by women."
"To me, that's one of the most important aspects of the 'Histories' months as they arise, is that we give a credit and a voice to the people that are participating in the history," Meder-Wilgus said. "Or the 'Her-story,' as it is."
Powerhouse women in the Penn State sports world took to the stage at the Gender Equity in Sp…