Singing runs in the family.
Ken Hosterman, former Penn State soccer coach and World War II veteran, passed the time while stationed in Italy by singing in a quartet.
Now decades later, his granddaughter, Stephanie Skipper, has gained national attention for her voice.
Growing up in State College, Skipper was inspired by the voices of her mother, Karen Hosterman-Sabel, and her grandfather. Now, she's creating her own legacy, starting with a recent stint on NBC's "The Voice," and other career successes.
Even before she could talk, Skipper was making melodies, said Hosterman-Sabel. While food was placed at her high chair, Skipper hummed in pleasure.
In the car, when Hosterman-Sabel put on a cassette tape of Disney songs for Skipper and her brother Matthew Smith, Skipper, then around three, would pick up the tune.
But the floodgates opened, so to speak, thanks to a cartoon mermaid and dancing crab.
When watching The Little Mermaid, Skipper, like most girls, wanted to be Ariel, the mermaid with a beautiful singing voice.
"Well, let's be honest," Skipper said. "Every little girl in 1989 wanted to sing 'Part of Your World.'"
At first, Hosterman-Sabel didn't realize that Skipper's talent was that unusual. Her daughter being from a family where everyone sang, Hosterman-Sabel simply thought, "Okay, she can carry a tune."
What was unusual was that Skipper could hit every inflection of the songs "down pat," always on key.
As Skipper got older, her love of music and vocalization continued.
While was shy in public, "I didn't have to prod her to sing at all," Hosterman-Sabel said. "She always had music on in her room, and she was always singing."
Smith remembers his sister being a fan of the same music as their mother.
"I distinctly remember her singing a lot of Whitney Houston and Mariah Carey as she was younger," Smith said. "That's a lot of the stuff my mom listened to, [Stephanie] would emulate it and sing out loud."
Since they are close in age, Smith and Skipper spent "a lot of time together" in the car going to school. And, by this point, they weren't listening to Disney tunes anymore.
"So, I would usually drive, and she would be the DJ, I guess you could say," Smith said. "We'd put the music on, and she'd always sing along to that."
Though they were similar in age, the siblings weren't at all similar in personality.
Sort of "living in the shadow" of her brother, Skipper said she was much more of "a wallflower."
Still, she sang in her youth group and in the choir.
"I could play instruments, but I can't carry a tune to save my life," Her brother said, laughing at the idea.
During her freshman year of high school, Skipper mustered up the courage to perform in the school talent show.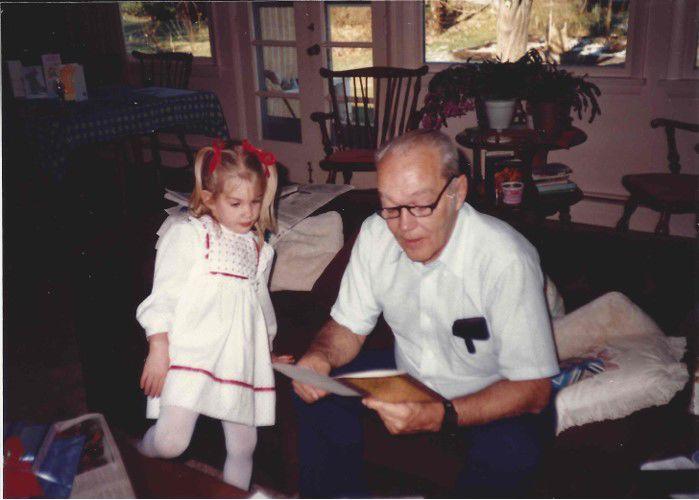 There, she again drew on some of her family's favorite music, choosing to sing The Supremes song "Can't Hurry Love."
"The craziest thing is to have this desire inside of you to do something, but then to have this all-consuming, paralyzing fear at war with that," Skipper said. "I loved to sing, and I was scared to death to get in front of people and do it."
Still, she decided to conquer her fears.
"At some point," Skipper said, "you have to make a decision, like, 'Do I try and love other things? Or, do I face my fears and give it a go?'"
Even though she was "so nervous [she] stood in one spot the whole time," her mom said her rendition was a hit. Skipper made it through and finished with a head bang.
In particular, Skipper remembers her grandfather's pride at the talent show and the flowers he brought her.
"I've dried them," Skipper said, "and have kept them all this time."
Even after living in the same house as his sister, Smith said he hadn't realized his sister could sing like that before she performed.
"She had always been so shy," Smith said. "I had heard her sing a lot in church and everything, but I know that she didn't really belt it like that or anything. That really kind of showcased her talents there."
When it came time to apply to colleges, Skipper feared that at such a large school like Penn State she would get lost in the crowd. Penn State also offered only a classical music major at the time, and Skipper wanted something different.
And then the magazine came in the mail.
Right on the cover, Contemporary Christian Music magazine offered the solution: "Do you want to jump start your music career?"
The article, Hosterman-Sabel said, highlighted four different colleges with music programs. She and Skipper looked through the article, but Skipper only wanted to visit one school — Greenville College.
Located in Illinois, Greenville College is a Christian liberal arts college with an enrollment of no more than a few thousand students. After visiting, the decision to attend a school 12 hours away was a big "leap of faith" for both of them, according to Hosterman-Sabel.
"And, I wasn't sure if I could handle her being that far away, and I wasn't sure if she could handle being that far away," Hosterman-Sabel said, laughing. "But, we prayed about it, and we both felt like that's where she was supposed to go. And, when I dropped her off, she never looked back."
***
In college, Skipper honed her communication and vocal skills, while also taking the opportunity to travel to various places across the world. Just as the magazine had promised, she advanced her music career, landing on the radio and performing in the AgapeFest — a Christian music festival in Greenville.
Hosterman-Sabel said from Skipper's first recording as a freshman in college to her first recording as a signed artist, she "grew by leaps and bounds."
It was at the AgapeFest that Skipper caught the eye of Toby Mac, who signed her to his record label and would eventually — ironically — bring her home to the "Winter Wonder Slam," a 2009 concert held at the Bryce Jordan Center.
"That was something I never saw coming, really," Hosterman-Sabel said. "And I had seen her sing in different arenas all over the country, but when you come home and sing in your own home town, that was quite a moment for me."
Skipper has also had the opportunity to perform for other locals at a Penn State hockey game. This moment, said Hosterman-Sabel, was particularly poignant for her family.
Hosterman "absolutely adored" his granddaughter.
"Stephanie was his little girl," Hosterman-Sabel said. "That's what he called her."
Hosterman had been able to come to the hockey game to watch Skipper perform the National Anthem, and it moved him.
"That was the first time he'd ever really heard her sing like that in public like that," Hosterman-Sabel said. "And, it made him cry."
"Through the whole 'Voice' process, I hope that my grandfather would be proud of me continuing to pursue a dream that we shared," Skipper said.
"I loved to hear him sing, and I loved some of his old records," Skipper said. "He loved Penn State, and so do I. So, it was a really fun thing to be able to sing at the Bryce Jordan Center."
***
Skipper soon met her now-husband, Tim thanks to Mac signing her to the label, and they eventually released "Copperlily," an album which included a song she would later sing at Smith's wedding.
While working with Tim, Skipper enjoys the "messy, vulnerable process" of creating music.
"It can be a little bit of a bloody mess. But hopefully, once it's complete, you have something that's healthy and strong and tells a bigger story than you," Skipper said. "Performing, throwing the guitar in the hatchback, getting to travel with [Tim] and sing these songs that we're relating to people, it's so fun."
While Skipper loves creating music with her husband, she also has her own professional goals — particularly when it comes to Kelly Clarkson.
A self-declared "huge Kelly Clarkson fan," it was a no-brainer for Skipper to decide to audition when she saw Clarkson was going to be a coach on "The Voice."
"And, really the goal for me was I wanted to get a hug and maybe hang [out]," Skipper said. "So, I got the hug."
The turning point in overcoming her shyness, Skipper said, was when her love for singing started to overpower her fear of being in front of people.
"I really think I had to look fear in the eye and say 'What's the worst thing that's gonna happen here? You forget a lyric? You sing a bad note? What's that mean about you? Nothing? Oh. Well just get up there and do it.'"
Hosterman-Sabel, however, is not surprised at all at her daughter's evolution from a self-described wallflower into a nationally recognized artist.
"I've watched her through the years... She thrives on singing. She loves to sing. So, crowds really don't phase her," he said. "It's something that's pretty awesome to see."
Smith, as well, is excited that his sister is now being recognized for her success.
Still, Skipper admits she was nervous during the blind auditions.
"My work is believing that I belong and matter in this world, and I'm going to throw something out there, not everyone's gonna love it, that's okay," she said. "So, if I can kind of work through some of my fears, talk to them, look them in the eye, I'm able to show up in a more authentic and vulnerable place."
That authenticity is something that earned her recognition from Clarkson during the blind auditions, when Skipper sang a rendition of Clarkson's "Piece by Piece."
On "The Voice," the judges — who are turned away from the contestants — show their enthusiasm for contestants by spinning their chairs around to face them.
As Skipper began her rendition, viewers can see Clarkson visibly react when she hears the first line of the song, and quickly be moved to tears by the time she spins her chair around. Skipper, concentrating on giving the song her all, was internally a little panicked.
"Of course, I didn't know what was going on, with her back to me," Skipper said. "I didn't know that she was crying when I was singing, I just thought, 'She's not turning!' but when she did turn… she was so kind, and she was such a mess. I loved it."
Though Skipper ended up on "Team Adam," gaining advice from Maroon 5 singer Adam Levine, she still feels connected to Clarkson.
"If I had to choose between her just calmly turning around and being excited that I sang her song, but being on her team — versus her just sitting there and taking it in and having an experience with it — you know, where something in her heart was connected to my performance even though she didn't turn, that's the best case scenario, I think," Skipper said.
Hosterman-Sabel was at the blind auditions to support her daughter.
"I was very touched by Kelly's emotional reaction," Hosterman-Sabel said. "And, it spoke to me how well Stephanie not only sang the song but told the story behind the songs."
Going into "The Voice," Skipper said she wanted to be teachable.
"I have been trying this music thing off and on for a decade now, but there's always more you can learn…" she said. "I do not subscribe to ever arriving at a place where there's not something more to learn. So I'm really grateful for the opportunity."
Skipper ended her run on "The Voice" after losing a voice-off with another contestant, but has plans to continue on with her musical career.
"I feel most connected to something bigger than me [while singing], and I think maybe because it challenges me to do, it's such a vulnerable thing, you really can't hide," she said.