According to Penn State's Timely Warnings, eight forcible sex offenses were reported since the school year started in Augest — seven of which happened in on-campus residence halls. The most recent reported assault happened in East Halls.
Despite this, many students said they generally tend to feel safe living in their dorm buildings.
Aeva Roth is among them.
Roth (freshman-graphic design) lives in a renovated dorm in North Halls and says that she feels safe.
"I don't really know the circumstances [of the sexual assaults] or how that happens with them, but I don't know," Roth said. "I don't feel like I'm unsafe here."
The only time she has ever felt unsafe in her hall was when a fight broke out between two girls, who Roth said were violent with each other.
Roth said part of the reason she feels safe is because of the design of the renovated dorms. Unlike older buildings, the room doors lock automatically when they close.
"I think that's really smart because it forces everybody to take their keys with them," Rosh said. "If you're alone in your room, and your roommate just left, you know you're safe because the door locks."
Tess Wright feels differently. Although she lives in a non-renovated building in East Halls, she thinks that auto-locking doors wouldn't make much of a difference. While she said she does generally feel safe, being on a coed floor has worried her before.
Wright (freshman-kinesiology) recalled one specific evening when the men on her floor were running up and down the hallway, throwing each other into the doors.
"I remember very, very clearly that I had to get somewhere, so I had to take a shower," Wright said. "I didn't feel comfortable leaving my room in my bath robe to take a shower because there was just chaos going on in the hallway."
Wright said she would feel safer on an all-girls floor, and that students from other residence halls are always surprised that she does live on a coed floor with a male resident assistant.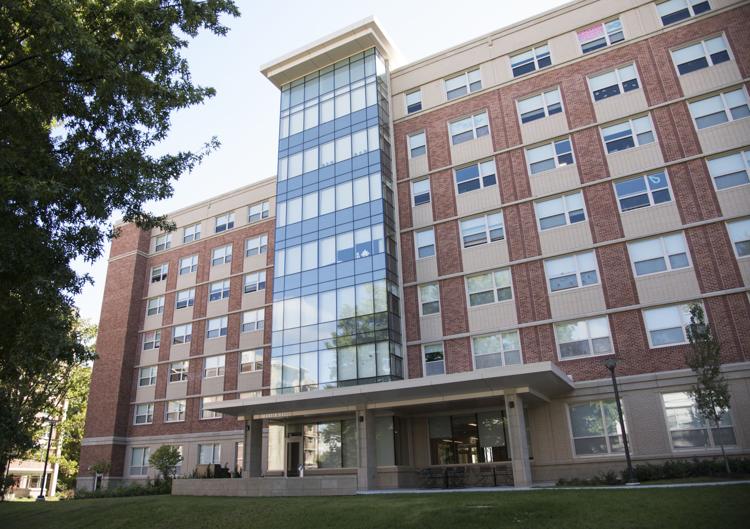 "When the guys get kind of loud, then I get a little ambivalent about leaving my room sometimes," Wright said.
Still, Wright feels safe overall.
"I feel like everybody has a general understanding of who should be in the dorm, and obviously we have all of our keys to get into the dorms," Wright said. "I feel like I'm not running into random people in the dorm."
Riley Kuhn agrees, saying that he feels safe in Pollock Halls.
"It's always been an inviting atmosphere here," Kuhn (freshman-finance) said.
Kuhn says that he only recently started locking his door after it was recommended to him.
"Overall I trust pretty much everyone on the floor," Kuhn said. "There's been no incidents that I've known of."
Even though he personally isn't worried, Kuhn said his perspective might be different if he was a female. In his opinion, thinking otherwise would be "ignorant."
"Basically all scenarios that are reported are males taking advantage of females," Kuhn said. "If they're being put in a precarious situation, we should go and help them."
Christopher Reeves, who also lives in Pollock, said that he understands why women would feel less safe than men in campus living.
"I figure that most [incidents of sexual assault] are off campus," Reeves (freshman- cyber security) said. "I realize that some of them are probably on campus, but I feel like it's more parties than anything that cause that kind of thing, so, I mean, obviously it's an issue, but I don't feel that I'm in danger ever."
Reeves said that, despite living in Pollock, he has been locked out of both the building and his room. He said he feels safe enough not to lock his door all the time, though he does lock it when he sleeps.
"I don't feel that anybody's going to come in and take anything or do anything like that," Reeves said.
Reeves, along with the other freshmen, said that piggybacking — or the act of letting a stranger follow one into a building — is one of the reasons for concern.
"Let's be honest, people always piggyback into the actual halls," Reeves said.
In order to help combat the issue, Reeves suggested installing a system where you need to use your student ID card to use the elevator or climb a flight of stairs.
Despite the prevalence of piggybacking, Reeves said he is not concerned.
"I feel that most people would feel safe on campus," Reeves said. "I don't feel there's like many issues with security."
---
RELATED
A sexual assault was reported to University Police at 2:30 p.m. on Jan. 14.