Finding housing at Penn State can become a student's top priority when deciding how the next academic year will go. In searching for housing, students must weigh decisions such as roommate choice, price range and general comfort.
Most people would say it is important to fully measure the myriad costs of living—no matter where one ends up calling home.
With pros and cons being only a part of the decision-making process for living on or off-campus, the cost often plays a big factor in many student's lives.
Living on-campus provides many options for students, depending on which amenities and benefits they prefer.
However, the cost of living on-campus comes with a mandatory meal plan cost.
According to Penn State's housing website , the meal plan costs anywhere from $2,025 to $2,600 a semester, depending on the level chosen.
The cost of living in a traditional hall each semester costs $3,185 for a double room, $4,330 for a single room and $2,550 for supplemental housing.
Living in a renovated hall costs $3,490 for a double room, $4,420 for a single room and $2,790 for supplemental housing.
Suites on-campus cost more than traditional halls and come with a private bathroom. Suites cost $3,765 for a two-bedroom suite at Nittany Suites, $4,040 for a two-bedroom suite at North Halls and $5430 for a single-bedroom at Eastview Terrace.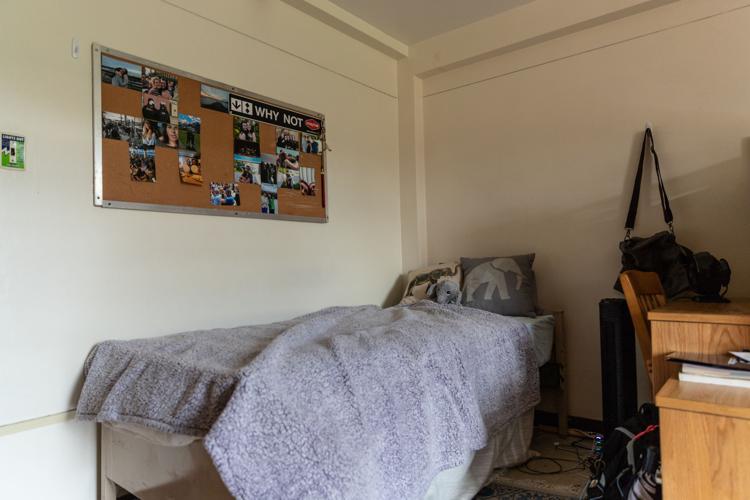 Apartments located on-campus provide students with an opportunity to enjoy the amenities of off-campus apartments, with a more centralized location.
Nittany Apartments cost $3,860 for a two-bedroom apartment and $4,430 for a four-bedroom apartment. White Course Apartments costs $4,495 for a four-bedroom apartment.
When calculated with a meal plan, it costs an average of $1,200 a month for the eight months a student is living on-campus — totaling at $9,600 for the academic year.
While on-campus housing can seem pricier, it also includes all utilities and bills. The benefit of paying such fees is manifest in better location and access to classrooms, dining halls and on-campus services.
Living off-campus provides students with a housing market that offers a variety of prices, locations and amenities.
Calder Commons is a moderately-priced complex located right across the street from campus. Rent includes all utilities except electric, according to Calder Commons' website.
Calder Commons costs $1,726 a month for a one-bedroom apartment and $1,420 a month for a two-bedroom apartment. The price decreases as more roommates are added to the lease.
---
RELATED
Amid the reconstruction of East Halls, the newest building, Martin Hall, was added to the Ea…
---
For example, if a student lives in a two-bedroom apartment in Calder Commons with three other roommates, they would pay $714 a month.
Hetzel Plaza is a less-expensive apartment building downtown, located across the street from Redifer Commons on-campus.
This apartment building is located close to campus, and only costs around $700 a month with two roommates. Rates can be as low as $475 a month with additional roommates, according to their website.
However, the electric, cable and Wi-Fi bill must be covered by tenants. This may result in an extra $150 to $200 a month split between roommates.
For those who want to live in an upgraded or newer apartment downtown, there is a steep price increase.
More expensive apartments like the Metropolitan, The Edge and The Rise have accounted for the recent construction of many high-rises in the downtown State College area.
These apartments cost anywhere from $750 to $1,200 a month. The price hike comes with complimentary amenities, such as rooftop pools, indoor lawns, gyms and parking garages within the building.
Living downtown forces students to consider all aspects of moving off-campus and account for the cost of groceries, utilities and parking expenses.
Upon calculation, it costs students an average of $850 a month to live downtown. This includes utility costs like cable and Wi-Fi. However, this does not include the cost of food.
The decision to live on or off-campus is essentially a student's personal preference, but comparing the costs is a priority when also paying for a Penn State education.