The Penn State Housing website calls the East Housing Area, "the largest residence hall complex on campus, with over 4,000 first-year students living in 16 coed residence halls."
On top of this, Brumbaugh, Pinchot and Tener Hall s are being renovated or constructed to add more life to the freshman city in upcoming years.
To a Penn Stater and East resident, this large gathering of college freshmen filled with napping students by day and screams and liveliness at night, it's just the normal life now.
Freshmen gave their stories of their first-year experience in East Halls, as well as some opinions as to why the East life really is so crazy.
Charlotte Norris said one day at 7 a.m., there was a student knocking at her door for about 5 minutes. Norris and her roommate tried to ignore the knocking due to the earliness, but he was persistent. After going to the door, Norris told him that this wasn't the right room. Later that day she saw a text in her GroupMe from her hall neighbor saying that the same student was sleeping on their floor.
"Lesson learned here is always lock your doors," Norris (freshman-education) said.
Jessica Casterline (freshman-accounting) said a few nights ago someone threw a rock through the lobby of Bigler and the Residence Assistants were a little upset when everyone was coming down to look at the damage. Now the window is covered in boards.
Abby Del Bene (freshman-advertising and public relations) was woken up by a fire alarm at two in the morning one day, and all of the students had to evacuate. They later found out that this was because someone forgot to put water in their easy mac and cheese and it started to burn.
Lisa Greeley (freshman-education) said she knows someone who stole a rolling chair from the Findlay Commons, but this East thief did not get away. He had to write an apology to the school and received a referral.
A referral is one example how crime can be punished in East Halls. Referrals are often given for theft, or alcohol or marijuana offenses.
Daniel Lapera (senior- bio-renewable systems) is a residence assistant in East. "We're supposed to be the eyes and ears of East Residential life, we're supposed to enforce the policies we were taught in training," Lapera said.
RAs also do rounds a couple times a night and there is always an RA on duty throughout the night.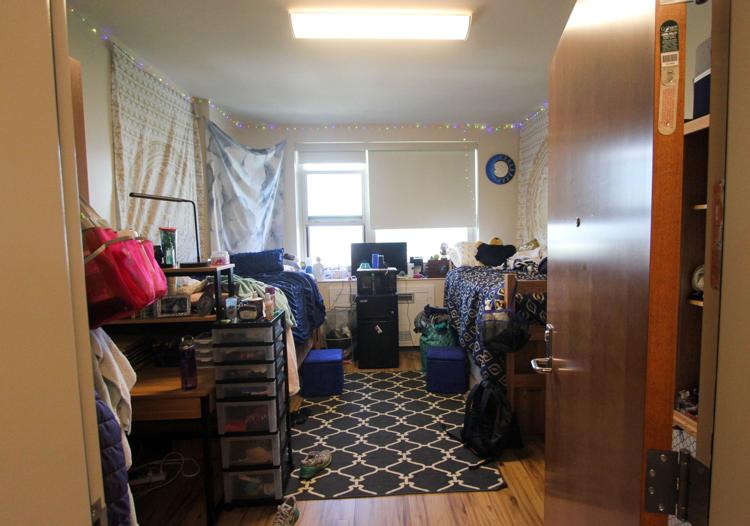 Lapera said he thinks freshmen will always be like this.
"Freshmen still have the mentality of high schoolers and just want to have fun," he said. "… They are experiencing their first adult independence, so they're just going to do what they want."
When it comes to the level of misconduct related to other dorms, "East is worse just because everyone here has to be a freshman," Lapera said.
East is the largest gathering of all freshmen on campus.
Lapera said one of his craziest East stories was someone who jumped out a window because they thought they could fly. "It was so dark because it was at night and I couldn't see where he landed and I thought, 'Maybe this guy really is flying,' but really he just got caught in the tree with his shirt," Lapera said.
Jay Jackson (freshmen-biomedical engineering) said when his friend went away to home, and when he came back on a Sunday, every item in his room was wrapped in wrapping paper, "including his bed his TV, all his belongings."
Kelsey Koch (junior-international politics, and communications arts and sciences) is not a current freshman, but had a story on what East was like when the killer clown situation was a big event during her freshmen year.
"Some people thought we were on lockdown, and a lot of people went rioting through Beaver and chanted 'We want the clown,'" Koch said.
Students were also up on light poles and ended their riot at Old Main. She said people were playing the Halloween music through her building to try to spook people even more.
Lexi Belnick has a theory why things happen so much in East.
"I think it's because freshmen are so new to the environment and it's their first time with independence and are trying to figure themselves out," Belnick (freshman-division of undergraduate studies) said. "This is our transition stage from being a child or being babied by our parents to taking the first steps into adulthood."