Earlier this year, many were quick to compare Saquon Barkley with former Ohio State star and reigning NFL Rookie of the Year, Ezekiel Elliott.
Ohio State coach Urban Meyer even went so far as to call the comparison "pretty fair" at Big Ten Media Days this past July.
The comparison is undeniable, but Barkley's Penn State squad isn't about to face a Buckeye team handing the rock off to Elliott. Instead, the Nittany Lions will have to defend against freshman sensation J.K. Dobbins for the first time.
Dobbins started Week 1 in place of an injured Mike Weber and broke Maurice Claret's 15-year old program record for rushing yards in a debut game with 181 against Indiana.
He hasn't looked back since.
Through seven games, Dobbins is second in the Big Ten with 775 rushing yards — 18 more than Barkley.
Dobbins was the No. 2 all-purpose running back in 247Sports' composite rankings for the 2017 class, but Weber was expected to be the starter after crossing the 1,000-yard threshold as a redshirt freshman last season.
"I wasn't surprised at all," Meyer said of Dobbins' play after the win over the Hoosiers. "I kind of tempered my emotions with you guys early on because we have seen that since spring practice. He has had a hell of a camp."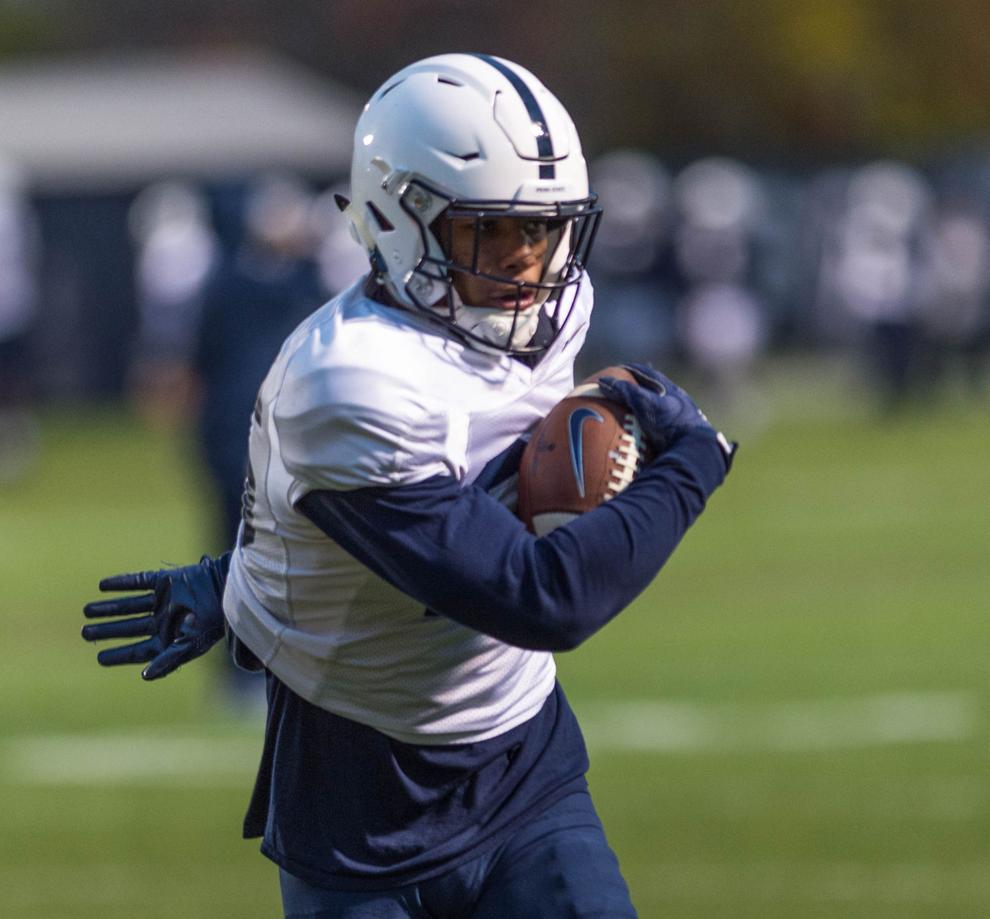 Penn State expected Dobbins to be Ohio State's feature back by the time their matchup came along.
"I think actually [running backs] coach [Charles] Huff said about two months ago that he'll be the starting running back before the season's over," James Franklin said of Dobbins.
Franklin and Huff actually made Dobbins a scholarship offer during recruiting. But according to 247Sports, the four-star La Grange, Texas, native never made a visit to Happy Valley during recruiting. Dobbins had already committed to the Buckeyes by the time the Nittany Lions came calling.
There were likely many reasons Dobbins never seriously considered the Nittany Lions, but the one that stands out the most is the plethora of running backs Penn State has had in its stables.
When Penn State made Dobbins an offer in May 2016, five-star recruit Miles Sanders was set to arrive on campus in June. The Nittany Lions also had a future-Heisman candidate, then a rising sophomore, coming off his first 1,000-yard season.
But just like Dobbins, Barkley wasn't really expected to start his freshman season. He didn't even start until the eighth game of his freshman season, though he did receive the bulk of the carries, as Akeel Lynch started for much the year. Lynch ultimately graduate-transferred to Nevada after the 2015 campaign.
Both Dobbins and Barkley were dynamic, four-star all-purpose backs coming out of high school. Barkley has shown his ability to be a threat in the air game with nearly 450 receiving yards so far this year.
Dobbins has only seven receptions this year, but that could still improve as he's making a return from injury. He missed all but one play of his senior season last year at LaGrange High School after breaking a bone in his right leg. Before that, he had consecutive 2,000-yard rushing seasons during his sophomore and junior years.
In spite of the injury, Dobbins has gotten off to a flying start to his Buckeye career. Despite not getting more than 14 carries in any of his last six games since his electric debut, he still has 594 rushing yards and five touchdowns.
He's even caught Barkley's attention, who praised Dobbins after Penn State's practice Wednesday.
"He's a really good back, especially for being a young guy," Barkley said. "I'm excited to see him live — see what he brings to the table."