Despite being one of the leading contenders for the Heisman Trophy this year, Saquon Barkley isn't thinking too much about college football's most prestigious award.
"When that pops up to me, I really don't get too much of a rush on it," Barkley said.
Barkley is the reigning Big Ten Offensive Player of the Year, AP third-team All-American and Penn State's team MVP. This year, he is a leading candidate to win the Heisman, but one would never know all of that just from talking to him.
"He's like one of the humblest guys I have ever met in my life," safety Marcus Allen said. "He's so humble to the point where sometimes I say, 'Hey man, you're Saquon. Sometimes I don't think you understand that.' "
RELATED: Fall sports season could be historic for Penn State athletics
"It's like he's unaware of it," head coach James Franklin added.
Allen said he understands Barkley's upbringing has something to do with why he never lets his accolades go to his head.
Barkley was born in the Bronx, in a neighborhood that was deteriorating. His father Alibay, who battled addiction at the time, told Bleacher Report that "shootouts" were not uncommon.
"Life could have went the other way, but my mom was in his life," Barkley told Bleacher Report. "My mom told him, 'I don't want my kids to go through this. I don't see a great future for them here.' "
The family moved into public housing in Bethlehem, Pennsylvania before again relocating to a rough suburb of Allentown. They eventually settled into the small town of Coplay. Since then, Alibay said he has been clean.
"To be honest, I think he was a great example to learn from," said Barkley to Bleacher Report of his father and his addiction. "He told me about it when I was a little kid. He wasn't embarrassed about it. He had his demons. Everyone has demons. I'm not embarrassed about him."
That's something his coach admires about Barkley's family.
"There might be circumstances in their history, their past, that they might not be proud of," Franklin told Bleacher Report. "One thing that's so interesting about Saquon and his family . . . They own everything."
Franklin said Barkley's upbringing contributes to his work ethic on and off the field. He has repeatedly stated that Barkley is not only one of his best players, but he also has one of the strongest characters on the team.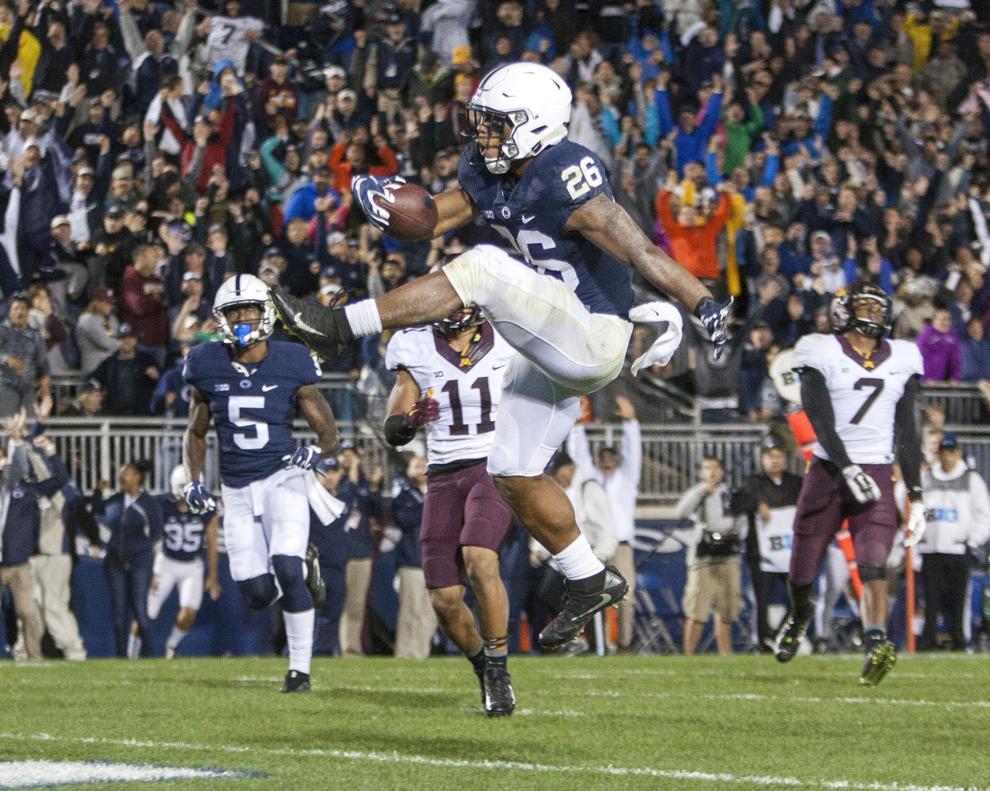 "They have never made football a thing that defines Saquon or defines their family," Franklin said. "They've stayed very level headed."
And of course, Franklin would like more of that on his team.
"I'm actually trying to figure out if it's legal, NCAA wise, I want to send Mom and Dad on a romantic vacation and try and convince them to have more children," Franklin said.
Barkley realizes how important his family is to him.
"Coach Franklin always tells us to "have a 'why'." They're my 'why,' my mother and my father and my brothers and sisters," he said. "I love them to death. Without my mother and father, I wouldn't be here on this earth, and without my family, I wouldn't be the person I am today. Everything I do, I try to credit them and God. I'm just so thankful."
The discipline and leadership his family has passed down shines off the field perhaps more than it does on the field. Workout videos of Barkley lifting record amounts of weight aside, Franklin said Barkley shows up to his classes and does "really well" academically.
He also pushes other players to their maximum, especially the other running backs.
"We have a standard in this program, and we have a standard in the running back room, and Saquon sets the standard," running backs coach Charles Huff said. "Saquon challenges the group and himself to holding that standard."
While Barkley won't admit it, he's likely to be a first-round pick in the NFL Draft next April, should he decide to leave school early. That would leave Penn State's treasure trove of tail backs battling for the starting job.
One of those backs who Barkley sees a lot of himself in is sophomore Miles Sanders.
"He really focuses on being the best player he can be every single day and comes to practice with a great work ethic," Barkley said. "I'm really excited to see what Miles is able to do."
But Barkley isn't even thinking about who will replace him, or even his draft stock.
"I'm really just focusing on the season and focusing day by day," Barkley said at Penn State media day. "Right now my biggest focus is on camp."