Birdie Shaw's hockey bag sits in her basement. She doesn't want to step into an ice rink.
A former scholarship forward for Penn State women's hockey, Shaw said that when she has her own kids, she will not allow them to play the sport.
She said the negative experiences she had playing for Penn State women's ice hockey coach Josh Brandwene changed her outlook on a game she once loved.
"It sounds so cliché, but he literally ruined hockey for me," Shaw said. "I don't have the passion to play anymore, and it's sad to say because it's been such an important part of my life."
One memory of him stands out above others.
On this particular day, Shaw said she saw her coach at his worst.
"He knocked over my stick and he said, 'Don't worry, you won't be needing that today. You won't be using it at all,' and then walked away," Shaw said. "As in saying, you won't be getting any ice time."
Shaw was not the type of player most coaches benched without warning. She began gaining attention her freshman year, logging three goals and five assists in the 2012-13 season and earning the team's Iron Lion award for excellence in the weight room.
Shaw and other former players, as well as a source within the women's hockey program who asked to remain anonymous due to fear of repercussions from Brandwene, allege Brandwene emotionally abused players and continues to do so, making them hate the sport and curse themselves for ever dreaming of playing Division-I hockey.
Brandwene did not respond to several requests for comment via phone and email as of press time Sunday.
The Collegian called Penn State Athletics and then sent the department a summary of the allegations laid out in this article. The Collegian asked if Brandwene's contract would be renewed and if anyone from athletics would be able to talk about the complaints.
Athletic Director Sandy Barbour, as well as other officials mentioned in this article, were copied on a follow-up email requesting comment.
Penn State Athletics responded with a statement pledging their support of student-athletes.
"We are driven first and foremost by an interest in the welfare of our student-athletes, and always consider thoroughly each and every issue brought to our attention," the statement read. "Every day, the [Intercollegiate Athletics] staff is dedicated to providing the resources necessary to create conditions for success to balance the rigors of high expectations in the classroom and in competition."
"Coach Brandwene has made steady progress during the program's initial four years in the development of its student-athletes and in building a foundation for future success," it continued. "Penn State Intercollegiate Athletics has well-established, confidential processes in place to follow-up on direct and indirect feedback from student-athletes and others closely connected to our programs."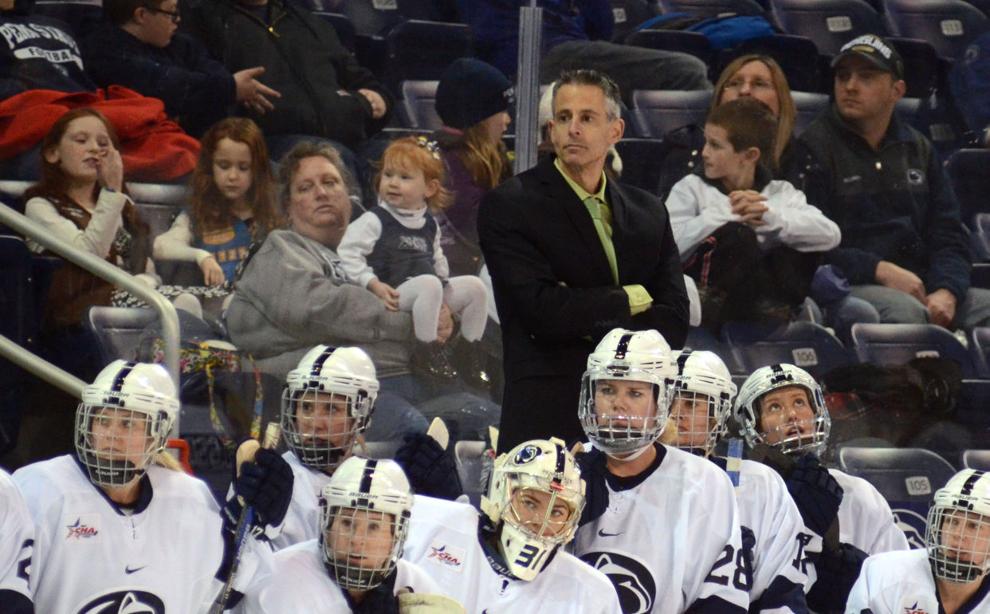 Brandwene's team finished the season with a record of 12-19-6. Brandwene's overall record over four seasons at Penn State is 40-90-15. The men's hockey overall record from the last four seasons under coach Guy Gadowsky is 60-68-10.
Former players said they do not want to see Brandwene's contract renewed.
Aside from the stick incident with Shaw, they said they never saw Brandwene become physical with players. They instead described his treatment as mentally and emotionally abusive.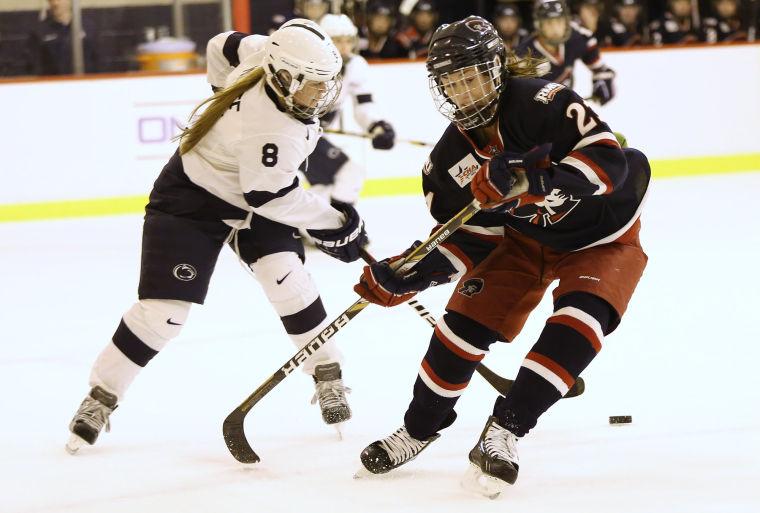 Taylor McGee, who was cut from the team after its inaugural Division-I season in 2013, said he played constant mind games with her, never giving her a reason why she wasn't playing.
Katie Murphy, who was cut in 2014, said Brandwene would go weeks at a time without talking to her or looking at her.
Cara Mendelson, also cut that year, said Brandwene told her she was "a locker room-role type of kid" and would never be successful no matter how hard she worked.
One former player who asked to remain anonymous said Brandwene told her she needed to lose weight if she wanted to get playing time.
The source within the program said he had not seen any change in Brandwene's behavior in the last two years. He said he had never heard a player say something positive about Brandwene.
Several current players declined to speak on the record. One player attributed this to her teammates not wanting to leave the team on a bad note and the seniors looking forward to simply not having to deal with Brandwene again.
The source within the program said even graduating seniors may not want to speak up about Brandwene out of fear that there would be repercussions for their friends still on the team if Brandwene's contract is renewed.
He said players took note of what happened two years ago when their teammates voiced concerns.
In 2014, 13 former players, including Murphy, Mendelson and Shaw, went to Associate Athletics Director Charmelle Green to voice their complaints about Brandwene. Their complaints detailed the "mind games" they said Brandwene would play with them: changing his mind frequently and at the last minute about whether or not players would travel with the team and setting up meetings with players to discuss how they could improve, only to go around in circles with excuses why they couldn't play.
Green was copied on the summary of allegations the Collegian emailed to Penn State Athletics. She did not respond.
Players said university officials took no action or genuine interest in their complaints and the seven players who were cut were ultimately punished for speaking up.
"If this would've happened in the men's program, there's absolutely no way that this would ever stand," Murphy said. "There's no way this would happen in the men's program ever."
"I believe that if [men's hockey] had Brandwene for a coach, within a year he would have been gone," Shaw said.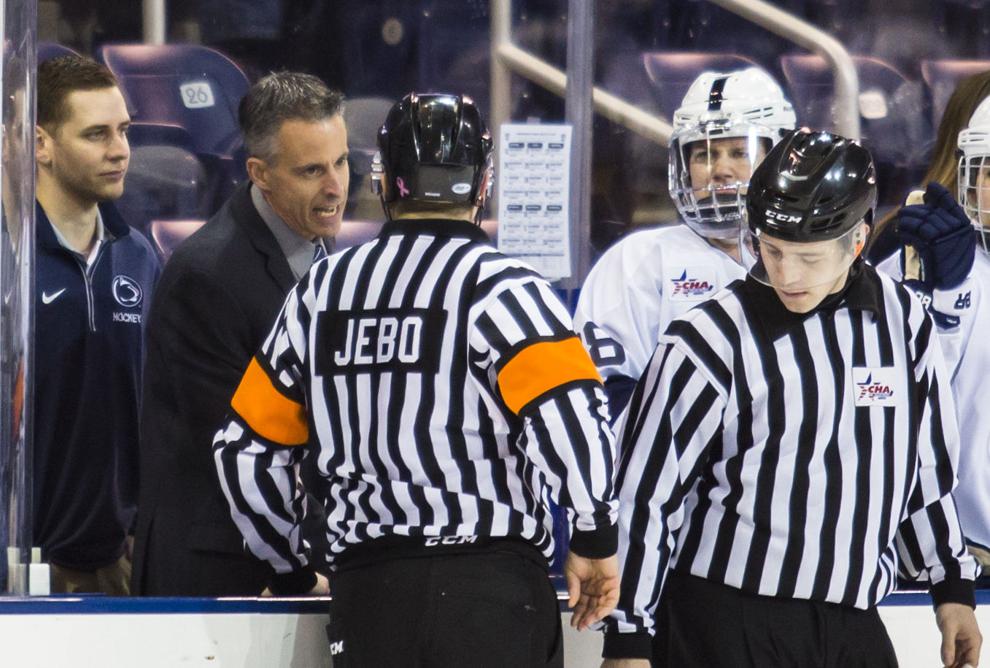 When they went in to report their complaints to athletics, each player, sitting in a circle around Green's office, told her own story of being bullied by Brandwene during their time at Penn State, Murphy said.
Green listened intently, Shaw said. She appeared to be on their side, reacting in shock to some of their stories, and telling them that coaches shouldn't speak to their players the way they told her Brandwene spoke to them, Shaw said.
Mendelson said Green hugged each player and gave each her personal cell phone number. Green thanked the women for having the courage to come and talk to her, explaining that they were exactly the kind of athletes Penn State wanted.
"I left that meeting thinking she had our best interest at heart," Murphy said, "and that ended up not being the case, considering she released all 13 of our names to coach Brandwene when we asked to remain anonymous several times."
In the list of allegations sent to Penn State Athletics, the Collegian included this claim regarding confidentiality. Penn State Athletics did not directly address this allegation in its responding statement.
Penn State's 2015 Student Athlete Handbook encourages athletes to report wrongdoing, and describes a policy promising confidentiality in most cases. The handbook also stipulates that athletes will not be retaliated against for speaking up.
The handbook lays out a "strict non-retaliation and non-retribution policy including, but not limited to, any Covered Person who takes action that he/she reasonably believed to be necessary to uphold or enforce Compliance with the code of conduct," the handbook reads on page 21. "... The University and the Athletics Department shall maintain confidentiality and anonymity with respect to any such report, unless required by law to do otherwise."
After she was cut, Murphy said she met with Morris Kurtz, former special assistant for the operations of hockey, and again with Green. She also sent follow-up emails to Kurtz and Brandwene, as well as an email to then-Penn State President Rodney Erickson.
The Collegian obtained those emails from Murphy, who said she purposefully put her grievances in writing.
In her email to Brandwene, Murphy wrote:
"I hope that you will be able to earn the respect of the team, and that the program will represent Penn State in a way that brings honor and engenders the respect of all. I can walk out of here with my head held high knowing that I represented this program with honesty and integrity and I don't think that you can say the same."
Murphy asked Erickson if she and teammates could discuss their concerns with him in person.
Vice President for Administration Thomas Poole responded to the email Murphy sent to Erickson. Poole said he would forward the message to David Joyner, the then-athletic director, due to Erickson's limited schedule in the months before his departure from Penn State, according to a copy of the email.
Murphy said she never heard back from anyone at Penn State.
All seven of the players cut in 2014 had eligibility remaining; three, including Shaw, were on scholarship.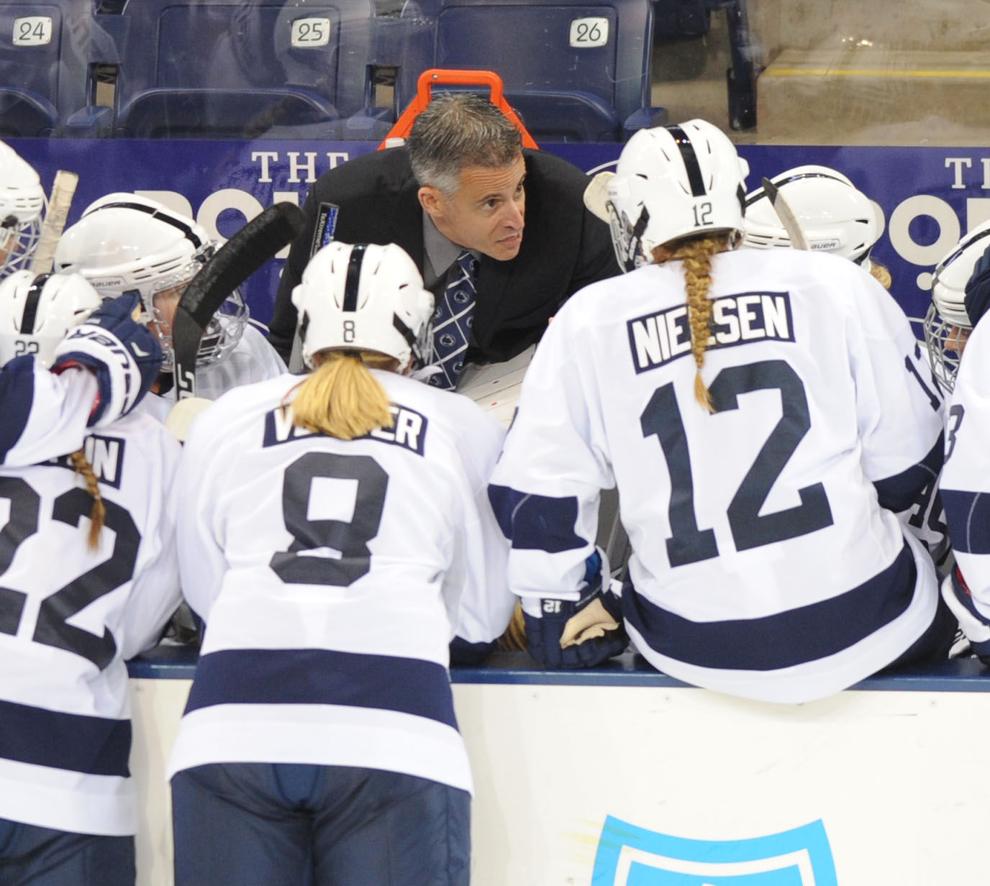 Shaw said Brandwene's anger was not new to her. She said Brandwene had been bullying her since her first weekend playing college hockey at Penn State.
After that first weekend her freshman year, Shaw said she was called into a meeting with Brandwene, who immediately began to diminish her early accomplishments.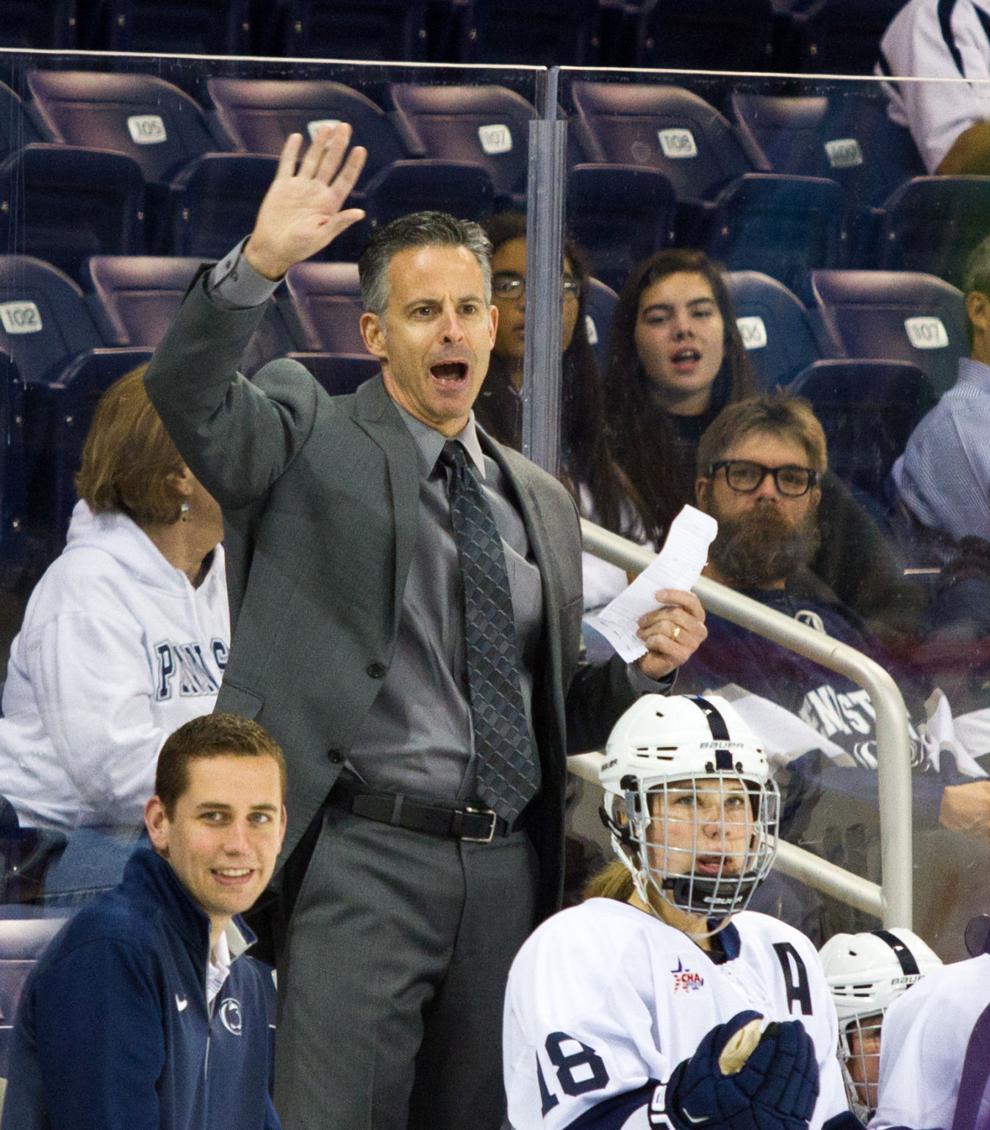 "'Let's not forget [Penn State was] your last resort. Don't forget that you should be grateful that you're here and not playing Division III. Don't let your head get too big. It's just a fluke you're doing well,' '' Shaw recalled Brandwene saying.
Shaw said two other female coaches on Brandwene's staff at the time backed him up and repeated similar thoughts.
"He was basically saying I created a hierarchy within the system within one weekend with the team and how I make myself seem better than other people. And I was just like, 'This is so screwed up.' That was my first college weekend. That sounds great, doesn't it?" Shaw said. "So that's when it all started, all the bullying started. He kept bringing me down, practice after practice, and saying I should practice harder and stay with him after to work on things."
"And of course I would do that, why not try to get better at the sport I loved?" Shaw added. "I would do that, but nothing ever seemed to be good enough. Every little thing I did wrong would be a huge thing where I could never get better."
Even when she was off the rink, Shaw said Brandwene's treatment followed her. She would sit in class, her mind racing a million miles a minute, thinking of what she could do at practice that day to make Brandwene notice her and worrying about whether he would only see what she did wrong.
"There was no 'Good job,' it was always, 'You missed this and you missed that,' " Shaw said. "Where with other players that he liked, he [would say], 'Yeah, you'll get it next time but you're still getting great.' But me on the other hand, he would be like 'Yeah, you didn't do it right, you're not playing.' But you would see 15 other girls on the team doing it and they would still be on a roster."
Brandwene had eight to 10 favorite players, who would always be given playing time no matter what, Shaw said. The rest of the players were split between those who Brandwene could easily manipulate, and those who would stand up to him and end up on his "shit list," she said.
"So basically if you had a backbone, he was going to try to break it, and if it broke, you were on his side," Shaw said. "And if you didn't, you were gone."
Brandwene helped build women's hockey from the ground up. A Penn State graduate himself who played on the men's club team from 1987 to 1991, Brandwene returned to the university to lead the program in its transition to Division-I play.
Penn State was Brandwene's first experience coaching hockey at the NCAA level. Following his graduation from Penn State, he moved around as a men's and women's hockey coach at seven high schools, prep schools and ACHA-level universities before returning to his alma mater.
State College held a special place in Brandwene's heart. In January of 1991, he proposed to his now-wife, Leona, at center ice in the former Greenberg Ice Pavilion.
At Penn State, he led the team to its first International Collegiate Hockey League championship in 1989, and then the national championship. During his senior year, he broke the team's record for most career points by a defender.
In college, Brandwene also got hooked on coaching.
"To be able to teach somebody something, watch them begin to master it and show appreciation for it, I just decided right then and there it was everything I've ever wanted to do," Brandwene told the Collegian in 2013. "I've been so fortunate...to have an opportunity to impact so many lives."
Joe Battista, Brandwene's college coach and former athletic director for ice arena and hockey development, coordinated the search committee that hired Brandwene, as well as men's coach Guy Gadowsky.
"It was his attention to detail at the administrative level that made us willing to take a little bit of a risk because he hadn't coached at the NCAA level," Battista told the Collegian in 2013.
The source within the program said Brandwene's coaching abilities are a great issue of contention among players and staff.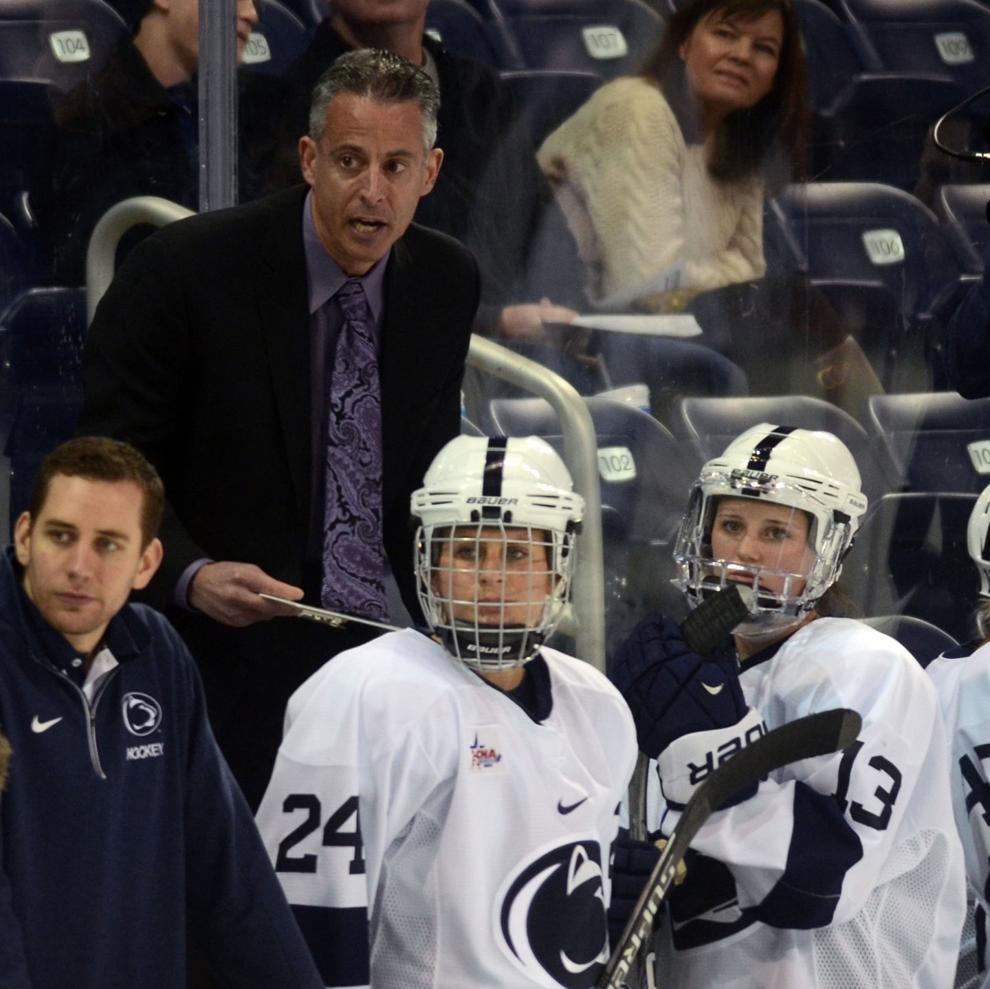 The women's locker room is arranged so players who Brandwene plans on giving more ice time are closer to the front, and therefore have an easier time listening to his instruction, the source said. Those who do not have as much playing time are relegated to the back of the room. In the men's program, the source said, the lockers are arranged in numerical order.
As for the rest of the staff, the source within the program said he believes most in women's ice hockey don't want to see Brandwene's contract renewed, due to his coaching abilities and the way he treats players.
However, he said he believes the reason staff members have not voiced complaints is due to fear of losing their jobs.
None of Brandwene's original coaching staff remain with the program today. Some were fired and others chose to leave, the source said, at a much higher turnover rate than that of the men's program.
Former players said they hope Brandwene's contract is terminated not for themselves but for the sake of the women who will go through the program in the future.
"The reason we did all of this is because we want to see Penn State women's hockey be successful, and we didn't believe that was going to happen under his leadership," Murphy said. "Honestly when I knew I was going to be let go, I let go of any reason for myself that I wanted to follow up with it."
She added, "I just wanted to see what was best for the university and what was best for the girls who were still left on the team and the ones to come."