Shealyn Farley said she felt the only way out was to end her life.
Farley, then a Penn State freshman, said her short time on the Penn State women's gymnastics team made her severely depressed. Her coaches, Jeff and Rachelle Thompson, made her practice with an injured knee and constantly demeaned her for not being able to fully train while it healed, Farley said.
One night in November 2012, she was about to swallow a bottle of pills when one of her teammates walked in and stopped her.
Soon Shealyn's mother was on the phone.
"I said, 'There is no scholarship money on Earth that is worth this. You need to get out of there,' " Cindy Farley recalled. " 'Tomorrow morning, you go in there and you're done.' "
The following day, Shealyn had a meeting with the Thompsons to tell them she wanted to leave the team.
She said the Thompsons offered no sympathy and understanding in the meeting, and denied any mistreatment. As the meeting went on, she said they became angry.
Farley said Rachelle, the associate head coach, told her "Your father would not be proud of you," knowing that Farley's father had died a few years prior. She said Jeff, the head coach, then started to mock her about how she wouldn't be able to pay for her tuition without a scholarship.
"At that point, I knew I had made the right decision," Farley said. "Because these people were complete monsters."
Several former gymnasts, including one who had been on their team at Auburn University back in 2003, said Jeff and Rachelle Thompson pushed women to train through injuries, sometimes making them feel as if they had to hide their physical pain.
The women also said the coaches pressured their gymnasts to lose as much weight as possible, which led to some athletes developing eating disorders.
Several former gymnasts, and parents of former gymnasts, said some athletes developed depression due to their mistreatment by the Thompsons.
Penn State Athletics was notified last week of these allegations. The Collegian asked if the Thompsons and any athletic official would be available to discuss the allegations. The athletic department responded with the following statement:
"We are driven first and foremost by the welfare of our student-athletes and thoroughly consider and review any issue brought to our attention through well-established, confidential processes. The Intercollegiate Athletics staff is dedicated to providing the resources necessary to create conditions for success to balance the rigors of high expectations in the classroom and in competition."
"There are varied opportunities for feedback, all of which are given the attention they deserve," the statement continued. "In any medical situation, student-athlete practice and competition participation decisions are made by medical professionals after consultation with all necessary parties."
Jeff and Rachelle Thompson did not respond to requests for comment, which included a list of the allegations against them from their times at Penn State and Auburn.
Today, there are no seniors listed on the Penn State women's gymnastics roster. All eight women in the 2012 freshman class, including Farley, quit or were released before their senior year, said Alyssa DiFrancesco. She was a member of that class too, and walked away from the team as a sophomore.
"We were always told, 'You guys are just pieces in a business deal, you're replaceable,' " DiFrancesco said. " 'We can replace you any minute if you don't give us what we need or what your team needs.' If you hear that enough, you're going to think, 'They don't need me.' "
---
Farley, now a senior, said she was thrilled to be on the gymnastics team at Penn State, which had been her dream school for 18 years.

"I came here with crazy high expectations and hopes, wanting to work hard, be happy and healthy," Farley said. "I left that gym in December broken and absolutely destroyed."
Farley said she has had knee problems since she was 12, and in October 2012, suffered her sixth knee injury, which required her to get surgery.
She said about three weeks after the surgery, against the recommendation of her trainer, the Thompsons made her start swinging bars. The routine only involves the use of a gymnast's arms but still caused Farley pain because it required her to land on her feet.
She said the Thompsons became more intense and rude the longer she took to recover from her injury.
Farley said there were times when the Thompsons would ask her how her knee was, and she would lie and say it was fine because she was terrified she would be punished for telling the truth.
"The sport that used to be so fun turned into something that felt like torture," Farley said. "I would walk in the gym and my heart would sink. I would just go limp."
Farley said she felt harassed daily. She said after her injury, she would hear Rachelle say under her breath, "Of course she's still not doing anything" or "Why is she still sitting there doing nothing?" whenever she passed Farley with the trainer. However, Farley said if she brought it up to Rachelle, she would be reprimanded.
She said on the nights before her 6 a.m. practices, she would sit in her bed sobbing at the thought of having to wake up in the morning and see her coaches. She said not a day went by that semester that she didn't cry.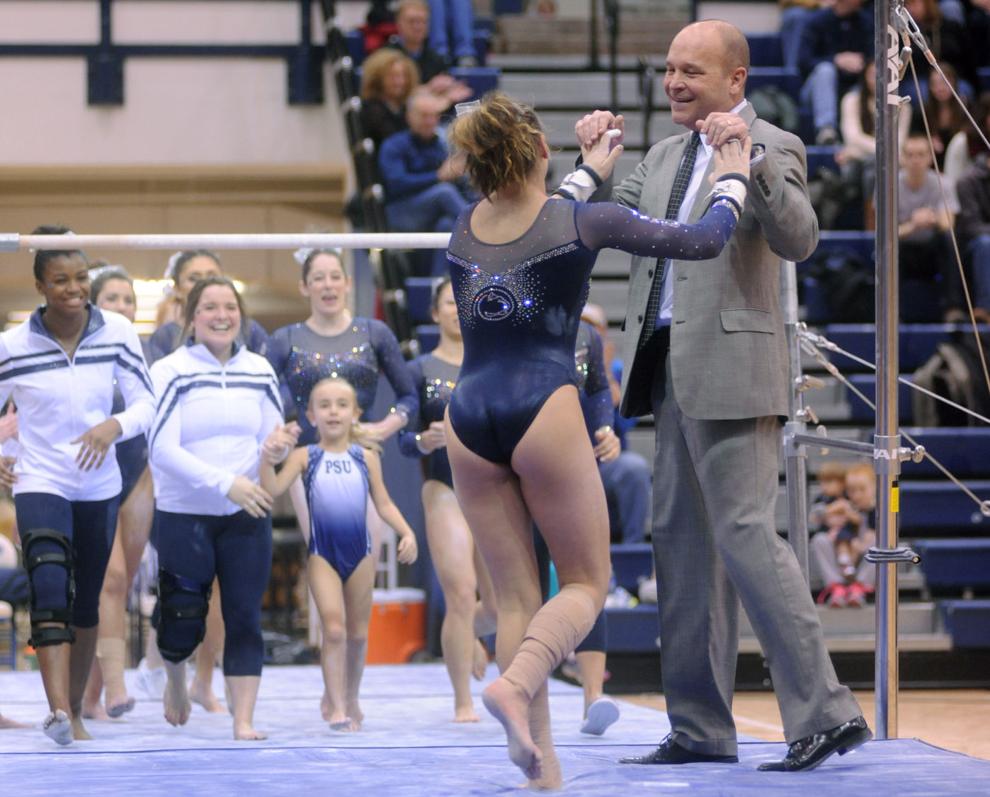 Farley took time off from Penn State and spent her sophomore year at West Chester University, attending therapy and working to get past what happened to her. She said she returned to Penn State for her junior and senior year because she didn't want the Thompsons to ruin Penn State like they had ruined gymnastics for her.
Farley said after hearing from women still on the team that the Thompsons hadn't changed, she felt she had to do something. She said she and her mother had a meeting with Associate Athletics Director Charmelle Green last year, where she told them everything that happened while she was on the team, including her suicide attempt.
She said Green emailed her a couple weeks after the meeting saying she looked into the situation and found nothing wrong with the way the Thompsons treated her at the time.
---
DiFrancesco, who was a walk-on, first quit after one and a half months on the team. At practices, she felt she couldn't make a mistake, hurt herself or voice her opinion on whether or not something was working for her.
But by the end of her freshman year, Rachelle convinced DiFrancesco to return to the team.
DiFrancesco went home for the summer and worked out twice a day, every day, determined to prove to the Thompsons that she was good enough.
She said her sophomore year on the team, however, was much worse.

The gym became a depressing environment, she said, and when gymnasts were hurt, they weren't allowed to see the trainer until they finished practice.
When Rachelle didn't have a reason to be reprimanding them, she would start to make personal jabs, usually about their weight, DiFrancesco said.
DiFrancesco became withdrawn, not wanting to go out or talk to anyone, even her best friend, her sisters and her parents.
"You couldn't be yourself," DiFrancesco said. "You couldn't be happy. It changed all of us and our personalities, which is really sad."
DiFrancesco remembers the moment she reached her breaking point. The seniors called a locker room meeting for just the women, no coaches. It was supposed to be a quick meeting to remind the women that they're always representing the team, even on weekends.
DiFrancesco said the women didn't know how the Thompsons found out about the meeting, but the coaches walked in about two minutes later.
DiFrancesco said the presence of a male coach made the meeting uncomfortable. She said Jeff was blunt, making inappropriate comments, alleging the women were promiscuous. She said he even asked one woman how many people she had slept with.
The meeting changed after Jeff said some of the women acted like they didn't want to be on the team, DiFrancesco said. The Thompsons told the walk-ons that if they couldn't handle the pressure, they should leave, she said.
"Some of the stuff they brought up was so personal, so inappropriate, so uncalled for," DiFrancesco said. "And that's when I realized I don't want to put in all my effort for people who are like this."
After the incident, DiFrancesco said she called for a meeting with the Thompsons to tell them she was quitting.
Her mother, Renee DiFrancesco, said she emailed Athletic Director Sandy Barbour about the abuse her daughter faced but never heard back.
Renee DiFrancesco said her daughter's personality changed when she went to Penn State.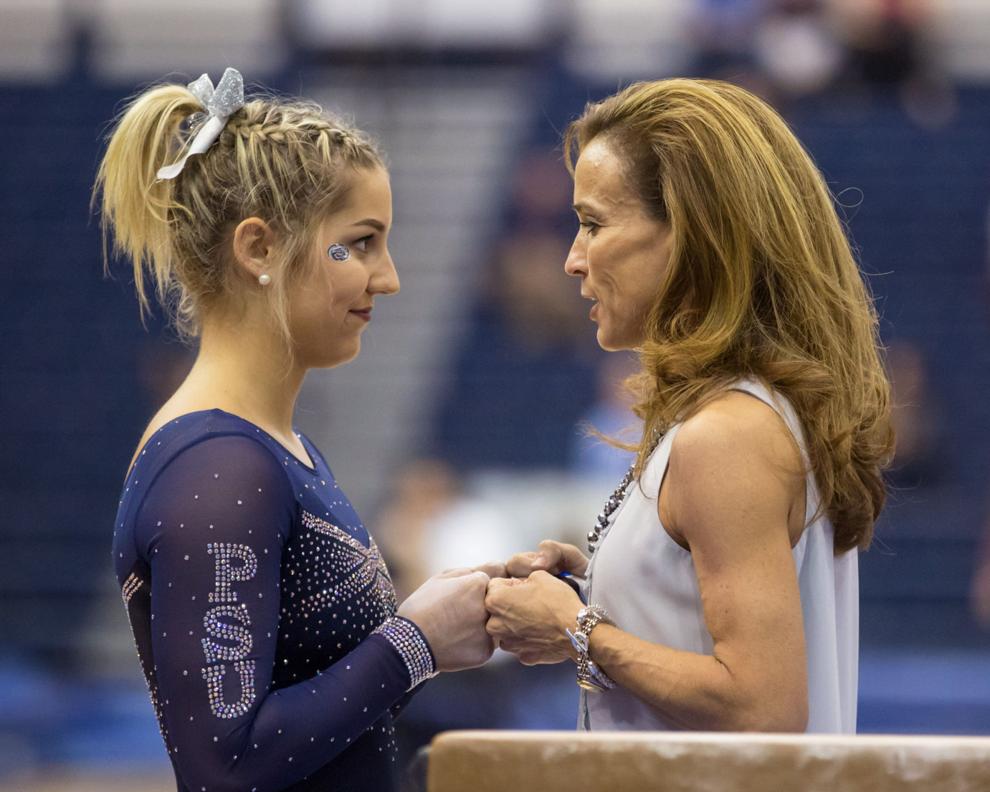 "It was almost like she had no life in her," Renee DiFrancesco said. "It was scary. There was something seriously wrong."
Renee said it wasn't until after Alyssa left the team that Alyssa told her about the mistreatment.
"They push you to the point of, you're going to take a bottle of pills or be strong enough to walk away," Renee DiFrancesco said. "I think there was a lot of relief she had the strength to walk away."
---
Samantha Brown, who was hired as an assistant women's gymnastics coach in July, was terminated on Jan. 11 for failure to return to work, according to her statement.
"Sadly, this brings an unexpected end to my coaching duties at Penn State University. The reason behind all of this is that the Head and Associate Head Coaches created an environment that made it impossible for me to continue to work, and the university failed to properly address my concerns and the concerns I had for the student athletes," she wrote in a statement on Jan. 16. "I explained that I was very uncomfortable with returning to the gym, but I was not going to quit."
Brown has more than 30 years of gymnastics experience, competing, coaching and judging at high levels. Brown competed as a member of the USA National Team as a teenager and became an NCAA All-American and a two-time NCAA national champion at the University of Georgia.
After Brown's hiring in July, Jeff Thompson said in a Penn State release that her "knowledge, passion, and enthusiasm" were elements they were excited to add to the staff.
"This was a great opportunity and I met a lot of wonderful people and loved getting to know and coaching all of the gymnasts at Penn State," Brown wrote in the statement, "and I will dearly miss each and every one of them."
---
Stephanie Brock felt unbearable pain in her shin. At a Penn State women's gymnastics practice in fall 2012, she said she struggled through it while Jeff forced her to continue training.
When she was unable to complete her workout on the vault, Jeff pulled her aside and told her she was wasting her time, his time and the opportunity she was given to be on the team, Brock said. Rachelle watched from across the gym.
"I started getting mad and I lost it on him. I said, 'I'm trying my hardest and I'm in pain,' " Brock said. "Rachelle walks over, grabs my face out of nowhere, and yells at me [that] I'm not allowed to talk like that."
Jeff then grabbed Brock by the arm and dragged her to the door, she said, removing her from practice in front of the women's and men's gymnastics teams.

Brock was given a one-week suspension from the team because of the confrontation with Jeff. She said she and her parents filed a police report, but were told by police that the situation was a civil assault and would be handled by the administration. Brock said that to her knowledge, Rachelle has received no repercussions from the incident.
This was not the first negative experience Brock said she had with the Thompsons.
While she was on the team in 2011 and 2012, Brock said her coaches would tell her she was overweight, that she could never make nationals on her own and that she needed her team but her team didn't need her.
Brock said she has had tough coaches in the past, including ones who would make her leave the gym crying. But she said those coaches weren't mean.
"Whereas Rachelle and Jeff, they're demeaning," Brock said. "They made fun of you or put you down and thought that was encouraging."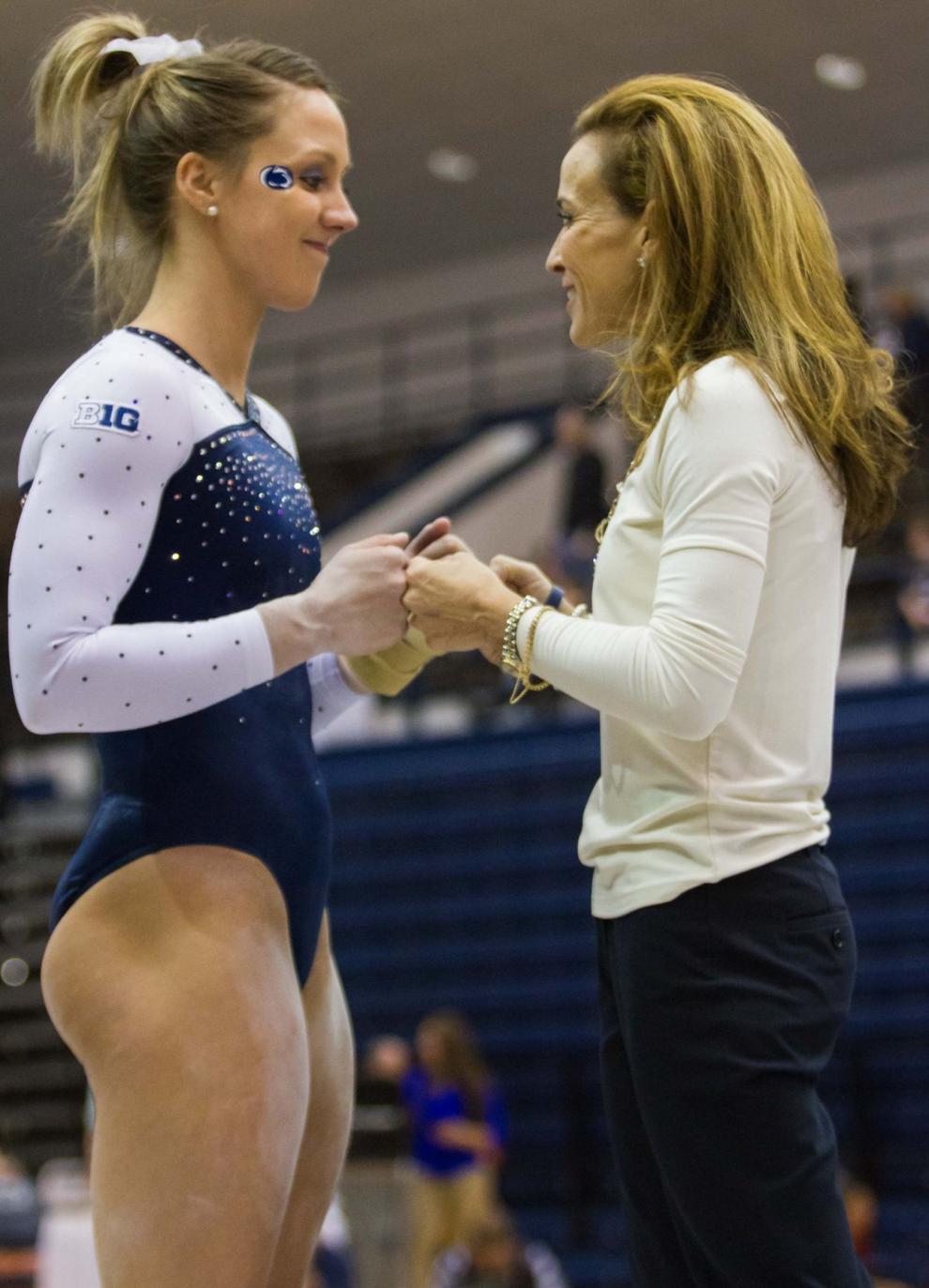 At one practice, Brock said she fell on her neck and had to be taken to the hospital on a stretcher. Her doctor told her she should not train for a couple weeks while she healed.
At a meet the weekend after her injury, Brock said Rachelle told her she needed to get back in the gym as soon as possible.
Brock returned to training that week, but struggled. She said she told Rachelle she couldn't continue.
Brock said Rachelle then pulled her into the middle of the gym, in view of both the men's and women's teams, and yelled at her, saying she shouldn't be on the team because she wasn't doing anything to help them.
Her experience with the Thompsons caused her to feel depressed and withdraw from her friends.
Brock said she and her parents took these complaints, including the incident in which Rachelle grabbed her face, to Green.
Brock said during her sophomore year, she met with Green three or four times. Brock said during the first meeting, Green seemed horrified and said she would get to the bottom of the issue. But as the meetings progressed, Brock said Green started to tell her the Thompsons were right and she should do what her coaches ask of her.
At the end of her sophomore year, Brock was asked not to return to the team.
She broke down in tears.
"I kind of felt like my life was over," Brock said. "The majority of my life, I was training to be a college gymnast. It wasn't to go to the Olympics. It wasn't to do anything but college gymnastics, and be successful at it. And the thought that in two seconds, they threw dirt on my dreams and buried it — it was hard to handle that."
Brock chose to end her college gymnastics career and stay at Penn State rather than try to transfer. While she missed the sport she had grown up competing in, she said she was a lot happier during her final two years at school.
After she graduated, she took a year off before attending graduate school to compete in USA Gymnastics at her hometown gym. In 2015, she made it to Junior Olympics Nationals.
---
Kelly Gurney, 31, said the Thompsons mistreated gymnasts before their hiring at Penn State.
Gurney was coached by the Thompsons for a year and a half when she was a gymnast at Auburn back in 2003 and 2004. She said she transferred to the University of Rhode Island the second semester of her sophomore year due to the Thompson's mistreatment of her and other gymnasts on the Auburn team, which Jeff and Rachelle coached for 11 years.
Someone with knowledge of the Auburn athletic department said no information could be found to support these allegations; however, the complaints are from more than 10 years ago, predating the tenures of many senior staff members.
At Auburn, Gurney said Rachelle Thompson pushed her and her teammates to be as thin as possible.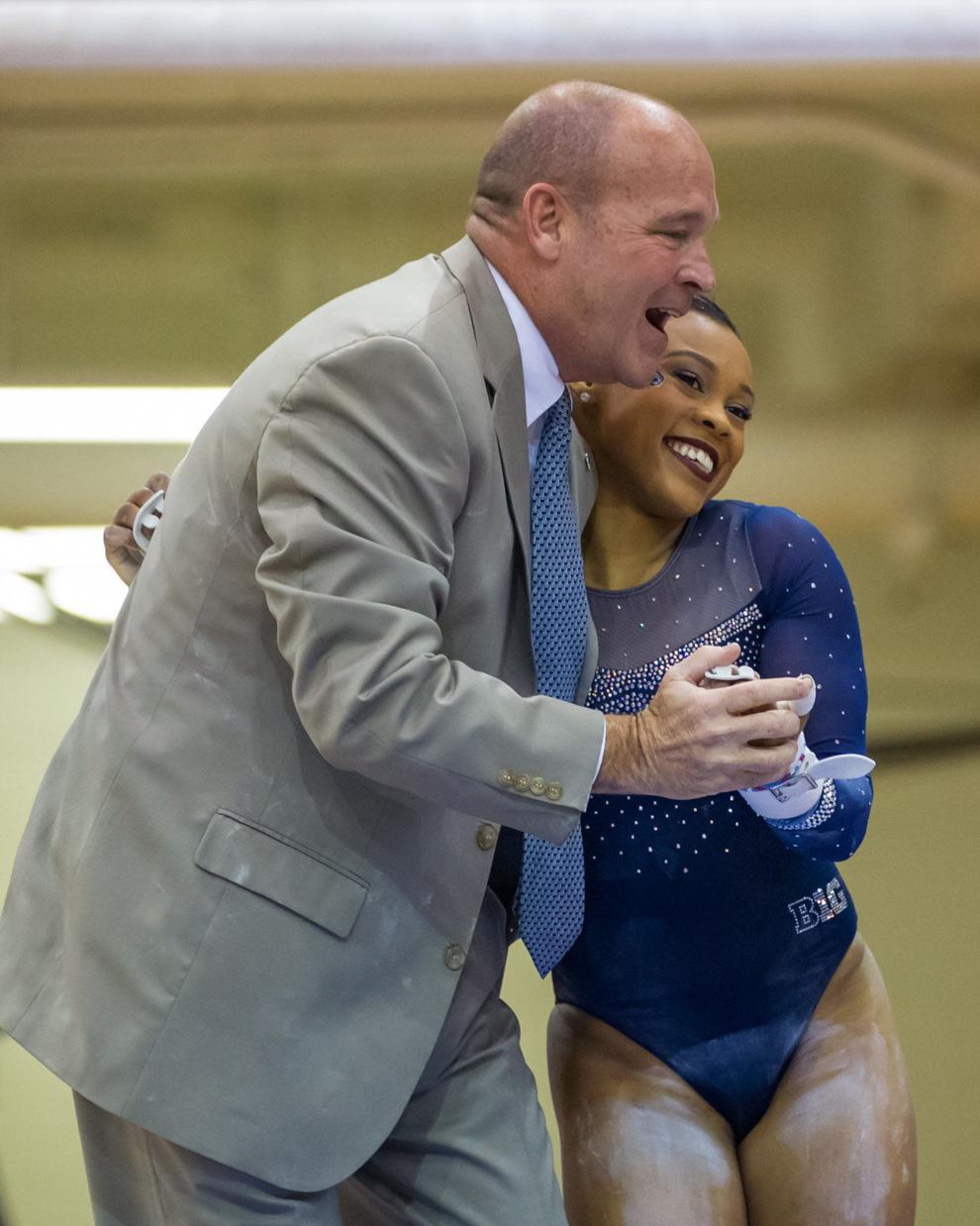 "She tried to send me to a psychologist, tried to tell me I was depressed and needed to get on antidepressants. And while I'm there, I should maybe try Adderall because that helps you lose weight," Gurney said. "And maybe I should just stop eating. That was every day."
Gurney said she and two of her teammates had difficulty with a 45-minute cardio workout one day her freshman year, and Rachelle told them they would be punished. That night Gurney said Rachelle went to their dorm room.
"We were at study hall when she came in," Gurney said. "By the time we got home from study hall, all our food was gone with a note that said 'You need to lose weight.' "
Gurney said she weighed about 115 pounds at the times, and the food in her room included Cheez-Its, pineapple, chicken and yogurt.
In the gym, Gurney said Rachelle would make comments about women's bodies.
"I would be on the beam and I'd been in a lunge, which is where you have one leg out and one leg to the side, and she would come up and she would grab the back of my leg," Gurney said. "She would tell me, 'I wouldn't go out in public with clothes on if I had this on my body.' "
When Gurney came back for her sophomore year, she said she had gained about five pounds. Rachelle publicly ridiculed her and a couple other women for gaining weight. As punishment, Gurney said Rachelle made her run the Auburn campus at 6 a.m. every day and do extra weight training in addition to team workouts.
At Rachelle's encouragement, Gurney said many women on the team were on Adderall, a medication often used to treat ADHD, for the purpose of losing weight. Gurney said she eventually took it as well.
"I think I showed up home at like 92 pounds for Christmas break of my sophomore year," Gurney said. "My dad was like 'We have to get you the hell out of here.' "
After her experience at Auburn, Gurney said she didn't have a mirror in her house until she was about 26 years old.

Gurney also said Rachelle wanted to control more than body image.
"She had put me on birth control," Gurney said. "I wasn't having sex...I didn't want to be on birth control. She told me we all needed to be on the same period, so that kind of freaked me out."
Gurney said Rachelle wanted to structure workouts around the women's menstrual cycles.
Echoing the complaints of the former Penn State gymnasts, Gurney said the women were also encouraged to train through injuries. Gurney said she once hit a cement wall coming off the bars and was convinced she had a concussion, but was forced to train through it.
Gurney had bad ankles her sophomore year, but she said Rachelle encouraged her not to get her ankles taped, a common practice in sports used to prevent further injury.
"I would not get taped and then I would just be in that much more pain," Gurney said. "Then when I would go to rehab she would give us crap for going to rehab and be like 'You don't need physical therapy. You just need to be tough.' "
Through all this, Gurney said Jeff Thompson did nothing about complaints.
After graduating from the University of Rhode Island, Gurney became a coach herself and now works at Cape Cod Gymnastics.
Gurney said she has tried to forget about Rachelle Thompson's mistreatment.
"When I graduated and I started coaching, I was like, 'She'll get her karma. It will come back to her.' But it hasn't and she is still in the sport," Gurney said. "She's still screwing girls up. She's still influencing these young women to think body is the only thing in the world and their emotional and mental health doesn't matter."