On March 17, 2015, a local crime story suddenly transformed into a national headline, calling it another example of fraternities behaving badly. Members of the now-disbanded Kappa Delta Rho fraternity were found to have operated a private Facebook page containing photos of naked, unconscious women that had been taken by members, as well as evidence of hazing and drug distribution.
Now, one year after the initial shock of the case, tempers have cooled and memory of the events have faded from the collective conscience of the university community.
"For a while there, this was the big hot topic. Now we've moved on to something else," said Lt. Keith Robb of the State College Police Department. "I'm sure it hasn't stopped [at fraternities]. We're just not looking at it anymore. The media isn't looking at it anymore, but it's always there."
As of now, no one will be prosecuted in the case.
The women, and one man, who did identify themselves in some of the photographs did not want to press charges. If any student was sanctioned by Penn State, it will never be made public due to federal law protecting the privacy of student educational records.
The Fraternity and Sorority Life Task Force, created to address alleged problems in the sorority and fraternity communities after the Kappa Delta Rho case, has yet to publicly announce its recommendations.
Sitting in a white-walled conference room at the State College Police Department last month, Robb reflected on the case, which was opened in the department months before it became the lead story in national news.
James Vivenzio, a former member of the Kappa Delta Rho fraternity, went to the department and showed them screenshots of a private Facebook group, which included not only images of naked women and men in compromising positions but also derogatory comments.
One comment read, "For all freshmen who don't know the background story I used to mercilessly fuck this chick when I was a freshman." Another member wrote, "I banged her lol."
Robb, who handles criminal investigations for the department, recalls seeing the screenshots for the first time. Although disturbing, the language was not shocking to him.
"It didn't surprise me at all, because I've dealt with countless sexual assaults that originate in the fraternities," he said. "I know how some of them treat women."
None of the people who came forward and identified themselves in the photographs said they were sexually assaulted. However, the nature of the pictures and comments in the Facebook group led to more conversations about the culture of sexualized crimes and hazing rituals at fraternities at Penn State and across the country.
When discussing these issues, Robb made a point not to group all fraternity members together — 99 percent of the fraternity members he has met have been decent people, he said.
However, when crimes do occur at fraternities and they target sorority members, he sometimes sees the sororities themselves contributing to another problem — underreporting of sexual assaults.
"There's been cases where I feel the victim has been pressured by [sorority] members to not prosecute because they're worried about their relationship with the fraternity," Robb said.
He could not put an exact estimate on how often he sees sorority members discouraging fellow members from reporting sexual assaults by fraternity members but said it happens "more often than I care to see."
Sitting in the HUB-Robeson Center's greek life office earlier this month, Madeline Strasser, president of Penn State's Panhellenic Council, responded immediately when asked whether she had knowledge of sororities discouraging members from reporting sexual assault.
"I've never heard of anyone being discouraged from reporting," said Strasser (junior-international politics). "We encourage you to make decisions based off of how you want to handle a situation."
In his experience, Robb said he has gotten the impression that some sororities worry that they won't be invited back to a fraternity's parties if a member of their sorority has reported a sexual assault perpetrated by a member of that fraternity.
"There's not a crime in that. That's just the way it is," Robb said. "It's just frustrating partying is more important than someone who is being victimized."
Robb said he understands why sorority members may fear getting on the wrong side of certain fraternity members, the ones he refers to as the "bad apples" of a group that is generally well-intentioned.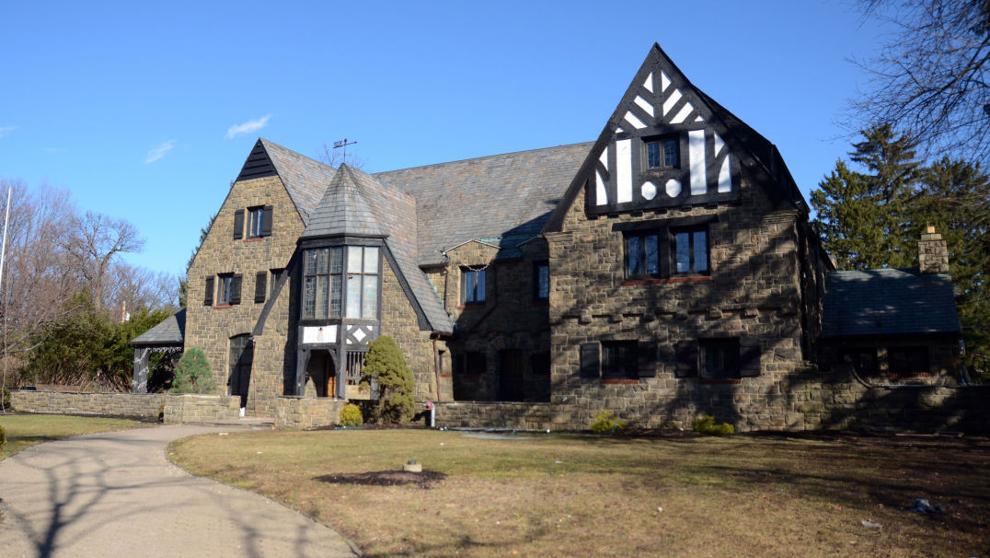 "In the KDR case, I saw the communications," Robb said. "I'm not going to get into specifics, but I saw how they treated people who went against them. They were pretty aggressive, pretty angry and pretty rude."
When the sorority issue was mentioned to Interfraternity Council President Will Quaranta, his eyes widened and he leaned back in his chair.
"I definitely haven't seen that in my term," he said. "I know those rumors probably fly around, but I would say that's definitely not the case."
Quaranta (junior-enterprise risk management) said he believes that in situations of sexual assault, the sorority is there to support the individual and assist her in seeking help. If this is an issue — which he does not think it is — then he doesn't think it will continue due to the stronger resources on campus.
Both Strasser and Quaranta stressed greek life's efforts aimed at educating members on sexual assault prevention and response, including participation in bystander intervention programs such as Stand for State.
"The incident with Kappa Delta Rho was not really a Panhellenic issue so we did not really feel the need to do anything in response. It wasn't a sorority incident," Strasser said. "...I don't think we changed anything, but [sexual assault] is becoming more prevalent in conversation, which is a good thing."
To the credit of current sororities and fraternities, Robb does not believe the issues of sexual assault, harassment and hazing brought up in the Kappa Delta Rho case have necessarily worsened over time. What has changed, he said, is technology, which allows these incidents to be recorded online.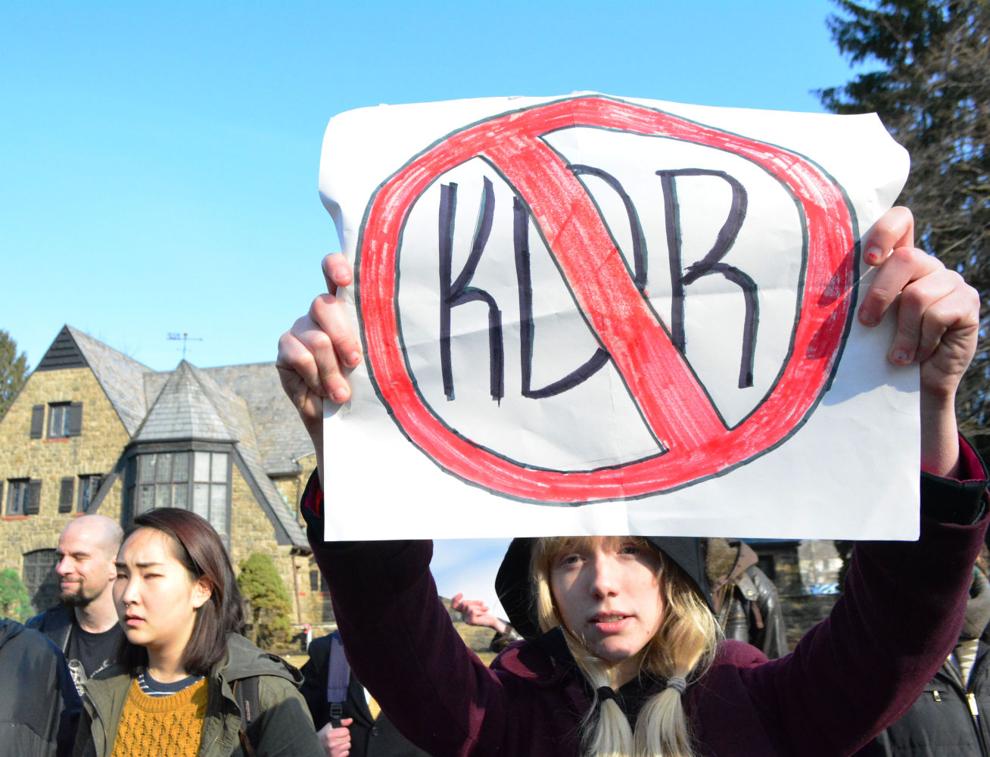 Robb attended Penn State 30 years ago. While he was not a member of a fraternity, he said he believes the same type of hazing, sexual harassment and assault took place back then. Today though, he said, those incidents are more reported.
Robb said he would not go so far as to call Kappa Delta Rho a scapegoat for other fraternities who were also behaving in these ways. However, he does not think these behaviors were isolated to one fraternity house.
"I don't think it was just them," Robb said. "In some degree or another, it was happening at other places too. It just happened that they were the ones reported to us."
Quaranta said he believes issues with fraternities such as Kappa Delta Rho are not indicative of greek life as a whole.
"When these things happen, we have to recognize it is outliers, and as we've done, just kind of remove them from our population," Quaranta said. "But at the same time, I think you need to take them for what they are and say, 'Maybe we need to take this as a wake-up call,' as we did one year ago."
Vice President for Student Affairs Damon Sims said his immediate reaction to the Kappa Delta Rho incident was disgust and disappointment. However, he said the case raised awareness around central issues related to sexual misconduct, which he thinks is a positive outcome.
Sims said it also clarified the university's role with these organizations.
In most cases, the IFC determines the disciplinary action for fraternities. For Kappa Delta Rho, the council originally recommended the fraternity remain at Penn State and complete a comprehensive member review and a remediation process to reform the culture of remaining members.
Sims disagreed and overturned the IFC's ruling.
On May 26, 2015, Penn State withdrew recognition of Kappa Delta Rho for three years.
Greek organizations are private associations that for the most part exist on private property, Sims said. As a result, the most Penn State can do in these situations is choose whether or not to recognize a fraternity or sorority.
"That's sort of the ultimate authority," Sims said. "Between that ultimate authority and reality lies self-governance and students heavily involved in it, as well as alums and fraternity and sorority national organizations. I think that became acutely apparent through the KDR situation."
On the evening of March 23, 2015, exactly one week after Penn State's IFC announced it was placing Kappa Delta Rho on suspension, a press release appeared on Penn State News. Penn State President Eric Barron announced the creation of the second task force during his time at Penn State, this time to reevaluate greek life on campus.
The task force, headed by Sims, aims to "identify and describe the current state of Penn State's fraternity and sorority system — its strengths and weaknesses, challenges and opportunities — and define ways to build upon its successes and improve its outcomes," Barron said in a letter to the task force's members.
Quaranta commended the diversity of the task force's members, which range from University Park Undergraduate Association President Emily McDonald to State College Borough Manager Tom Fountaine.
"Not everyone is always pro-fraternity, but that's probably a good thing because not everyone in the Penn State community is as well," Quaranta said. "I just hope that, and I think we will, be able to come to a middle ground that helps the school as a whole."
Barron initially appointed 25 members, but the task force has since grown. When then-IFC President Rick Groves and then-Panhellenic Council President Abby Renko were succeeded by Quaranta and Strasser in January, they were allowed to stay on the task force, Sims said.
Further, when former Office of Fraternity and Sorority Life Director Roy Baker left his post for a job at West Virginia University in October, his spot on the task force was filled by two advisers from the office.
Sims said there was no difficulty in transitioning new members onto the task force.
"I don't mind that it's such a big and unwieldly group, to tell you the truth," Sims said. "I like having more voices in the room than fewer."
The task force, which Sims believes is making good progress, hopes to send recommendations to Barron by the end of the semester, Sims said. After that time Barron will spend the summer receiving feedback and making adjustments as needed. Some of the recommendations will then be able to be phased in and implemented early in the fall semester.
Quaranta said one of the biggest items the board is working on, and the item he personally is most focused on, is reviewing and changing the accreditation process, a document of requirements that fraternity and sorority organizations must follow to be recognized as an organization. These requirements include service, philanthropy, scholarship, social policies and risk management policies.
Quaranta said he would like to see the accreditation process become almost a scorecard for fraternities that would make it easier to notice when a fraternity is falling behind on points and becoming at risk, as well as when a fraternity is succeeding and deserving of recognition.
Regardless of what the task force ultimately decides, Sims said in order for the recommendations to succeed, student support is needed — and students also have to be willing to take ownership of themselves related to issues of alcohol abuse and sexual misconduct.
"The problem [with the Kappa Delta Rho situation] is that it was something that was happening within the private world of a group of people who were aware of what was happening and they somehow allowed it to happen," Sims said. "So looking to university administrators, looking to police, looking to external authorities to solve these kinds of issues will not in and of itself solve these issues…until students take ownership for their own behavior and their own organizations, we won't have the change that we really need to see."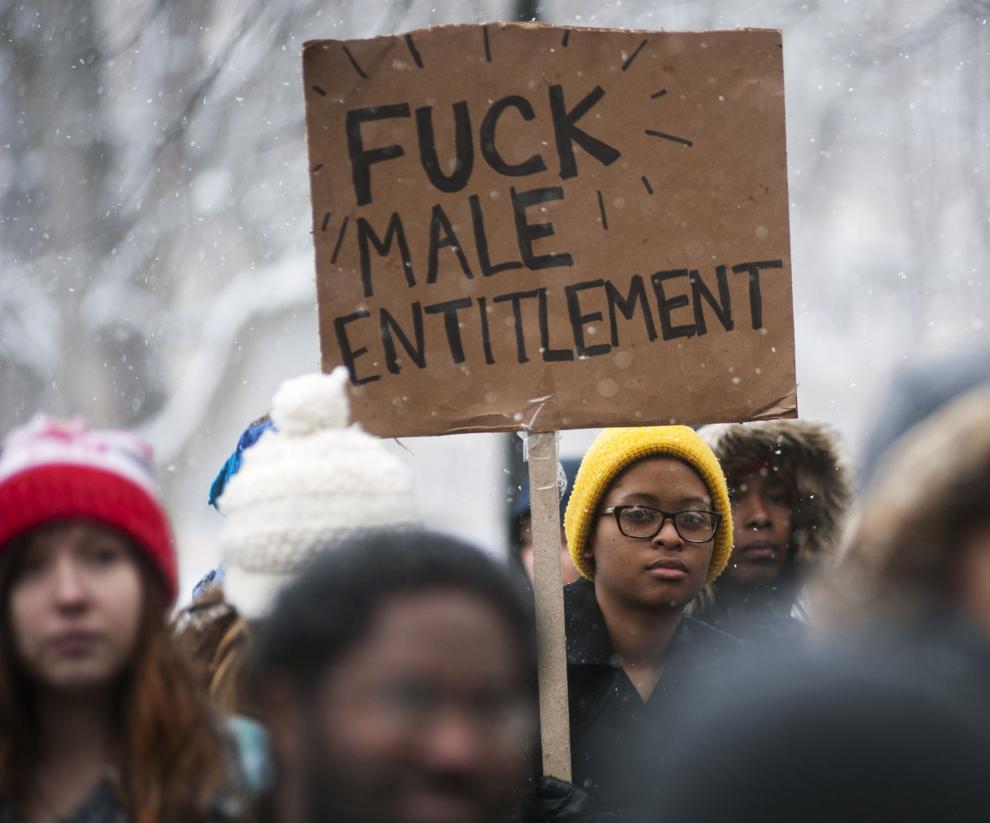 While students and community members marched downtown to the Kappa Delta Rho house chanting "We are...not safe" and "Tear them down," and others held a rally on a snowy Old Main lawn in support of the women photographed, a silent storm was brewing for another issue found in the Facebook pages.
Vivenzio was gearing up to sue the university, the national fraternity of Kappa Delta Rho, Penn State's chapter of Kappa Delta Rho, the Interfraternity Council and the Panhellenic Council. He alleges he reported Kappa Delta Rho's hazing and the psychological damages it caused him to Penn State, and was even visited by a university official in his Virginia home, only to be later ignored.
Penn State disputed these allegations and said Vivenzio and his family were not cooperative and also did not notify any university official of the existence of the Facebook pages.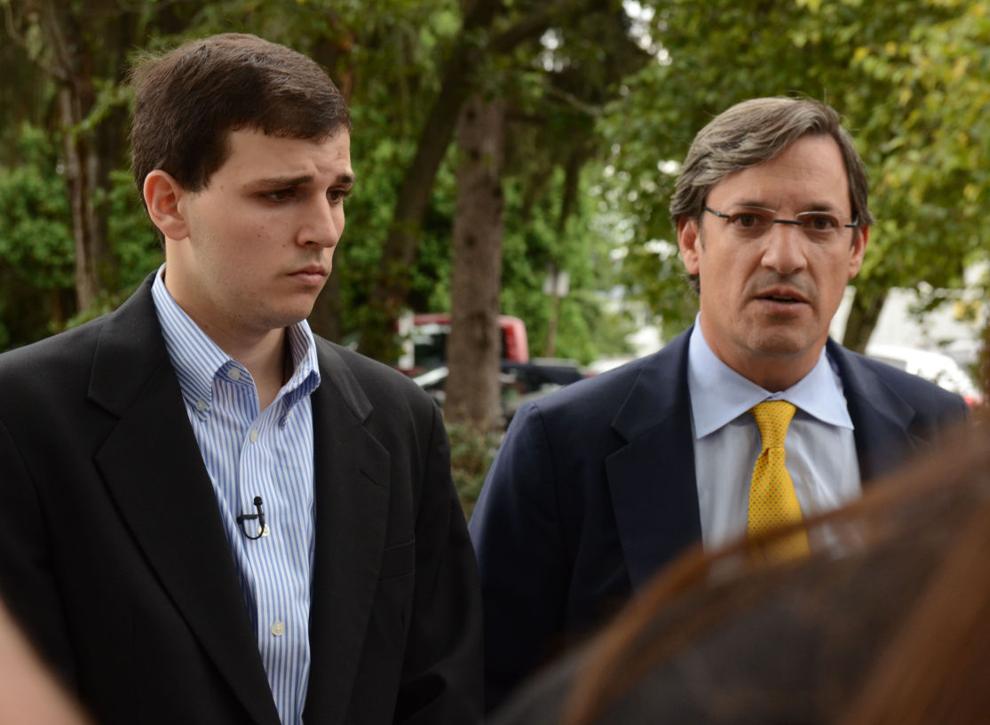 In January, Penn State was granted a motion for a change of venue in the suit from Philadelphia to either Centre or Dauphin County.
A university investigation into KDR found its members did engage in hazing. Pledges were forced to create stories containing pornographic images and a "sex position of the day," participate in boxing matches and hold up their entire body weight on their elbows with bottle caps underneath.
Hazing was mentioned by Barron as one of the issues he hoped the task force would focus on. Anti-hazing education, as well as avenues to report it, have been incorporated into IFC's mandatory recruitment seminars, attendance for which is required for any student seeking to join a fraternity, Quaranta said.
Quaranta said that putting a stop to hazing is being worked into the accreditation process as well, Quaranta said, so if a fraternity is caught with a hazing violation, they will be docked points, called into the standards board and sometimes even the Office of Student Conduct.
But so far there have been no issues, so Quaranta said he would like to believe hazing is not happening. Strasser said she had also not been notified of hazing incidents at sororities during her tenure so far.
Robb, however, disagreed.
"That doesn't mean it doesn't happen," he said. "It just means it hasn't been reported."
Most hazing incidents are reported to greek life and are handled internally without police involvement, Robb said. He could only think of one case he handled in which an arrest was made.
As for sororities, Strasser said the Panhellenic Council plans to implement more sexual assault awareness programs into their annual schedule. Several programs exist at the university level; however, she said they are highly recommended, not mandated. Each sorority, however, may have different sexual assault education requirements handed down from their national chapters.
"Just the nature of sororities, our organizations are in the business of personal development. When you join a sorority we want you to be well-rounded, to be able to have knowledge of a lot of things," Strasser said, "so sexual assault and things of that nature are going to be part of our programming."
IFC is also involved with sexual assault prevention, Quaranta said, including the launch of Stand for State. Its vice president for programming is sitting on UPUA's Sexual Violence Prevention Roundtable. Their new adviser, Tim Donovan, has also involved the IFC closely with Men Against Violence Against Women, for which Donovan is also the coordinator.
For an officer inside of a State College police car, 2 a.m. Saturday is predictable.
Quaranta said sexual assault is an issue at Penn State, but it's not just unique to fraternities or even this university.
"The thing I think about fraternities is the reason we are focused on so much is that we are probably just so uniquely in the position to fix the issue," Quaranta said. "We have the oversight, the policies, the educational speakers and the kind of opportunities in place … We're just kind of well positioned to fix the issue, as I think we've done in the past year."
Sims said he believes hazing and sexual misconduct are issues continuing to occur in greek life.
"KDR is not unique by any means," Sims said. "That's the problem with KDR. There is a deep problem with the misuse of alcohol and the resulting sexual misconduct that occurs…that happens despite the best efforts of lots of people. The real solution has to be owned by students, and I hope it will be."
At the State College police station, Robb sees reasons to be optimistic about the future of greek life at Penn State.
However, he also acknowledges that for law enforcement and university officials, prevention and education is an uphill battle exacerbated by the revolving door of students on a university campus.
"I think [the greek life community is] trying. I really do," Robb said. "[The Kappa Delta Rho case] was definitely a major event for them to reflect on what they want to present to the community and to the university. But like anything, with time, it diminishes. New members come in. In history, we see the same problems over again."