In C.S. Lewis's "Chronicles of Narnia," Lucy Pevensie was the first to crawl through a seemingly ordinary wardrobe and discover Narnia in "The Lion, the Witch and the Wardrobe."
At Carlson Elementary School in Idaho Springs, Colorado, Haleigh Washington crawled under the tables set up for the Scholastic Book Fair and entered her own personal world of books.
Since the school was "really, really small," Washington said the book fair was set up in the library.
Haleigh's mother, Danielle Washington, volunteered during the book fairs. Danielle, a middle-school Spanish teacher, remembered ordering books from the Scholastic Book Fairs during her own childhood, and felt at home volunteering to help run the fairs for her children's school.
After school had ended for the day, Danielle would still be helping with the book fair, so Haleigh would be with her as well.
But instead of being bored while waiting, Haleigh had her own solution.
"She would look through the books, and kind of scoot back behind the stacks, and whatever book happened to be behind the shelves, or whatever book she was interested in at the time, she'd hunker down and wait for me to be done," Danielle recalled.
Today, Danielle believes that's part of why Haleigh can often be found in the stacks at the Penn State library.
"She can get lost in there, find herself a little corner and hunker down and read for as long as time permits."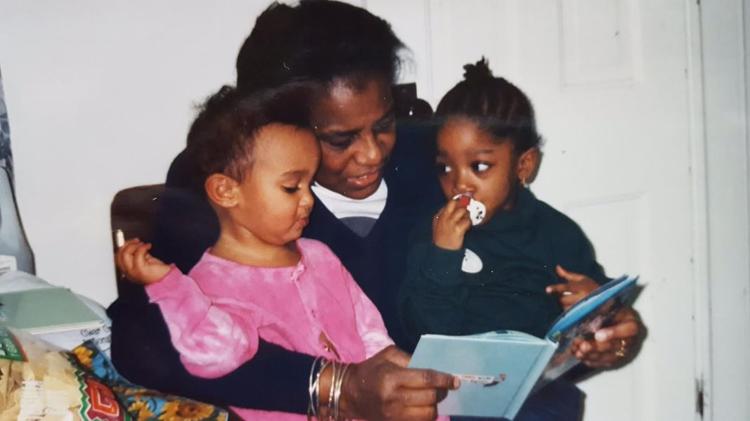 A family tradition
Books were always a part of the house, Danielle said, even stretching back from her own childhood.
Danielle remembered sitting with her siblings on her mother's bed and reading "The Boxcar Children" series, and she continued the tradition with her own three children in a house filled with "shelves and shelves and shelves of books."
Haleigh recalls "reading" the children's book P.D. Eastman's "Go, Dog, Go!" and Dr. Seuss's "One Fish, Two Fish, Red Fish, Blue Fish," by memorizing the pages, just as Danielle remembers reading John Peterson's "The Littles" series and Eric Carle and Bill Martin Jr's "Brown Bear, Brown Bear, What do you See?"
According to Haleigh, her passion for literature started the way many great loves have begun: intense jealousy.
As a child, Washington admitted that she was more into watching television after school than reading. Her cousin, however, didn't have a television in her house.
"Her parents just had a record player, and books, and that's what she did was read all the time," Washington said, "and so I was like high-key very jealous of her, that she would read all the time, and that was her big thing."
Following in her cousin's footsteps, Haleigh began to read more.
Danielle always encouraged her children to read rather than watch TV, and soon, childhood reading translated into Haleigh, the eldest, leading her siblings on imaginary adventures.
"When you turn the TV off, kids have to go find something else to do," Danielle said. "She would take them outside and they would go to this imaginary world that had a complete set of rules and beings and characters. Anything is possible in this imaginary world, just like anything is possible in literature."
Always exposed to literature, Haleigh was even tackling the fourth Harry Potter book, the Goblet of Fire, in early elementary school.
Danielle noticed her daughter's literary evolution as well, seeing her and her brother reading larger and more complex books above their age level.
Now, Danielle said, Haleigh "can be reading books for school, for classes, and then have three or four that she's reading just for the pleasure of reading them. She'll see a book that looks interesting and then be reading that one if she's sitting there and doesn't happen to have the book that she's reading at home with her."
As Haleigh and her siblings are able to compare books, stories or articles that they've read, Danielle said that a family love of sharing literature is nothing new for their family.
"It's definitely a heritage thing, passed down through generations," Danielle said. "Her aunts, and uncles, they would book share, trade books, back and forth and 'Oh, did you read this one yet? Here, you have to try this one.' It's cool to see that interaction happen across the family, not just me."
On family vacations, "books were always part of wherever we were going," Danielle, who has her own memory of literary trips "on the road" said. "Anytime we would go on a road trip, books were part of the bags that went into the car."
Though the mother and daughter pair may be roughly 1500 miles apart, they still use books as a way to connect — even sometimes unintentionally.
On and off the volleyball court
Ask any member of the women's volleyball team who the biggest reader is, and there's no hesitation that it's their senior middle blocker.
"Haleigh Washington. Easy," Haleigh's teammate and setter Bryanna Weiskircher said.
"She was actually doing stuff in the training room today, and she actually had a book while she was doing whatever she needed to do," Weiskircher added.
"She always has a book in her hand," said outside hitter Simone Lee, another of Haleigh's teammates.
When Haleigh participated in the Penn State Library's 2016 "Marathon Read" event, she found out that literature was another way to connect with her coach, Russ Rose, who regularly participates in the event.
The two have been seeing who can read more books, and came to the decision that Haleigh starts reading more books, but Rose actually finishes more.
"Certainly out of the visible appearance of the team, I would say nobody's reading more than Haleigh is," Rose said.
Rose, who added that he reads sports-related books and autobiographies of coaches, leaders and athletes, said that Haleigh would probably win in a philosophy debate.
Still, Haleigh said Rose has recommended "Black Gods on the Asphalt" by Onaje Woodbine to her, a book about race relations and basketball.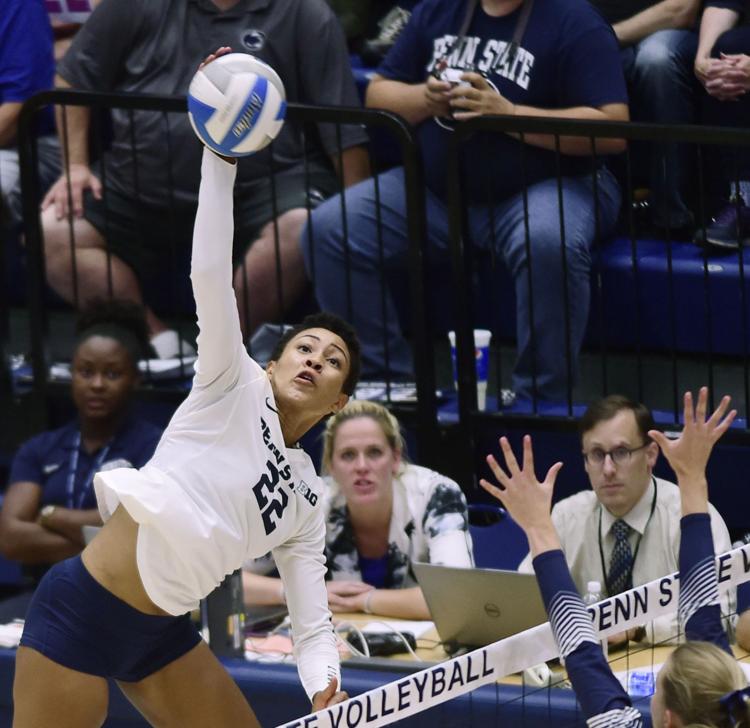 A love of learning
When university archivist Jackie Esposito recommended "Don Quixote" to Haleigh over the summer, Danielle had already told her to read Miguel de Cervantes' novel.
And when books came up in a conversation with university librarian Rebecca Miller, Haleigh was already reading Christina Baker Kline's "Orphan Train," a book that her grandmother recommended to her.
Books have largely been a part of Haleigh's educational experience, Danielle said. When she was burned out from school and wanted to take a break before tackling homework, she would read.
Two of her current favorites, T.H. White's "Once and Future King" and Barbara Kingsolver's "Poisonwood Bible" have come from class assignments.
"And for Haleigh, [reading is] part of her alone time, her down time," Danielle said. "Her escapism is to pick up a book and read quietly."
Haleigh, a philosophy major, has also enjoyed reading philosophical works written by Ida. B. Wells to Patricia Hill Collins to Plato.
Head of Library Learning Services Rebecca Miller remembers noticing "just how into libraries she was" when they met earlier in the year.
"She was just very enthusiastic about the work that we do on campus, about what libraries mean in higher education, what they mean in society," Miller said. "And she obviously loves books as well."
Haleigh, who did an independent study in the Pattee Libraries and Paterno Libraries with Esposito this summer, focused on various aspects of archives management and administration. She also worked with collections within the field of social and racial justice.
"She's a spectacularly good student," Esposito said. "She's one of the students that faculty members wish for, because she's motivated – I mean, I would assign something, and she would read three more things."
"First of all, she never once said to me 'I can't read something,' or, 'There's too many pages,'" Esposito added. "We would prioritize chapters, but she loved to read, she loved to read additional materials. When you're a prolific reader, you always have books that tie into one thing or another."
Finding happiness in her own little world
Haleigh lists Alice Walker's "The Color Purple" as her favorite book and "realistic historical fiction" as her favorite genre.
But she also has a soft spot for Markus Zusak's "The Book Thief," Margaret Atwood's "The Handmaid's Tale" and J.K. Rowling's "Harry Potter and The Goblet of Fire," because the latter was the first book in the Harry Potter series that she, not knowing that the books were a series, read.
Rereading is something that both Haleigh and Danielle believe in.
"I don't read books like my mom and my brother read books, and they just tear through 'em," Haleigh said. "They go so, so fast. But I'll read a book and I'll like, redo a line, or reread the page, or research it, or I'll look it up."
With school, volleyball and her other interests, Haleigh has still found time to compile a list of books to read and reread, from "Once and Future King" to Kingsolver's "The Lacuna" to "Black Gods on the Asphalt: Religion, Hip-Hop, and Street Basketball" and "Orphan Train."
Haleigh, who calls herself "a sucker for actual books," said she prefers a physical book to the e-reader, but understands that every reader has their own preference.
"There's something about being able to turn to a dog-eared page that has a coffee stain on it from when you were reading in a café three months ago that just makes the book so much closer to your heart."
Haleigh said she even finds comfort in having a physical copy of a book, especially the ones she's had for ten or more years.
"It's marked-up, it's dog-eared, it's burnt, the spine is broken because you use it all the time," Haleigh said. "Even if you were to lose that copy tragically, you'll get a new one, and you get a new adventure with this new book that still speaks to you, but now you get to mark it up."
But Haleigh's favorite thing about literature is the fact that books offer so many perspectives.
"There's a book for everything," Haleigh said.