DIY tasks for whatever reason are always clouded by artistic anxiety, preventing many people from ever embarking on such a do-it-yourself mission. I hope that through this brief but comprehensive description on how to collage a table, whoever is reading this will quell such anxieties.
Step 1: Locate Table
This may seem like the most overwhelming step, and that's because it is. If you are refurbishing a table, chances are it was not the finest piece of furniture to begin with. I found the grounds for my collage masterpiece in my basement. I found my childhood play table and decided that it would be perfect for the task at hand. Cheap tables are also available at thrift stores, on the side of the road and at places like Walmart or Target.
Step 2: "Fix Up" Table
This is the most tedious part of the task at hand. It is also the step that can be, but should not be, skipped. Any table should be wiped down first with disinfectant wipes (this will help the pictures stick to the surface better) and sanded (only if it is wood).
Step 3: Paint
The table I had was originally brown, and I decided to coat it in two layers of white wall paint. I decided to use wall paint because it is less expensive and more durable, but acrylic or spray paint would work just as well.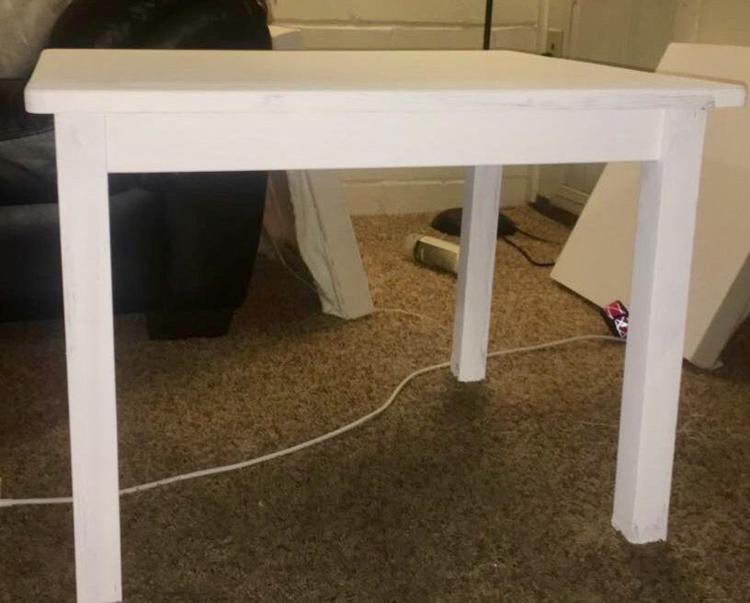 Step 4: Select Pictures and cut them out
The most important part in any collage are the pictures that make it up. You will need to select a bunch of pictures. I chose a variety of funny images on Pinterest and from VOGUE magazine, but whatever you wish to include is fine — I would suggest you pick some with an array of colors. These will need to be cut out as meticulously as possible, as the more diversity there is in shape, size, and color will increase the quality of the collage.
Step 5: Lay it all out
Once you have selected and cut out all of your images, lay them out on the table. It will be helpful to see what sorts of shapes and sizes you have so that you can distribute them evenly across the surface.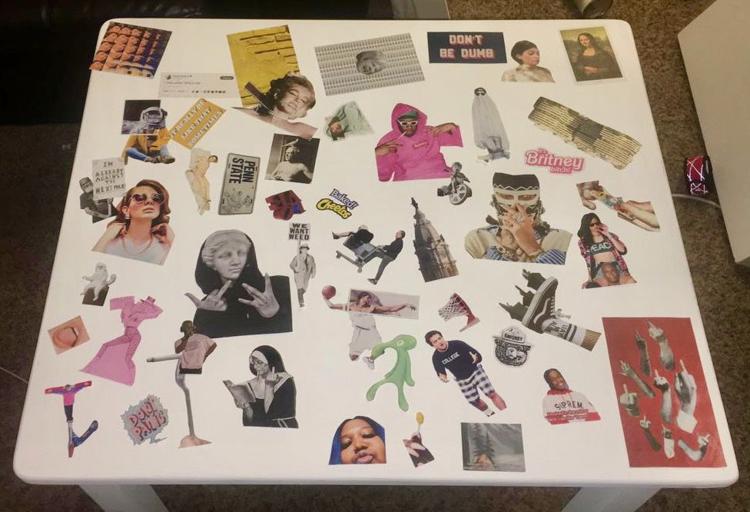 Step 6: Glue them down
This will be the longest part of the process, and also the part that requires the most thought. Using a glue-water mixture, I began to glue down images beginning with the largest ones and working my way down to the smallest ones. You can arrange them in any way you want, but I decided to orient the pictures at all different angles.
Step 7: Paint Trim (optional)
I wanted the legs and top edge of the table to be black, just so that it would match both the black and white furniture in my apartment's living room. I opted to do this after I finished collaging so that I could paint over any imprecise edges.
Step 8: Seal Table
Using a painter's brush and several coats of Modge Podge, I sealed the top of the table. It is a cheap alternative to having a glass top over the collage, which is what is most often seen in public settings. The more coats applied, the smoother the surface will be.