Former Beta Theta Pi live-in adviser and Penn State football athletic trainer Tim Bream was spotted at the former fraternity house with a group of middle-aged men early Friday evening.
Off the clock, Bream could be seen sitting at a side patio wearing a Tennessee-Chattanooga shirt, the university he now serves as head athletic trainer. 
Bream was in the fraternity house on the night of Feb. 2, 2017, when late sophomore Timothy Piazza fell down the basement steps during an alcohol-fueled hazing event. Piazza died two days later from his injuries, but Bream has testified he was not involved in overseeing the gauntlet obstacle course.
Bream was in the Beta Theta fraternity house the night of Feb. 2, 2017, when Penn State sophomore Timothy Piazza sustained fatal injuries relating to a hazing ritual.
The Daily Collegian knocked twice on the front door of the house at 220 N. Burrowes St., though it went unanswered. 
"Mr. Bream should know better than to be hanging out at that fraternity house, which was the key of a terrible tragedy upon a night that he was at that fraternity house," Tom Kline, the lawyer for the Piazza family, told the Collegian. "It's incomprehensible that he would believe that it would be appropriate behavior for him to be enjoying himself on that property."
Bream was also seen inside Cafe 210 West earlier with a group of individuals. 
Later, at the Beta Theta Pi house, laughter and clapping echoed from the outdoor patio. Guests could be heard chanting, gathered in the space. Though it remains unclear what they were drinking, a few of the men could be seen holding aluminum cans.
When contacted for comment, Bream said, "I have no comment, thank you."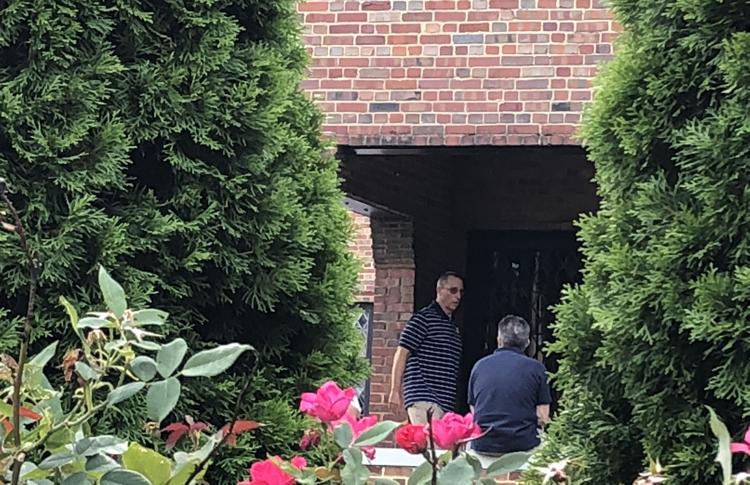 This is not the first time the Beta Theta Pi has been occupied since the fraternity's permanent ban by the university.
On Sept. 8, 2017, lights from inside the house were illuminated. According to the Associated Press, alumni were notified the house would be open during Penn State football weekends.
Bream announced his resignation from Penn State Athletics on Feb. 9, 2018, and it became official at the end of the month. He shortly began working for Chattanooga Athletics on March 2.
In the March preliminary hearing, in which 11 former Beta Theta Pi members faced charges surrounding the death, State College Police Detective David Scicchitano testified Bream lied under oath in the initial August preliminary.
Scicchitano discussed newly released footage and claimed Bream was near Piazza as he made his way to work the morning of Feb. 3, 2017. Piazza was pronounced dead the next morning at Hershey Medical Center.
In May, Peter Sala, an attorney of former brother Joseph Sala, filed a private criminal complaint against Bream.
In response, it was announced at the end of June that Bream would not face perjury charges for his testimony in the preliminary hearing last summer. 
However, Deputy District Attorney Sean McGraw said in a response letter to Sala that an investigation was "necessary to determine who was telling the truth" with allegations that Bream furnished alcohol to minors and made "unsworn falsification to authorities."
This investigation is now in the hands of the State College Police Department in conjunction with the Office of the Attorney General.
Earlier this week, a trial was set in February 2019 for 21 former fraternity brothers charged in the hazing case surrounding Piazza's death. Ryan Burke has already pleaded guilty to misdemeanor counts of hazing and other various liquor violations. His sentencing hearing is July 31 at the Centre County Courthouse.
Editor in Chief Kelly Powers contributed to this report. 
RELATED
Former Penn State football trainer and live-in adviser of the Beta Theta Pi fraternity house…
Bream was in the Beta Theta fraternity house the night of Feb. 2, 2017, when Penn State sophomore Timothy Piazza sustained fatal injuries relating to a hazing ritual.
Recovered video footage showed former Penn State football head athletic trainer and BTP live-in adviser at the fraternity house Tim Bream standing about 10 feet from Timothy Piazza before leaving for work.
A trial has been set for former Beta Theta Pi fraternity brothers charged in the hazing case surrounding the death of Penn State sophomore Timothy Piazza.