Activists protest diversity policies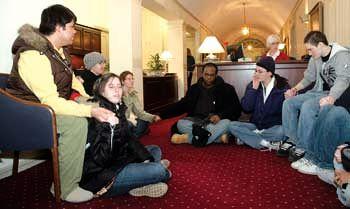 Tags
As featured on
and Alyssa Owens
After staging a sit-in at the university president's office and demanding to speak with administration officials Friday, members of campus activist groups said they are still no closer to fostering a more tolerant diversity climate at Penn State.
Members of SpeakOUT, UnderTones and the Black Caucus organized the demonstration in response to last week's discrimination lawsuit settlement between Penn State officials and former women's basketball player Jen Harris.
Braden Dyreson, Matt McLaughlin & Nick Stonesifer | The Daily Collegian
In this week's episode of the Wrap Around co-hosts Braden Dyreson and Nick Stonesifer start off by discussing the football team's final regular-season game and James Franklin's renewed contract.

Your contribution will help the Collegian provide award winning journalism to the Penn State community and beyond.
Donate to the Collegian by clicking the button below.