Male students donned high heels down Pollock Road on Monday as part of Sexual Violence Awareness Week's "Walk a Mile in Her Shoes" event.
The walk was hosted by Penn State Men Against Violence. Coordinator Tim Donovan said money raised by the event benefits the Centre County Women's Resource Center.
"It's an opportunity for men to take the old saying, 'walk a mile in her shoes,' and literally put that together," Donovan (graduate–higher education) said. "It's an opportunity for men to put the shoes on and let people know that they are not OK with sexual violence."
He said the purpose of the high heels is to show men it's not easy being a woman and to allow participants to reflect on the discomfort of the shoes as a metaphor for moments in the lives of women.
He said the walk is not only to raise awareness for sexual or gender-based violence, but also the gender discrimination women face as part of their daily lives.
The walk began after a short presentation in the HUB-Robeson Center. Eve Ensler, creator of "The Vagina Monologues," Anne Ard, director at the Centre County Women's Resource Center, and Penn State President Eric Barron all spoke to participants in Alumni Hall before the walk.
Barron thanked Men Against Violence and the Center for Women Students for hosting the event and speaking about the role male students have in ending sexual violence.
"It plays an incredibly important role in the fight against violence, and to have you here making that statement, and doing it by walking a mile in her shoes is truly impressive," Barron said. "We know this is incredibly important for this university, but also for the nation and the world."
After the presentation concluded, the male participants and their female supporters left the HUB to head west down Pollock Road.
+1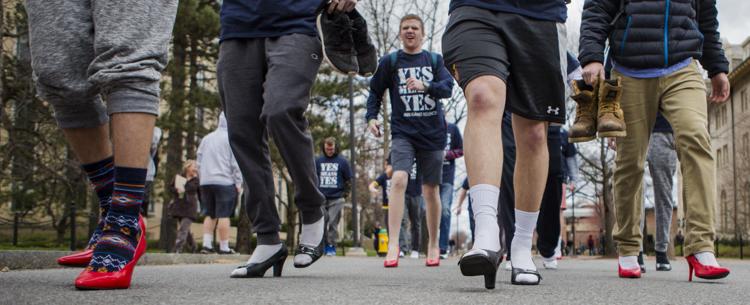 The walk went down Pollock Road and turned back to the HUB at the parking kiosk near the Phi Gamma Delta fraternity house on campus.
The walk concluded with a group picture on the steps of Willard Building.
Donovan said the group in attendance included members of the Penn State Interfraternity Council, Homecoming, University Park Undergraduate Association and the Penn State Interfraternity Council/Panhellenic Dance Marathon.
"It's important because it shows that if the leadership is not okay with [sexual violence], then hopefully people will see that we're all in this together," Donovan said. "If we say we're going to do something to prevent that, see that one thing that makes us feel a little uncomfortable, if we do those things maybe we can start making a change here at Penn State."
Ryan Blessington said he came out to support the cause as something important to the university.
He said he and his friends wanted to show those involved in Greek life and men in general that sexual violence is a problem that needs to end.
Blessington (freshman- aerospace engineering) is currently pledging the fraternity Phi Sigma Kappa.
"It's hard to be a woman sometimes — actually a lot of the time in today's world, it's definitely a shift in perspective," he said.
Donovan said because most men are probably not comfortable wearing high heels, the walk is supposed to give a slight visualization of the experiences women go through.
The difficulty of walking in heels is a parallel to experiencing sexual or gender-based violence, he said.
UPUA Vice President Terry Ford led the walk with UPUA Governmental Affairs Chairman Ryan Valencia, former IFC president Rick Groves and Men Against Violence member John Broderick.
Ford (junior-accounting) said how important it is for all students, especially men, to be a part of the solution.
"The Greek community and men in general on campus are excited about being part of the solution," he said. "And I hope they take notice we're aware of what is going on and are trying to do something to help."